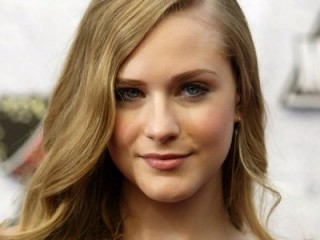 Evan Rachel Wood
Date of birth : 1987-09-07
Date of death : -
Birthplace : Raleigh, North Carolina, USA
Nationality : American
Category : Arts and Entertainment
Last modified : 2011-04-19

Evan Rachel Wood is an American actress and singer. She began her acting career in the late 1990s, appearing in several television series, including American Gothic and Once and Again. She made her debut as a leading film actress in Little Secrets (2002) and became well-known after her transition to a more adult-oriented Golden Globe-nominated role in the teen drama film Thirteen (2003).

Born Sept. 7, 1987 in Raleigh, NC, Wood's interest in acting may have been due to her family's involvement in show business. Her parents, Ira David Wood and Sara Lynne Moore were actors (Ira was also a theater director and playwright), as was her brother Ira David IV, while her aunt, Carol Winstead Wood, was a production designer in Hollywood. Wood began appearing in her father's plays while still an infant, making her stage debut while only a few months old in "A Christmas Carol," and was later top-billed as Helen Keller in her father's production of "The Miracle Worker."

Wood began appearing in TV movies at the age of seven. After auditioning for and losing the role of child vampire Claudia to Kirsten Dunst in "Interview with the Vampire (1994), her first screen credit was the true crime film "In the Best of Families: Marriage, Pride, and Madness" in 1994, as well as several other made-for-TV movies that followed. Wood also appeared in three episodes of Sam Raimi and Shaun Cassidy's supernatural TV series, "American Gothic" in 1995. Two years later, her parents divorced, and Wood relocated to Los Angeles with her mother. Once there, she quickly found more television work, this time as the troubled daughter of Billy Campbell's divorced dad on "Once And Again." She also made her feature film debut at age 11 in two very different films - the big-budget comedy/romance "Practical Magic" (1998), as a member of a family of witches that included Nicole Kidman and Sandra Bullock, and the moving period drama, "Digging to China" (1998) as a neglected young girl who befriends a mentally handicapped adult (Kevin Bacon). The former was a sizable hit, but the latter film, though seen by a much smaller audience, gave a clear indication of the scope of Wood's bourgeoning talents.

That same year, Wood left public school over squabbles with teachers and fellow students, and was home schooled for the remainder of her teen years, receiving her diploma at age 15. During this period, Wood kept busy in a string of film projects that proved her adept at almost every genre of film. Despite being forced to drop out of the lead role in "Raise Your Voice" (2004) due to scheduling conflicts and losing "Mean Girls" (2004) to the nominally more popular Lindsay Lohan, she was an eminently likable heroine in the sweet but little-seen kid comedy, "Little Secrets" (2002), which enjoyed a small following in subsequent TV screenings. Wood also played Al Pacino and Catherine Keener's daughter in the odd science fiction parody "S1m0ne" (2002) and endured a kidnapping at the hands of a Native American medicine man in Ron Howard's gritty Western "The Missing" (2003). Though Wood's work in each film was commendable, none of the films could be considered showcases for her skills.

Then came director Catherine Hardwicke and "Thirteen" (2003), giving critics got a second chance to see Wood at her best. As Tracy, a polite young preteen whose struggle to stay afloat in her family leads to rebellion, self-abuse, and disillusionment, Wood left viewers gasping from the emotional risks she took in the film, sending shivers down the spines of more than one parent. The film earned almost universally excellent notices, and garnered Wood Golden Globe and Screen Actors Guild nominations, as well as a host of trophies from film festivals around the world. Wood also graced the cover of Vogue magazine that year, which named her one of Hollywood's newest "It Girls." Her status was soon underscored by appearances in videos for popular alt-rock bands Bright Eyes ("At the Bottom of Everything") and Green Day (their epic "Wake Me Up When September Ends," in which she co-starred with British actor Jamie Bell, with whom she was romantically linked). She was also name-checked on the cult TV show "Veronica Mars" (UPN/The CW, 2004-) as the actress that Veronica (Kristen Bell) wanted to play her if a biopic was made of her life.

With the success of "Thirteen," Wood became a popular go-to actress for independent filmmakers seeking someone wise beyond her years. In 2005, she played the youngest of four daughters who each seek their own way of dealing with their missing father and rage-filled and confused mother (Joan Allen) in Mike Binder's smart and bittersweet drama "The Upside of Anger." She also returned to "Thirteen" territory in the heavy-handed black comedy "Pretty Persuasion" (2005), for which she played a vicious and sexually precocious high school girl. Finally, she gave a standout performance in the solid but not spectacular "Running with Scissors" (2006), in which she portrayed the eccentric daughter of an even more unusual psychotherapist father. Wood deflected statements that she was seeking out these attention-grabbing roles by stating that she hoped her performances would help girls who were struggling with their own sexuality by showing them the consequences of unchecked experimentation. Though none of the films were hits, they all supported the growing opinion that Wood was, as one film critic wrote, one of the best actresses of her generation.

Wood made several movies in 2006 - the indie drama "Down in the Valley," in which she starred as a rebellious young woman who becomes the object of affection for a deluded man (Edward Norton) who believes himself to be a cowboy. Wood's other projects, which included "Across the Universe," the long-gestating Julie Taymor historical musical based on the Beatles' music, remained in post-production or distribution limbo. In the meantime, 19-year-old Wood generated considerable attention for what appeared to be a romantic relationship for shock rocker Marilyn Manson, who showcased a pair of portraits he painted of Wood in an art showcase on Halloween 2006. Apart from the head-scratching their coupling elicited, was also the fact that Manson was married at the time to burlesque dancer-model, Dita Von Teese.


View the full website biography of Evan Rachel Wood.