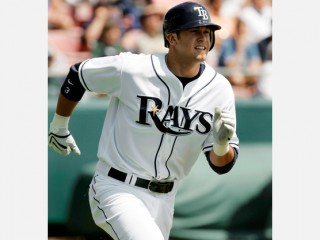 Evan Longorian
Date of birth : 1985-10-07
Date of death : -
Birthplace : Downey, California
Nationality : American
Category : Sports
Last modified : 2010-11-04
Evan Michael Longoria was born October 7, 1985 in Downey, California. His parents, Ellie and Michael, had four kids in all. Evan was the oldest—he had two brothers and a sister. All were terrific athletes.

The Longorias lived in the Southern California town of Bellflower. Evan excelled in baseball and water polo. He competed at high levels in both.

Evan enrolled at St. John Bosco High School in the fall of 1999. He rode the bench for the varsity baseball team for two seasons before earning a starting job as a junior in 2002. By that time, he had decided to give up water polo and concentrate entirely on baseball.

Although Evan's skills were obvious, his physical stature was a question mark. He stood 5-10 on tip-toes and weighed in at just over 150 pounds. To build up his scrawny frame. he joined a wood-bat summer league and worked out with weights.

Evan's senior year at SJB was a good one. He hit and fielded well enough to be named to the All-Sierra League team as a shortstop. After the season, however, Evan did not get a single scholarship from a Division I school. The closest he came was a near-offer from USC, but the Tjoans could not pull the trigger.

Evan ended up attending Rio Hondo Community College, located in his birthplace about 20 minutes from Bellflower. The school had a decent baseball tea, and Evan wanted to keep playing in college. A Rio Hondo, there was no one to keep him on the bench.

Something clicked at Rio Hondo. No one could get Evan out during the 2004 season. He hit the ball hard almost every time up and earned first-team All-State honors. It didn't hurt that he had sprouted two inched and added 25 pounds.

Evan finished the year with a .430 average—and a scholarship to hit factory Long Beach State. The school already had a shortstop, Troy Tulowitzki, so coach Mike Weathers moved Evan to third base. He later moved to short when Tulo suffered a hand injury. Evan batted .320 in 2005 and led the team in steals. Long Beach State went 37–22 and finished second in the Big West Conference.

Over the summer, Evan played for the Chatham A's in the Cape Cod League, primarily as a second baseman. He was named MVP, leading the loop in homers, RBIs and slugging average. His Chatham teammates included future major leaguers Chris Coghlan and Andrew Miller. Evan was considered a mid-level prospect when the summer started. By the end of it, he was Grade A Beef—the top prospect in the league, according to Baseball America.

Evan played exclusively at third base as a junior. He now stood 6–2 and weighed over 200 pounds. He tore the cover off the ball, batting .353 with 11 homers and 43 RBIs. He was named a second-team All-American behind Pedro Alvarez and shared Big West Conference Player of the Year honors with Fullerton's Justin Turner. The team had a lackluster 29–27 record, finishing third in the Big West.

ON THE RISE

Evan was a surefire first-round pick in the 2006 draft. Tampa Bay (then known as the Devil Rays) sat third in the picking order and were predicted to take a pitcher with their first selection—either Tim Lincecum, Brad Lincoln or Andrew Miller. But when Evan was still on the board, he was just too good to pass up and Tampa Bay called his name. Less than an hour later Evan made it official by signing with Tampa Bay for a $3 million bonus.

Evan proceeded to explode through the team's minor league system. He went from the Low-A Hudson Valley Renegades to the Class-AAA Durham in 14 months. Along the way he made stops with the Visalia Oaks and Montgomery Biscuits. He was a monster for the Biscuits in the 2006 playoffs, including a walk-off homer that put Montgomery in the Southern League championship series.

Evan's hitting coach at Durham was Gary Gaetti, one of the top clutch hitters of the 80s and 90s. He felt his protégé was ready for the show at the end of the 2007 campaign. Gaetti loved Evan's his plate discipline and believed his pitch selection was up to major-league snuff. He pointed to shots like the 440-foot job against the Toledo Mud Hens, which landed on the street outside the stadium and may still be rolling.

All told, in the 171 games Evan played between the minors, the Arizona Fall League and with Team USA in the World Cup in 2007, he hit 33 homers and42 doubles, knocked in 115 runs and had an on-base percentage in the .400s. There wasn't a whole lot left to prove.

Recognizing Evan's obvious talent, the newly named "Rays" shifted third sacker Akniori Iwamura to second base. The third base job was Evan's to win or lose in spring training of 2008.

Evan showed a lot in March, but not enough for the Rays to feel he didn't need a bit more seasoning in the minors. He was sent back to Durham until April 12, when Willy Aybar hit the DL. Evan went 1-for-3 with an RBI in his debut. A couple of days later, belted his first homer, against the New York Yankees. He showed good power and patience at the plate, adjusting to the different pitching patterns of opposing teams.

Evan and the Tampa Bay fans got a pleasant surprise when he was named to the AL All-Star squad. He won the Final Fan Vote over four other players. He went 1-for-4 in the 15-inning epic, driving in the tying run in the 8th with an RBI double. Before the game, Eva Longoria, his Hollywood doppleganger, sent Evan a bottle of champagne and three jerseys to sign and send back to her.

The Rays started 2008 strong and kept winning through mid-summer. They held off challenges by the Boston Red Sox and Yankees, and inched closer to an improbable division title.

Evan's dream season took a troubling turn in August, when he broke his wrist. But he healed quickly and came back strong in September. On the 18th, Evan clouted three homers in a game against the Minnesota Twins. Two nights later, he caught the final out of the game that clinched Tampa Bay's first-ever playoff spot.

MAKING HIS MARK

Despite playing only 122 games, Evan was named AL Rookie of the Year ahead of two strong contenders, Alex Ramirez and Jacoby Ellsbury. He finished with a .272 average, 27 homers and 85 RBIs. Symmetry wasn't lost on Evan—he collected 122 hits and struck out 122 times.

The Rays opened the postseason against the Chicago White Sox. Evan led the charge in Game 1 withy two long balls in his first two at-bats in a 6–4 victory. The second blast was a 430-footer off the catwalks at Tropicana Field. Only one other player in history had gone yard in his first two playoff plate appearances—Evan's old coach, Gaetti. The Rays finished off Chicago in four games, with B.J. Upton smacking two homers in the finale.

Tampa Bay's Cinderella run appeared to be over when the team lost Game 1 of the ALCS on their home turf to the Red Sox. But they bounced back in Game 2, an 11-inning marathon won by the Rays. Evan was one of three Tampa Bay player to homer. Evan homered again in Game 3, as the Rays took it to Boston in Fenway Park. Tampa Bay pounded the Red Sox again in Game 4, posting a 13–4 victory,. Evan launched yet another homer.

Up three games to one, the Rays were within sniffing distance of the World Series. In Game 5, Evan reached the seats for the fourth game in a row, this time against Daisuke Matsuzaka. The Rays held a 7–0 lead in the 7th, but Boston made a miracle comeback to win 8–7. The Red Sox then took Game 6 to tie the series.

In Game 7, Boston raced to an early lead, but a double by Evan tied the score. Matt Garza handcuffed Boston after that, and rookie David Price—the team's top draft pick in 2007—closed out a 3–1 pennant-clinching victory.

The Philadelphia Phillies finally figured out a way to quiet Tampa Bay's bats, winning the World Series in five games. The Rays scored a grand total of 15 runs. Evan managed just one hit in 20 at-bats. It was a disappointing conclusion to an otherwise amazing season. When it started, he was in the minors. When it ended, he was the cleanup hitter for a pennant-winning team.

Evan began the 2009 season on an historic hot streak. He was named AL Player of the Month for April. In mid-May he was driving in runs at a pace rivaling that of record holder Hack Wilson, who knocked 191 runs in 1930. During one 12-game stretch, he drove in 27 runs, matching what Alex Rodriguez had done in 2007.

By June, he was hitting well over .300, with 13 homers and 52 RBIs. Those numbers made him on the AL's most dangerous hitters. The Rays, meanwhile, struggled to match their success of the previous year. Inconsistent pitching and injuries kept Tampa Bay right around .500.

As the Rays learn some hard lessons about repeating as AL champions, Evan has shown that following one amazing season with an even better one is possible. Already a team leader in his early 20s, he is embarking on what promises to be a highlight-filled career. Before long, his name may be the first that comes to mind when someone mentions Longoria.

EVAN THE PLAYER

The key to Evan's game is the quickness of his hands. They produce great bat speed and balance—a smooth stroke that doesn't look like he's swinging hard. The ball explodes off his bat.

Those same hands enable Evan to gobble up shots at third base. He backhands balls that others simply wave at and also has range in the hole. Evan has been an impressive defensive player since the day he arrived in the majors.

Evan is a mature player for someone who reached the majors so quickly. He had a tendency to chase bad pitches in the minors, but now he forces enemy hurlers to put the ball over the plate. He's a hard worker, and teammates appreciate his approach to the game. In less than a full season with the Rays, he established himself as a winner and team leader.

EXTRA

# Evan was drafted between five college pitchers—Luke Hochevar, Greg Reynolds, Brad Lincoln, Brandon Morrow and Andrew Miller. Lon Beach State teammates Andrew Carpenter and Jared Hughes went in rounds two and four, respectively
# Evan and Troy Tulowitzki were suitemates at Long Beach State.
# Evan was a finalist for the 2006 Golden Spikes Award.
# Evan batted .444 with four homers in eight games with the Hudson Valley Renegades in 2006.
# Evan hit his first grand slam in 2008, off Roy Halladay.
# Evan's seven postseason homers in 2008 tied an AL record.
# Evan was the first player since Nomar Garciaparra to be a unanimous AL Rookie of the Year. Carlton Fisk was the first.
# Evan played in the 2009 World Baseball Classic as a replacement for Chipper Jones. He got one at-bat and fanned against Takahiro Mahara of Japan.
# The star of the St. John Bosco baseball team was Derrick Williams, who would end up earning a football scholarship to UCLA.
# Evan's first two-homer game came against Steve Trachsel, a fellow Long Beach State alum.
# Evan knocked in his 100th career run in his 135th game. The only active players to reach the century mark sooner are Albert Pujols and Ryan Braun.
# Evan signed a six-year extension with the Rays in 2008.
# Evan and his girlfriend Savannah have been dating since 2001.
# Evan is the current "Guitar Hero" champion of the Rays' clubhouse.

View the full website biography of Evan Longorian.