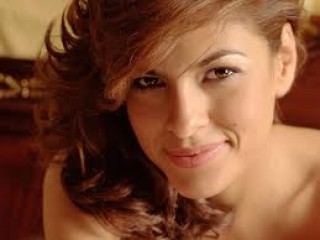 Eva Mendes
Date of birth : 1978-03-05
Date of death : -
Birthplace : Miami, Florida, U.S.
Nationality : American
Category : Arts and Entertainment
Last modified : 2011-03-05
Eva Mendes is an American actress and model. She began acting in the late 1990s, and after a series of minor roles and performances in several smaller films such as Children of the Corn V: Fields of Terror (1998) and Urban Legends: Final Cut (2000), she broke into the mainstream, appearing in leading roles in Hollywood releases, such as Training Day (2001); 2 Fast 2 Furious, Once Upon a Time in Mexico and Stuck on You (2003); Hitch (2005); Ghost Rider and We Own the Night (2007); The Spirit (2008); Bad Lieutenant: Port of Call New Orleans (2009); The Other Guys and Last Night (2010).

Born on March 5, 1974 in Miami, FL, Mendes moved to Los Angeles with her family when she was two years old. Of Cuban descent, her parents fled the island in 1959 before the revolution, but ultimately split up when Mendes was 10 years old. Her mother worked as an accountant to support the family, and was very strict with Mendes and her three elder siblings. Mendes was not even thinking about an acting career when, while attending Cal State Northridge and majoring in marketing, a stroke of luck changed her life forever. Her neighbor - a photographer - took some photographs of her to use in his portfolio and a casting agent noticed the pictures and asked to meet Mendes. The 24-year-old was plucked from obscurity and cast in the straight-to-video release "Children of the Corn V: Field of Terror" (1998).

Mendes was determined not to let her career be defined by a cheesy horror flick, so she began taking acting lessons and got serious about success. She landed newcomer acting gigs in commercials and music videos and added a few more feature films to her resume including "Night at the Roxbury" (1998) starring Will Farrell and Chris Kattan, and "Urban Legends: Final Cut" (2000). Mendes finally got a profile boost in the critically acclaimed "Training Day" (2001) starring Denzel Washington, which generated some buzz over the actress' nudity. The same year, she appeared in Steven Seagal's actioner "Exit Wounds" (2001) and earned a bigger supporting role in "All About the Benjamins" (2002), a diamond heist comedy starring Ice Cube and Mike Epps.

In her first leading screen role, Mendes played an undercover U.S. customs agent who works with a pair of race car drivers (Paul Walker and Tyrese) to ensnare a drug kingpin in John Singleton's "2 Fast 2 Furious" (2002) - the sequel to "The Fast and the Furious" (2001). Mendes' flair for action material led Robert Rodriguez to cast her in the third installment of his Mariachi trilogy, "Once Upon a Time in Mexico" (2003), in which she played a duplicitous Mexican Federale to Johnny Depp's rogue CIA agent. She reunited with Denzel Washington for director Carl Franklin's thriller "Out of Time" (2003), playing the estranged wife of Washington's Florida Chief of Police whose life falls apart when he becomes embroiled in a murder investigation. Around this time, Mendes' became a spokesmodel for Revlon and began to show a little more versatility as an actress with her co-starring role as a gossip reporter who falls for a relationship consultant (Will Smith) she is pursuing for a story in the romantic comedy, "Hitch" (2005).

In the independent romantic comedy "Trust the Man" (2006), Mendes delivered a strong supporting performance as an old college friend who engages in an affair with a man (Billy Crudup) trapped in a dysfunctional relationship with a longtime girlfriend (Maggie Gyllenhaal) looking to start a family. Mendes raised her profile significantly with the blockbuster comic book adaptation "Ghost Rider" (2007), playing the childhood sweetheart of a superstar stunt motorcycle rider-turned-bounty hunter of rogue demons (Nicolas Cage). Mendes took on another "girlfriend" role opposite crooked club owner Joaquin Phoenix in the successful crime drama "We Own the Night" (2007), and leveraged her sex appeal again as a cosmetic counter siren who lures a husband away from his wife in the disappointing remake of George Cukor's classic 1939 film "The Women" (2008). The high profile actress and spokeswoman expanded her ventures with the release of a line of bedding and a deal to model for Calvin Klein, ending a busy year with a co-starring role in "The Spirit" (2008), a dark comic book adaptation helmed by Frank Miller.


View the full website biography of Eva Mendes.