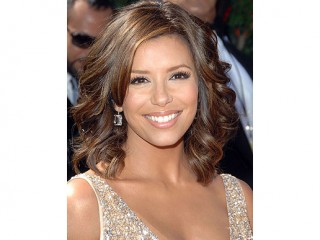 Eva Longoria
Date of birth : 1975-03-15
Date of death : -
Birthplace : Corpus Christi, Texas, U.S.
Nationality : American
Category : Arts and Entertainment
Last modified : 2011-03-15
Eva Jacqueline Longoria is an American actress, best known for portraying Gabrielle Solis on the ABC television series Desperate Housewives. Longoria received a nomination for the 2006 Golden Globe Award for Best Actress in a Comedy Series for her performance on Desperate Housewives.

Opinionated and outspoken Desperate Housewives Latina starlet Eva Longoria is almost as well known for her risqué sense of style as she is for her role as the oversexed nymph on the aforementioned ABC hit, on which she stars opposite television veterans Teri Hatcher, Marcia Cross, Felicity Huffman, and Nicollette Sheridan. Crediting her remarkable success in Hollywood to an unwavering determination to succeed and a strong sense of personal discipline, Longoria has enjoyed a steady rise to fame that shows no signs of slowing anytime soon. Considered in her youth as the "ugly duckling" among her three siblings due to her dark complexion, the future sexpot nevertheless had a happy childhood growing up on her family's Corpus Christie ranch, and by the time she earned the title of Miss Corpus Christie in 1998, any insecurities that might have resulted from her unfortunate family title had long faded. Though Longoria had numerous career options after earning her bachelor of science degree in kinesiology from Texas A&M-Kinsville, a new and empowering sense of self-confidence found the aspiring starlet opting instead to try her luck among the glitz and glamour of Hollywood.

Of course, it didn't take Tinseltown talent agents too long to notice a good thing when it came their way, and after procuring an agent and making her stage debut in a production of What the Rabbit Saw, Longoria was soon cast in a small role on the hit television series Beverly Hills 90210. A subsequent stint on the long-running daytime drama The Young and the Restless found Longoria's steady ascent to stardom perfectly on track, and although her trajectory may have been momentarily derailed due to roles in such forgettable efforts as the small-screen Dragnet revival in 2003 and a pair of throwaway straight-to-video features (Snitch'd and Señorita Justice), 2004 proved the year that everything came together for the determined actress when Desperate Housewives emerged as a surprise hit that revitalized an ailing ABC and setting breakout beauty Longoria back on the fast track to fame. Her role as a glamorous former runway model who is having an affair with her 17-year-old gardener showcased both Longoria's undeniable sensuality as well as her remarkable comedic skills, and fans were further impressed when Longoria took the dual roles of star and producer in the hit comedy/variety show Hot Tamales Live. The same year of her breakout success on Desperate Housewives, Longoria appeared opposite Anne Heche in the made-for-television thriller The Dead Will Tell, with subsequent roles in Carlita's Secret, Harsh Times, and The Sentinel, pointing to a lucrative feature career in addition to her success on the small screen. Briefly married to actor Tyler Christopher from 2002 to 2005, Longoria moved further into the spotlight when she was chosen as the new face of cosmetics powerhouse L'Oréal in April 2005.

Her place in Hollywood firmly established, Longoria appeared in the 2006 thriller The Sentinel, alongside Michael Douglas, and then in the Ben Stiller comedy The Heartbreak Kid in 2007. This would prove to be an important year for the actress as that summer she was married to basketball star Tony Parker. She didn't take much time off to celebrate her nuptials, however, as the next year she starred in the comedy Over Her Dead Body, in which she played a woman who is accidentally killed by an ice sculpture on her wedding day and proceeds to haunt her fiancé. Eager to continue to flex her comedic muscle, Longoria then signed on for the family comedy Foodfight!

Eva Longoria opened the restaurant Beso (in Spanish: "Kiss") in Hollywood, along with partner and celebrity chef Todd English, in March 2008. The restaurant is located on Hollywood Boulevard and is accompanied by Kiss, a Victorian-themed nightclub above the restaurant. The Hollywood Beso was scheduled to be the focus of a pilot episode for a tentative reality series called Beso: Waiting on Fame which would air on VH1 in late 2010.

In 2009, Longoria and various investor-partners opened a Beso restaurant, with a nightclub called Eve above it, in the Crystals retail and entertainment district of CityCenter in Las Vegas.

In 2011, the corporation Beso LLC, owner of the Vegas restaurant-and-nighclub venture, with listed assets of about $2.5 million and Eva Longoria as a 32 percent shareholder, filed for Chapter 11 protection, entering bankruptcy proceedings, in order to restructure nearly $5.7 million in debt and other liabilities. Longoria stated she's looking "forward to a more pro-active, hands-on approach in the coming years" with her Las Vegas business interests.

Longoria released the fragrance "EVA by Eva Longoria", a "clean citrus-floral eau de parfum", in April 2010. She stated she wanted a fragrance she could wear: "I am allergic to most fragrances. There was nothing I could wear without my eyes watering, my nose starting to itch or sneezing."


View the full website biography of Eva Longoria.