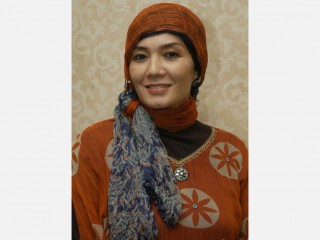 Eva Arnaz
Date of birth : 1958-07-14
Date of death : -
Birthplace : Bukittinggi, Indonesia
Nationality : Indonesian
Category : Arts and Entertainment
Last modified : 2011-01-04
Eva Arnaz Yanthi or better known as Eva Arnaz is an Indonesian film actress and soap opera known since the mid-1970s and 80s era. He started his career as a champion 2 None Jakarta in 1976. He has starred in more than 50 films and had starred in a soap opera production of Multivision Plus Rosanna in 1996.

Eva Arnaz married five times. First with Kiki Saelan, son of maulwi Saelan (figure football ground water), both with Barry Prima, Adi Bing Slamet third, fourth with Omar Dedi Hamdun, is one person who lost or removed during the dark days before the collapse of the government's Order New. Eva later married a man of Arab descent.
Eva Arnaz BiographyEva Arnaz born from Bukittinggi merchant family has loved fashion since childhood. It also pushed Jakarta None voted in 1976. Eva won two champions. Eva succeeded a year later was elected as the Queen of Jakarta. Achievement drive itself also became a movie star.

Eva Arnaz debut film is Duo Kribo (1978) Eduard landing party and Eva Sirait paired with Achmad Albar. Eva's name skyrocketed thanks to the diamond film at the audacity of the Virgin Kubu shirtless. That's how Eva got the nickname star sex bomb. Next Eva films largely a movie full of sex scenes or scenes of violence, such as Serbuan Halilintar, Membakar Matahari, Lima Cewek Jagoan, Gadis Bionik, Perempuan Bergairah, Kupu-Kupu Beracun, Warok Singo Kobra, Cewek Jagoan Beraksi Kembali, Midah Perawan Buronan, Jaka Sembung, Bergola Ijo, Buah Terlarang, Terjebak Dalam Dosa, Montir-Montir Cantik, Gadis di Atas Roda, Pasukan Berani Mati, and so forth.

Unfortunately, because the figure of Eva is too sticky with sex roles and action, many forget that Eva had also starred in romantic films. Among other things, Sakura In Hugs Badminton pair with Liem Swie King and Valley of Sorrow (as a mama-san), a film which drains tears won rave reviews at the time.

Besides Eva also playing in a comedy film together Warkop until more than five titles, including six Million Dollar Man, Know Yourself Dong, Just Alright, First Patient Dong, Lost Rules, Forward Backward Taxable Taxable, Front Rear Can Can, Smart Smart Lower and Upper Stupid Can Can. In this Warkop movies, Eva is more known for her sexiness indeed be one of attractiveness Warkop films at that time.

For non-Warkop comedy he also got involved in his movie plots Acup Abbas, Love in the Flats eminent film incoming FFI that time, the film also advances and Queue Dong Goods. The film is the opinion of those who argue that excess Eva in the film only for his courage in the role of open-aperture.

As the world faded film, Eva was switched to soap opera titled Rossana (1996). Acting in this soap opera last gait role of Eva in the art world. Eva reportedly refused to play in the new soap opera on offer Raam Punjabi, because with Omar Dedi Hamdun (fourth husband) went to Australia to pursue obtaining a child through IVF system. Be advised of the three previous marriages, first with Saelan Fund, the son of Kiky Saelan (figure football ground water), both with Barry Prima, and the third with Adi Bing Slamet, not blessed with a single child. Unfortunately these efforts have not been successful because the disappearance Hamdun, since the date of May 29, 1998, shortly after the election.

Eva is now named Siti Syarifah wear a headscarf in the year 2000. He admitted that he embarrassed by his past. Now he wants to live with a beautiful, calm and happy and good in the eyes of God.
Now that Eva has married again for the fifth time with the Arab-blooded male and has a son in the year 2007, Samir Amin .


View the full website biography of Eva Arnaz.