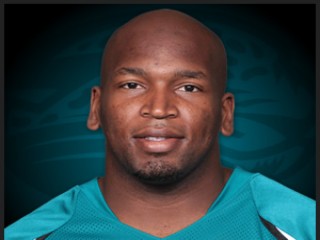 Eugene Monroe
Date of birth : 1987-04-18
Date of death : -
Birthplace : Plainfield, New Jersey
Nationality : American
Category : Sports
Last modified : 2010-11-01
Eugene Monroe is an American football offensive tackle for the Jacksonville Jaguars.

TRANSACTIONS: Originally drafted by Jacksonville in the first round (8th overall) of the 2009 draft.

Started 13 games at LT as a rookie after being selected with the eighth overall pick … Joined Eben Britton as the first pair of rookie tackles to start on opening day in the NFL since 1982 … Only the second offensive lineman chosen by the Jaguars in the first round in franchise history (Tony Boselli, 1995) … One of six offensive linemen taken in the first round and the third overall (behind Jason Smith and Andre Smith), marking only the third trio of offensive linemen in the past 20 years, and first since 2002, to be selected in the top 10 … Became third OT from Virginia selected in the first round in the last four years, joining D'Brickashaw Ferguson (N.Y. Jets, 2006) and Branden Albert (Kansas City, 2008) … Third player drafted by the Jaguars from Virginia in franchise history (TE Chris Luzar, RB Alvin Pearman) … Three-year starter at Virginia …

2009

Started 13 of 15 games at LT as a rookie … 9/13 at IND: Started season-opener and joined Eben Britton as the first pair of rookie tackles to start on opening day in the NFL since 1982 when Luis Sharpe and Tootie Robbins started for the St. Louis Cardinals. The first OT to start on opening day for the Jaguars since 2001 (Maurice Williams) … 9/27 at HOU: Paved the way for 185 rushing yards and 399 yards of total offense in win … 10/4 vs. TEN: Was inactive (illness) … Saw limited action on 10/11 at SEA and 11/1 at TEN … 10/18 vs. STL: Part of offense that registered season-high 492 yards, the fourth-most in team history … 11/8 vs. KC: Offense produced 426 total yards including 173 on the ground.

COLLEGE

Regarded as the most dominating offensive lineman in college as a senior ... Four-year letterman and three-year starter who started 30 games … Unanimous All-ACC selection as a senior, starting all 12 games at LT … Recipient of Jacobs Blocking Trophy as a senior, given annually since 1953 to the player voted the most outstanding blocker in the ACC by a poll of the league's head coaches and defensive coordinators … Registered a school-record 105 knockdowns and set an ACC single-season record with 16 TD resulting blocks … Finished with an 88.42 percent blocking consistency grade, the best of any senior OT in the collegiate ranks … Started 11 games at LT as a junior and did not allow a sack on 428 pass plays … Selected honorable mention All-America and named first-team All-ACC by The NFL Draft Report … Delivered 55 knockdowns, including 15 that resulted in TDs … Started seven of 12 games as a sophomore at LT … Earned All-ACC honorable mention from The Gridiron Report … Did not allow any sacks on 345 passing plays … Played in 12 games as a reserve at LT and RG as a freshman … Also saw action on special teams … Appeared briefly in two games at DT … Played behind 2006 NFL first round pick D'Brickashaw Ferguson at LT … Graduated May 17, 2009, with degree in sociology.

PERSONAL

Single … Resides in Plainfield, N.J. … Attended Plainfield High School … Named first-team All-America by USA Today, U.S. Army, Parade, EA Sports and Super Prep … Received a five-star prospect rating from both Scout.com and Rivals.com … Ranked second overall among high school seniors by College Football News … Was top-rated player on Super Prep's Elite 50 list … Did not allow any sacks during his final three seasons as starter … One of 16 children (10 brothers, five sisters) of Stephanie Green and the late John Monroe … Was one of Virginia teammate Chris Long's invited guests at Radio City Music Hall in 2008 when the Rams selected Long with the No. 2 overall pick ... Participated in 2009 Tropicana "Got Skills?" Rookie Day at Jacksonville Municipal Stadium … Participated both financially and in person at the 2009 Shop with a Jock event at Wal-Mart where more than 50 children from the Bridge of Northeast Florida and the MaliVai Washington Kids Foundation were treated to a shopping spree … Full name: Eugene Christopher Monroe.
View the full website biography of Eugene Monroe.