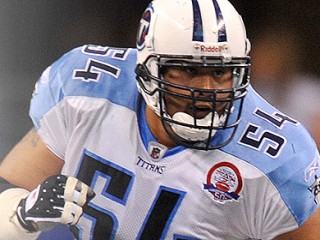 Eugene Amano
Date of birth : 1982-03-01
Date of death : -
Birthplace : Manila, Philippines
Nationality : American
Category : Sports
Last modified : 2010-12-10
Eugene Amano is an American Football center/guard for the Tennessee Titans.

PRO:
Amano is in his seventh NFL season and has been extremely durable having played in all but one game during his career. A strong player with quick feet, he has experience at guard and center at both the college and pro levels. Over the last two seasons (2008-2009), Amano has started 31 games at left guard, but looks to move to center in 2010. In his first four seasons in the NFL, he served primarily as a reserve at both center and guard.

CAREER HIGHLIGHTS:
• In 2009, Amano was a member of an offensive line that blocked for the NFL's second-best rushing attack (162.0 yards per game) and opened holes for Chris Johnson who became just the sixth player in NFL history to rush for 2,000 yards. Also, part of an offensive front that allowed just 16 sacks, the second fewest in the NFL.
• As senior at SE Missouri State, Amano won 1-AA Dave Rimington Award, given annually to top center in college football at each level of competition.

TITANS TIDBITS:
• Although he was born in Manila, Philippines, Amano lived in the United States from the time he was two months old. His mother, Aida, a nurse, and his father, Eugene, who served in the U.S. Navy for 25 years, were stationed in the Philippines when he was born but then moved to San Diego.
• Amano was honored with his own day by the council members of National City, Calif. June 1, 2010 was proclaimed Eugene Amano Day in his hometown.
• The past two offseasons, the Amano Family Foundation has held free football camps for the youth of National City, Calif.
• Following the 2010 season, Amano plans to travel back to the Philippines for the first time since leaving with his family as an infant. He will volunteer with a group called Gawad Kalinga, which means "to give care" and help rebuild poverty-stricken villages in his native land.
• Amano is in the process of developing The Amano Family Foundation back in San Diego that will benefit inner-city youth.
• Amano's younger brother, Fred, played defensive tackle at San Diego State. The brothers workout frequently together during the offseason. Their older sister, Allison, is an assistant buyer in San Diego.
• In May 2006, Amano received his degree in criminal justice from Southeast Missouri State. After entering the NFL 27 credit hours shy of his diploma, he completed his schooling through online courses, independent study and an internship during the 2006 offseason with the Franklin (Tenn.) Police Department in which he worked with detectives on the squad's drug task force.
• Because he had yet to receive a scholarship offer late in his senior year of high school, Amano planned to walk on to the football team at either San Diego State or the University of New Mexico. But when a coach from Southeast Missouri State called one of Amano's high school coaches inquiring about junior college players in the San Diego area, Amano's coach tried to sell him on Amano playing for the 1-AA school. When the SE Missouri State coaching staff finally saw Amano's game film, they called and offered him a scholarship without even flying him in for an official visit.

CAREER TRANSACTIONS:
• A native of Manila, Philippines, Amano was selected by the Titans in the seventh round (239th overall) of the 2004 NFL Draft.

COLLEGE:
• Played every game in college, starting every contest from midway through his freshman year through his senior campaign. Began career as guard before transitioning to center as junior.
• As senior, won 1-AA Dave Rimington Award, given annually to top center in college football at each level of competition. Also named first-team All-American by the American Football Coaches Association, The NFL Draft Report and Football Gazette.
• Named second-team All-Ohio Valley Conference sophomore and junior seasons.
• Also served as long snapper for final three seasons.
• Majored in criminal justice at SE Missouri State.

PERSONAL:
• Married to Frances Santos, the couple splits time between Nashville and San Diego, Calif.
• Attended Rancho Bernardo (San Diego, Calif.) HS, where he was an all-conference performer as an offensive and defensive lineman during his senior season. Was a three-sport athlete who also lettered in basketball and track.
• Would like to pursue a career as a federal agent or with the FBI when his playing days are over.
• List of favorites: (movies) "Star Wars," "Old School" and "Wedding Crashers"; (TV shows) "Lost," "The Simpsons," "Real World" and "Seinfeld"; (actress) Angelina Jolie; (music artists) John Legend; (sports hero) David Robinson; (video games) Nintendo Wii, Madden NFL Football and NCAA Football; (vacation getaway) Las Vegas; (school subject) history; and (kind of food) Mexican food and food from the Philippines.
• Born Eugene Philip Amano in Manila, Philippines, on March 1, 1982.

View the full website biography of Eugene Amano.