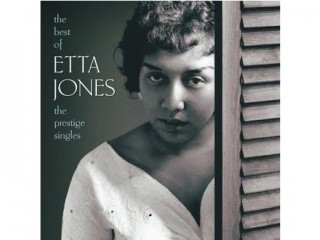 Etta Jones
Date of birth : 1928-11-25
Date of death : 2001-10-16
Birthplace : Aiken, South Carolina, U.S.
Nationality : American
Category : Famous Figures
Last modified : 2011-12-05
Etta Jones was an American jazz singer.She is not to be confused with the more popular singer Etta James nor her namesake, a member of the Dandridge Sisters, who recorded with Jimmy Lunceford and was Gerald Wilson's first wife.

Jazz vocalist Etta Jones recorded more than two dozen albums and earned three Grammy Award nominations during her six-decade-long career. Her popularity peaked in 1960 with the release of her single "Don't Go to Strangers," which climbed to number five on the R&B charts. In the late 1960s Jones formed a duo with tenor saxophonist Houston Person, with whom she toured for the next 35 years. "All I want to do is work, make a decent salary, and have friends," Jones told National Public Radio in a quotation cited in the Dallas Morning News. Although she never attained a level of stardom comparable to such jazz and blues greats as Aretha Franklin, Billie Holiday, and Dinah Washington, Jones had a devoted following of listeners and made her own unique mark on jazz history.

Jones was born on November 5, 1928, in Aiken, South Carolina, and raised in New York City. As a three year old she dreamed of becoming a singer and would pose in front of a mirror to mimic songs from the radio. Billie Holiday, whom she saw in concert, and Thelma Carpenter, were some of her earliest influences. When Jones was 15 years old, she attended Amateur Night at the famed Apollo Theater in Harlem. Like jazz greats Ella Fitzgerald and Sarah Vaughn, her career began at the Apollo, though at first glance her debut did not seem promising. On that evening in 1943 she was so nervous that she started singing off key and lost the talent competition. Yet the pianist-bandleader Buddy Johnson recognized her ability. Johnson immediately hired her to fill in for his vocalist sister, Ella Johnson, who was leaving the band to have a baby.

Jones toured with Johnson's 19-man band for a year, until Ella returned, thus beginning a series of stints with other medium- and big-band New York jazz groups, including the Harlemaires and the Barney Bigards Orchestra. It was with the latter that Jones made her first recording, arranged by pianist Leonard Feather in 1944. In subsequent years she performed and recorded with such jazz personalities as Pete Johnson, J. C. Heard, Kenny Burrell, Charles Brown, Milt Johnson, and Cedar Walton. In 1949 she started singing with Earl "Fatha" Hines, performing with his band for the next three years.

Jones also attempted to launch a solo career, though she was not successful at first. She recorded sides with such labels as Black & White and RCA Victor, but these singles flopped. At the time, R&B was enjoying increased popularity, but Jones avoided this genre, preferring to sing jazz. This decision limited her audience and her exposure as an artist, and for a number of years she remained an obscure singer.

Throughout the 1950s Jones faced hard times and had to take day jobs occasionally to make ends meet, working as an elevator operator, an album stuffer, and a seamstress. She continued to perform sporadically, as opportunities arose. In 1956 Jones recorded her first full-length album, The Jones Girl... Etta ... Sings, Sings, Sings, with King Records. But the album debuted with little fanfare and went largely unnoticed.

The tables turned for Jones in 1960 when her manager, Warren Lanier, sent a demo tape to Esmond Edwards, a producer at Prestige Records. Edwards liked the tape and decided to sign Jones immediately. On the Prestige label she recorded the album Don't Go to Strangers, released in 1960. Since Strangers was a jazz album, no one expected it to appeal to a mainstream audience. Yet the title song was an instant hit, selling one million copies and putting Jones' name on the top 40 charts. The song even earned her a Grammy Award nomination--the first of three in her career. While Jones was not an overnight success, she was a sudden success. Her weekly income increased from $50 to $750. Riding on this triumph, Jones recorded several more albums for Prestige throughout the 1960s. But, jazz audiences were dwindling in the United States with the arrival of the Beatles and the growing popularity of pop and rock sounds.

In 1968 Jones formed a musical partnership that would change her career. She met Houston Person, a highly regarded tenor saxophonist, when the two performed on the same bill at a Washington, D.C., nightclub. Jones and Person immediately hit it off, and they decided to tour together as a duo with equal billing, a partnership that would last for more than three decades. "They say ... a lot of times singers and musicians don't get along too well," Jones told Billy Taylor of Billy Taylor's Jazz at the Kennedy Center on National Public Radio in 1998, "but we got along famously."

Person became not only Jones' collaborator but also--after 1975--her manager and record producer. Their connection was so close that some jazz aficionados have mistakenly assumed they were married, though they were not. Yet their rapport as musicians was unique, and they developed a conversational style with vocals and saxophone riffs. "[Person] knows exactly what I'm going to do," the New York Times recalls Jones saying. "He knows if I'm in trouble; he'll give me a note. He leaves me room."

From the mid-1970s until her death in 2001, Jones and Person recorded 18 albums for the Muse label, which later became High Note Records. While these albums appealed to a relatively narrow audience of jazz aficionados, they occasionally contained minor hits attracting a wider group of listeners. In 1981 Jones received a Grammy Award nomination for her album Save Your Love for Me. A third Grammy nomination came in 1999 for her tribute to her former boss, My Buddy--Etta Jones Sings the Songs of Buddy Johnson.

Late in her career, Jones was able to relax into her role as a highly respected, traditional jazz singer. "When I first started, I had to do some songs I didn't care for, but now I more or less sing what I want to sing," she told the San Francisco Chronicle in 1993, as quoted in the Washington Post. "I want a good lyric. I don't want nonsense. I like heavy dramatic tunes--a tune that's saying something, like Sammy Cahn's 'All the Way.'"

After a battle with cancer, Jones died on October 16, 2001. She was survived by her husband, John Medlock, two sisters, and a granddaughter (a daughter predeceased her). The day she died, High Note released her final recording, Etta Jones Sings Lady Day.

Selected discography:
- Don't Go to Strangers , Prestige/OJC, 1960.
-Etta Jones and Strings , Original Jazz, 1960.
-Something Nice , Prestige/OJC, 1961.
- From the Heart , Prestige/OJC, 1962.
-Hollar , Prestige, 1962.
-Etta Jones' Greatest Hits , Prestige, 1967.
- Ms. Jones to You , Muse, 1976.
-My Mother's Eyes , Muse, 1977.
- Save Your Love for Me , Muse, 1981.
-Fine and Mellow , Muse, 1987.
-Sugar , Muse, 1989.
-Reverse the Charges , Muse, 1991.
-At Last , Muse, 1993.
-Doin' What She Does Best , 32 Jazz, 1998.
-My Buddy: Songs of Buddy Johnson , High Note, 1998.
-Etta Jones Sings Lady Day , High Note, 2001.

View the full website biography of Etta Jones.