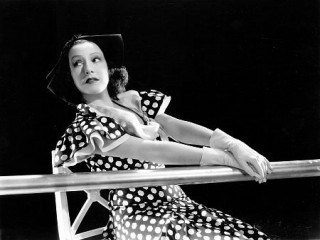 Ethel Merman
Date of birth : 1909-01-16
Date of death : 1984-02-15
Birthplace : Astroia, New York City, New York, US
Nationality : American
Category : Famous Figures
Last modified : 2011-04-16
For more than fifty years singer and actress Ethel Merman was a beloved legend of stage and screen. Her first musical appearance, in George and Ira Gershwin's Girl Crazy in 1930, resulted in her instant rise from secretary and occasional club singer to Broadway singing sensation. Merman went on to star in a dozen more stage musicals and numerous films and continued to perform into her seventies.
Actress and singer Ethel Merman was born Ethel Agnes Zimmermann in Astoria, a suburb of New York City, on January 16, 1909. She later shortened her name to Merman because, she said, "If you put Zimmermann up in lights, you'd die from the heat." Merman showed an early interest in singing, and her parents, Edward and Agnes, encouraged her. Edward Merman, an accountant, loved to sit at the family piano and sing, and his daughter often joined him. Even then her voice showed signs of becoming a giant instrument; she noted later in a New Yorker interview that, "The neighbors used to hear me, of course." Merman made her public debut at the age of five, singing at a Red Cross camp.
In high school Merman trained to be a secretary; even in later life, she insisted on taking her own notes at business meetings and handling her own correspondence. She became the secretary to the president of a New York City company, who had connections in the entertainment industry. He gave her a letter of introduction to George White, a theatrical producer. White offered Merman a place in the chorus line of Scandals, a long-running and highly popular Broadway revue; amazingly, she turned down this break because she preferred to sing. Merman continued to work as a secretary, but also began to sing at nightclubs. While singing at the Little Russia club, agent Lou Irwin noticed Merman and signed her to a six-month contract at Warner Brothers' New York studio. However, the closest she came to a film performance was as a bit player, wearing a leopard skin. Merman decided to keep singing at night clubs and soon had regular engagements.
At this point Merman elected to quit her day job and, in another stroke of good luck, she caught the attention of theatrical producer Vincent Freedley. In 1930 he arranged an audition with rising young composer George Gershwin, who was casting for a musical, Girl Crazy, cowritten with his brother Ira. Merman was hired and appeared on the program far down the cast list, as "Kate Fothergill," bride of a gambler. On opening night, while singing "I Got Rhythm," Merman held a high C for 16 bars. The audience went wild and she had to perform several encores. Her performance overshadowed the rest of the cast, including the musical's star, Ginger Rogers. George Gershwin, who was conducting the orchestra, reportedly ran backstage afterward and told Merman, "Don't ever let anyone give you a singing lesson; it'll ruin you." Merman became an instant star at the age of twenty-one, based on this single performance, and wisely followed Gershwin's advice. Girl Crazy ran for 272 performances, and Merman belted out "I Got Rhythm" eight times a week.
After the success of Girl Crazy, Merman appeared in the eleventh edition of George White's Scandals. This time, however, rather than being offered a place in the chorus line, Merman was one of the headliners along with singer Rudy Vallee. She sang several numbers, and her solo rendition of "Life Is Just a Bowl of Cherries" made the song a popular hit. Scandals ran on Broadway for 202 performances. After it closed in 1932, Merman then appeared on the road in Pittsburgh, in the musical Humpty Dumpty, a satire of American history. Unfortunately, this show was one of the few flops in Merman's career, and it soon closed without ever leaving Pittsburgh. However, by the next season Humpty Dumpty had been drastically rewritten and opened on Broadway as Take a Chance. Again Merman was a hit with audiences, which led to her being offered her first featured role in a Hollywood film.
The cast of the film We're Not Dressing included such major stars as Bing Crosby and Carole Lombard, but it did not give Merman a real chance to display her singing talent. Her biggest number was singing "The Animal in Me," which she shared with a "chorus line" of forty elephants. The song was cut from the final film and, after appearing in another minor film role in Kid Millions, Merman decided to return to the New York stage. These experiences foreshadowed what would be a major problem with Merman's screen appearances. She was not a typical screen beauty and, as she recalled later, the directors constantly told her to hold down her voice, her strong point.
In 1934 Merman starred in the musical comedy Anything Goes, which featured songs by Cole Porter. She sang several songs that are now among the most famous of show tunes, including "I Get a Kick Out of You," "You're the Top," and the show's title song. Anything Goes was a major hit and ran for 420 performances. During its run Merman also was given a radio program of her own. Once again, she decided to try Hollywood, appearing in the film version of Anything Goes as well as several more forgettable roles. Again she was disappointed by her film career and returned to Broadway. Through the rest of the 1930s Merman continued to alternate stage and screen roles. She starred in three more Cole Porter stage musicals: Red, Hot and Blue!, Du Barry Was a Lady, and Panama Hattie; and in the films Happy Landing, Alexander's Ragtime Band, and Straight, Place, and Show. As usual, Merman found that she was a hit on stage, but her films were not as successful. Film executives began to feel the same; when Du Barry Was a Lady was filmed, Merman's role was given to Lucille Ball.
In 1943 Cole Porter turned to Merman once again when casting his new Broadway musical, Something for the Boys. Although the production was plagued by management problems and reviewers found Porter's new songs below his usual standards, Merman was stellar and the show ran for more than 400 performances. Something for the Boys marked one of the rare occasions when Merman missed a performance; several months into the show's run, she developed a severe case of laryngitis, and her understudy had to take over for a week. This musical also marked the fifth and last time that Merman would star in a Porter musical.
After Something for the Boys closed, Merman was approached for the lead in a new musical to be produced by the famous team of Richard Rodgers and Oscar Hammerstein, Annie Get Your Gun. Equally famous composer Jerome Kern had agreed to write the show's songs; however, he died suddenly and Irving Berlin was convinced to step in. Merman's portrayal of Western marks woman Annie Oakley proved to be one of her most famous performances. With great Berlin songs like "You Can't Get a Man with a Gun" and "There's No Business Like Show Business," Annie Get Your Gun was a huge hit and ran for 1,147 performances. However, when the show was filmed in 1950, Merman's role went to Betty Hutton (who also had been given the film lead in Red, Hot and Blue! the previous year).
During the 1950s Merman starred in two more hit stage musicals, Call Me Madam and Gypsy. In Call Me Madam, another Berlin musical that opened in 1950, Merman portrayed a character based on noted Washington, D.C. hostess Perle Mesta. Merman took pride in always knowing her lines, but also did not like last minute changes. When Berlin asked her to learn new lyrics for the song "The Hostess with the Mostes"' she reportedly refused, saying, "Call me Miss Bird's Eye. It's frozen." Call Me Madam had advance sales of $1 million and ran for 644 performances. Merman also starred in the film version made in 1953.
Merman's last great stage hit was 1959's Gypsy, with music by Jule Styne and lyrics by Stephen Sondheim. In this story of famous stripper Gypsy Rose Lee, Merman played the ultimate driven stage mother, Rose Hovick. Her number "Everything's Coming Up Roses" was an instant hit, as was the show itself; it ran for 702 performances. Merman considered the role of Rose Hovick her favorite, and "Everything's Coming Up Roses" became her anthem. She was deeply disappointed when her role in the 1962 film version went to Rosalind Russell. After Gypsy, Merman starred in a 1966 revival of Annie Get Your Gun and then joined the cast of Hello Dolly for three months during the seventh year of its run.
Despite Merman's flashy, self-confident stage and screen image, her personal life never matched the success of her professional life. She was married and divorced four times: to film agent William B. Smith; airline president Robert F. Six; publishing executive Robert D. Levitt; and, finally, actor Ernest Borgnine for 38 days in 1964. She had two children with Levitt, who committed suicide years after their divorce. Merman's daughter (nicknamed "Ethel Jr.") struggled with chronic depression and lost custody of her children to her husband after their divorce. She died in 1967 following a drug and alcohol overdose, in a vacation cabin with her visiting young children in the next room. "Ethel Jr.'s" death also was listed as a suicide, but Merman never accepted that verdict and insisted that her daughter had taken an accidental overdose of prescription medicine.
Merman continued to perform well into her seventies. She retired from Broadway in 1970, after starring in Hello Dolly, but during the 1960s and 1970s she frequently appeared on television programs. Merman was a guest on Judy Garland's variety show and also featured on Batman (as "Lola Lasagne"), The Love Boat, and The Muppet Show. Merman also made several films during this time, although none were the hit musicals that had made her famous. Among her later films were It's a Mad, Mad, Mad, Mad World (1963) and Airplane (1980), in which she played an injured soldier who thought he was Ethel Merman. Her last major public appearance was at a Carnegie Hall benefit performance in 1982. The next year Merman underwent surgery to remove a brain tumor that was discovered after she suddenly collapsed in her apartment. However, the tumor was not operable and she continued to decline. Sadly, the woman with a giant singing voice and vibrant stage presence became bedridden and had to struggle to speak even a few words. Merman died in New York City, where she had lived her entire life, on February 15, 1984.
View the full website biography of Ethel Merman.