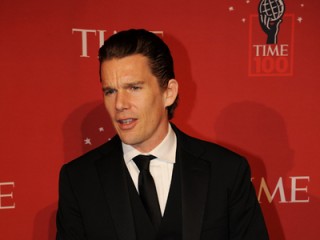 Ethan Hawke
Date of birth : 1970-11-06
Date of death : -
Birthplace : Austin, Texas, U.S.
Nationality : American
Category : Arts and Entertainment
Last modified : 2010-11-06
Even though he exhibited star-making potential in films like Dead Poets Society (1989) and Reality Bites (1994), actor Ethan Hawke chose instead to be something of a Gen-X Renaissance Man, starring in offbeat movies, publishing modestly-acclaimed novels, directing artsy independent films and even forming his own Manhattan-based theater company. Though he did make occasional forays into pricey studio films like Gattaca (1997), Great Expectations (1998) and Training Day (2001), Hawke was more at home pursuing his artistic ambitions for art's sake, not for large pay days or widespread recognition. Perhaps nowhere was this more apparent than his several collaborations with director Richard Linklater, with whom the actor most notably starred in Before Sunrise (1995), Waking Life (2001) and Before Sunset (2004). Hawke did suffer the fate of most celebrities by landing in the tabloids for his widely publicized divorce with actress Uma Thurman after rumors of infidelity, but he continued to chart his own course on both stage and screen, making Hawke one of the more intriguing and unpredictable actors of his generation.

Ethan Hawke, born on Nov. 6, 1970 in Austin, TX, was raised by his father, James, a high-ranking executive at Conesco, and his mother, Leslie; both were students at the University of Texas when Hawke was born. When he was five, his parents divorced, leaving Hawke to be raised by his mother, who moved around the country a couple of times before finally settling in New York, where he attended the Packer Collegiate Institute in Brooklyn Heights. After his mother remarried when he was 10, Hawke moved to New Jersey, where he attended West Windsor-Plainsboro High School. He then transferred to the Hun School of Princeton, a secondary boarding school connected to Princeton University from which he graduated in 1988. Throughout his high school years, Hawke harbored creative impulses, though at first he wanted to be a writer. But he instead began acting while at the Hun School, taking classes at the McCarter Theatre on the Princeton campus. Meanwhile, he made his stage debut at 13 in George Bernard Shaw's "Saint Joan," followed by his feature debut alongside River Phoenix in the underappreciated and unsuccessful teen sci-fi adventure, "Explorers" (1985).

Hawke was aiming for his theater degree at Carnegie-Mellon University when he was cast in what amounted to his breakthrough film, "Dead Poets Society" (1989), in which he played a young would-be writer at a prestigious boarding school who - along with his classmates - is taught all manner of life lessons from an unconventional and controversial new teacher (Robin Williams). By the time he began shooting, Hawke had dropped out of Carnegie-Mellon. Also that year, he co-starred opposite Ted Danson and Jack Lemmon in the little-seen family melodrama, "Dad" (1989). Continuing the trend of coming-of-age films - suitable material for the young actor - Hawke delivered a strong performance as a young prospector in the Disney version of Jack London's adventure "White Fang" (1991), then suffered an early setback with the black comedy-of-errors, "Mystery Date" (1991). Meanwhile, he made his off-Broadway debut in a New York Shakespeare Festival production of "Casanova" before returning to student mode for "Waterland" (1992), an arresting British film about a desperate, middle-aged high school history teacher (Jeremy Irons) seemingly trapped by his past. In "A Midnight Clear" (1992), Hawke was both forceful and credible as a narrator and reluctant squad leader in this eloquent antiwar drama adapted from the World War II-era novel by William Wharton.

Hawke was busy the following year, appearing in two features, most notably "Alive" (1993), a surprisingly upbeat story about surviving after a plane crash in the Andes by way of cannibalism, followed by a supporting role in "Rich in Love" (1993). Hawke made his debut behind the camera when he wrote, directed and edited the short film "Straight to One" (1993), about a pair of young honeymooners, then turned back to the stage when he co-founded Malaparte, a not-for-profit theater group in New York. Hawke next enjoyed a high profile lead as Winona Ryder's grubby, cynical boyfriend with artistic pretensions in the Gen-X romantic comedy "Reality Bites" (1994), which - despite opening to extremely mixed reviews and disappointing box office - earned a legion of fans. He went on to collaborate with Richard Linklater for the first time on "Before Sunrise" (1995), an effortlessly appealing love story about an American tourist traveling across Europe by train who spends his last day in Venice with a beautiful French grad student (Julie Delpy). Linklater's literate, sensitive treatment of a brief interlude between two young people displayed Hawke's previously unseen romantic side.

With the urge to fulfill his original aspirations of becoming a writer, Hawke disappeared from the screen for two years to write his first novel, The Hottest State (1996), which - despite some good reviews and flirtation with one critic's top 10 list for the year - garnered some public ridicule. Hawke returned to the screen looking buff for his first so-called adult role in the futuristic thriller "Gattaca" (1997), his biggest-budget feature up to that point. He delivered a strong performance as a genetically-inferior man who assumes the identity of a superior athlete in order to realize his dream of space travel. Meanwhile, Hawke began dating "Gattaca" co-star Uma Thurman, whom he married in 1998. He then played an older Finn recounting events in Alfonso Cuaron's contemporary adaptation of "Great Expectations" (1997), which gave the actor the opportunity to co-star with Gwyneth Paltrow and Robert De Niro. He then reunited with Linklater for the director's mediocre biopic of the bank-robbing "The Newton Boys" (1998), playing Jess Newton, the drunken, charming brother of Willis (Matthew McConaughey), Joe (Skeet Ulrich) and Dock (Vincent D'Onofrio). Hawke also had small roles in "The Velocity of Gary" (1999), which reunited him with executive producer-star D'Onofrio, and "Joe the King" (1999), the feature directorial debut of his Malaparte mate Frank Whaley.

Hawke once again provided a film's still center as star of Scott Hicks' "Snow Falling on Cedars" (1999), essaying an American journalist in a doomed interracial love affair. Having never remained long from the stage, he appeared as Kilroy in that year's Williamstown Theatre Festival revival of Tennessee Williams' "Camino Real." He then played the brooding heir to Denmark Corp. in Michael Almereyda's Gen-X version of "Hamlet" (2000), in which he delivered the immortal "To be or not to be" monologue in the aisle of a Blockbuster video store. The youngest actor to play the role onscreen, Hawke's slacker prince was surprisingly relatable to contemporary audience. Meanwhile, he reunited with Julie Delpy for one scene in Richard Linklater's eye-popping animated feature "Waking Life" (2001), then starred with his wife and Robert Sean Leonard in Linklater's digitally-shot psychological drama, "Tape" (2001). That same year, Hawke more than held his own as a rookie L.A. policeman paired with a corrupt, loose cannon partner (Denzel Washington) who plays by his own rules in the uneven "Training Day" (2001). While Washington earned the lion's share of critical acclaim, Academy voters recognized the younger actor's contributions and bestowed on Hawke an Oscar nomination for Best Supporting Actor.

Having directed a short film and the music video for "Stay" for friend Lisa Loeb, it was only a matter of time until Hawke turned his attention to features. Joining the ranks of those directors intrigued by digital video at the time, Hawke made "Chelsea Walls" - shot in 1999 and theatrically released in 2002 - an independently-made ensemble drama about five struggling artists living in the famed Chelsea Hotel. Hawke also had a featured supporting role in Whaley's character study of an angry man, "The Jimmy Show" (2002), then found time to write and publish a second novel, Ash Wednesday (2002). His next project - which came on the heels of his highly publicized spilt from Uma Thurman amid allegations of infidelity on his part - was the subpar erotic thriller "Taking Lives" (2004) opposite Angelina Jolie. He again starred opposite Julie Delpy for "Before Sunset" (2004), a compelling sequel to the events from "Before Sunrise," which reunited the couple nine years later in Vienna, where they recount their lives and rekindle their romantic feelings. Hawke then starred in the well-assembled remake of the police thriller "Assault on Precinct 13" (2005), playing a burnt-out desk sergeant mourning the death of two partners who must defend his precinct house against a violent invasion to free a drug lord (Laurence Fishbourne).

Following a turn as a dogged Interpol agent looking to pin something on a shady arms dealer (Nicolas Cage) in Andrew Niccol's underappreciated "Lord of War" (2005), Hawke returned to the stage and earned a Tony Award for Best Performance by a Featured Actor for his work in a Broadway production of "The Coast of Utopia" (2006-07), Tom Stoppard's epic trilogy of plays that take place in pre-revolutionary Russia during the mid-19th century. Also that year, Hawke directed actors Peter Dinklage and Josh Hamilton in Jonathan Marc Sherman's "Things We Want" for the New Group. Turning back to features, Hawke joined an all-star ensemble cast for "Fast Food Nation" (2006), then wrote and directed "The Hottest State" (2007), which he adapted from his 1996 novel about a vain young actor (Mark Webber) who moves to New York City looking to make it in the business while getting into a tumultuous relationship with a beautiful and gifted singer (Catalina Sandino Moreno). He delivered a strong performance in Sidney Lumet's excellent crime thriller, "Before the Devil Knows You're Dead" (2008), playing an ex-husband in desperate need of child support money who robs his parent's jewelry store with his equally desperate brother (Philip Seymour Hoffman), which leads to disastrous consequences.

Milestone

Acted in a junior high school production of "Meet Me in St. Louis"
Professional stage debut, "St. Joan" at the McCarter Theatre in Princeton, New Jersey
1985: Feature acting debut, Joe Dante's "Explorers"
1989: Returned to features with a well-received supporting role as the baby-faced Todd in Peter Weir's "Dead Poets Society"
1989: Played Ted Danson's son and Jack Lemmon's grandson in "Dad" a film based on a William Wharton novel
1991: Off-Broadway debut, New York Shakespeare Festival production of "Casanova"
1991: Visited the Steppenwolf Theater in Chicago during a cross-country drive with playwright-actor Jonathan Marc Sherman and actor Josh Hamilton; inspired to start a theater group
Started a reading series in NYC with Sherman and Hamilton
1992: Broadway debut, National Actors Theater production of Chekhov's "The Seagull"
1992: Played a reluctant platoon leader in "A Midnight Clear"; also featured Steppenwolf's co-founder Gary Sinise and friend Frank Whaley; second film based on a Wharton novel
1993: Co-founded Malaparte, a nonprofit theater group; served as artistic director; "Dead Poets Society" co-star Robin Williams was among the notables providing funding; company included Robert Sean Leonard, Frank Whaley, Steve Zahn and Hamilton; eventually disbanded
1993: Wrote, directed and edited the short film, "Straight to One"
1993: Acted in Jonathan Marc Sherman's "Sophistry" at NYC's Playwrights Horizon
1994: Co-starred in Ben Stiller's feature directorial debut, "Reality Bites"; also helmed the music video, "Stay" that featured the single from the soundtrack; Zahn also acted in film
1994: Theatrical directorial debut, "Wild Dogs!"; officially opened the first full season of Malaparte
1995: Acted opposite Julie Delpy in Richard Linklater's romantic cult classic, "Before Sunrise"
1995: Acted in the Steppenwolf Theater Company production of Sam Shepard's "Buried Child" in Chicago; project reunited him with Sinise who directed
1996: Published first novel, "The Hottest State"
1997: Starred in the sci-fi thriller, "Gattaca" written and directed by Andrew Niccol; co-starred with future wife Uma Thurman
1998: Portrayed the Pip-like Finn in the contemporary remake of Dickens' "Great Expectations"
1998: Appeared as Jess Newton, the charming drunken brother, in Linklater's "The Newton Boys"
1999: Played Ishmail, the one-armed journalist in love with a Japanese woman, in "Snow Falling on Cedars"; adapted from David Guterson's 1994 novel about a doomed interracial romance
1999: Had small role as a concerned guidance counselor in Frank Whaley's feature directorial debut "Joe the King"
1999: Acted in Williamstown Theatre Festival staging of Tennessee Williams' "Camino Real"
2000: Starred as Michael Almereyda's slacker "Hamlet"; Zahn played Rosencrantz
2001: Again collaborated with Linklater on the digitally-shot "Tape" co-starring Robert Sean Leonard and Uma Thurman
2001: Returned to the NYC stage as one of the stars of the Manhattan premiere of Sam Shepard's play "The Late Henry Moss"
2001: Cast as a rookie cop teamed with an amoral partner (Denzel Washington) in "Training Day"; earned an Oscar nomination for Best Supporting Actor
2002: Feature directorial debut, "Chelsea Walls" (shot in 1999), based the film on Dylan Thomas' "Under Milkwood"; co-starred wife Uma Thurman and friends Leonard, Whaley and Zahn
2002: Re-teamed with Whaley in "The Jimmy Show"; written and directed by Whaley
2003: Guest-starred on the ABC series "Alias" as a captured CIA agent whose allegiances may have shifted
2004: Reunited with director Richard Linklater and Julie Delpy for "Before Sunset" once again portraying Jesse (Hawke) and Celine (Delpy) who are reunited nine years after they first met; also co-wrote screenplay; received an Independent Spirit Award nomination for Best Screenplay; received an Oscar nomination for Best Adapted Screenplay
2005: Portrayed an Interpol agent, chasing an arms dealer (Nicolas Cage) in Andrew Niccol's "Lord of War"
2006: Cast as part of an ensemble in Linklater's "Fast Food Nation"
2006: Cast in "The Coast of Utopia," playing Mikhail Bakunin; received a Tony Award nomination
2007: Wrote and directed "The Hottest State," based on his novel The Hottest State: A Novel; also co-starred (debuted at the 2006 Venice Film Festival)
2007: Co-starred with Philip Seymour Hoffman in Sidney Lumet's "Before the Devil Knows You're Dead"
2008: Co-starred with Mark Ruffalo in the crime drama "What Doesn't Kill You"
2010: Cast as Edward Dalton, a vampire researcher, in the sci-fi film "Daybreakers"
2010: Re-teamed with Antoine Fuqua for "Brooklyn's Finest"

View the full website biography of Ethan Hawke.