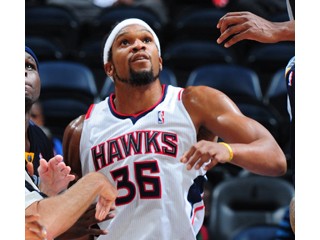 Etan Thomas
Date of birth : 1978-04-01
Date of death : -
Birthplace : Harlem, New York, U.S.
Nationality : American
Category : Sports
Last modified : 2011-03-16
Etan Thomas is an American professional basketball player for the Atlanta Hawks of the National Basketball Association.

Signed with the Hawks as a free agent on September 2, 2010 .

• Acquired by Oklahoma City from the Minnesota Timberwolves, along with two draft picks, in exchange for Chucky Atkins and Damien Wilkins on July 27, 2009
• Sent from Washington to Minnesota in a 2009 draft night deal (June 24, 2009) that included Oleksiy Pecherov, Darius Songaila and a first-round pick going to the Wolves, and Randy Foye and Mike Miller going to the Wizards
• Traded by the Dallas Mavericks, along with Courtney Alexander, Hubert Davis, Christian Laettner, Loy Vaught and cash to Washington, in exchange for Calvin Booth, Obinna Ekezie and Juwan Howard
• Selected by the Mavericks with the 12th overall pick (first round) of the 2000 NBA Draft.

LAST SEASON (2009-10):
Thomas played in 23 games (starting one) for the Thunder, and put in 3.3 ppg, 2.8 rpg and 0.7 bpg in 14.0 mpg (.456 FG%, .591 FT%)
• Appeared in 17-of-the-first-19 games of the season (averaging 14.2 mpg), but played in six the remainder of the season
• Put in a season-best 9 pts on 11/3 v/LAL, also grabbing a season-high 11 boards in the same contest

PROFESSIONAL CAREER:
Through eight NBA seasons, Thomas has averaged 5.8 ppg, 4.8 rpg and 1.1 bpg in 17.7 mpg
• Has appeared in 396 contests, starting 74

CAREER HIGHS:

23 pts v/Milw (2/5/05), 16 rebs v/Mia (3/21/04), 4 assts (2x), 4 stls (2x), 6 blks (2x), 9 FGM (2x), 9 FTM v/Bos (3/13/04)
• 2008-09 (with Washington): Played in 26 games, averaging 3.3 ppg and 3.4 rpg in 13.2 mpg • Season-high 10 pts on 4-5 FGs on 3/11 @Den • Missed 16 games due to injury, and spent 19 on the inactive list
• 2007-08: Missed the entire season after undergoing heart surgery • 2006-07: Averaged 6.1 ppg and 5.8 rpg in 65 games (career-high 32 starts) •Had seven double-doubles and scored in double-figures 12 times
• 2005-06: Appeared in 71 games and made nine starts, notching 4.7 ppg and 3.9 rpg • Hit double-figures in scoring 11 times and had two 10-plus rebound games • 2004-05: Started 10 of his 47 games, and averaged 7.1 ppg and 5.2 rpg • Scored in double figures 12 times, grabbing 10-or-more rebounds on five occasions • Led the Wizards in rebounding eight times
• 2003-04: Put in 8.9 ppg, 6.7 rpg and 1.6 bpg in 24.1 mpg (.489 FG%, .647 FT%) • Had a 21-point game (3/13 v/Bos) and a 16-rebound effort (3/21 v/Mia) • Blocked four shots @Mia (12/23)
• 2002-03: Averaged 4.8 ppg and 4.3 rpg, leading the team in rebounding five times and in blocks seven times • Had four games with 10-or-more boards • Missed the final 28 games of the season due to a fractured orbital bone and bruised left eye socket
• 2001-02: Finished the season averaging 4.3 ppg and 3.9 rpg, scoring a season-high 14 pts, adding 15 rebs v/Phil (4/10)
• 2000-01: Missed the entire season due to a toe injury.

COLLEGE CAREER:

Had a decorated four-year career at Syracuse, playing under Jim Boeheim from 1997-2000
• Averaged 11.0 ppg, 6.9 rpg and 3.5 bpg (.600 FG%, .598 FT%) in 122 games
• Is the school's career leader in blocked shots
• Big East Conference Defensive Player of the Year and All-Big East Second Team selection in 1999
• Was named Big East Most Improved Player and was an All-Big East Third Team selection in 1998
• Holds the Syracuse single game record for most blocked shots with nine (against Florida Atlantic and Connecticut)
• Owns the record for most blocked shots in a season (138)
• Also ranks first in career field goal percentage
• Named a Big East Academic All-Star in 1999.


View the full website biography of Etan Thomas.