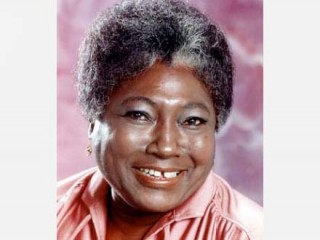 Esther Rolle
Date of birth : 1920-11-08
Date of death : 1998-11-17
Birthplace : Pompano Beach, Florida
Nationality : American
Category : Arts and Entertainment
Last modified : 2010-09-07
Esther Rolle born November 8, 1920 – died November 17, 1998 was an American actress of stage and television. She was perhaps best known for her portrayal of Florida Evans on the CBS television sitcom Maude and its spin-off Good Times.

Esther Rolle is best remembered for her portrayal of the sympathetic but strict mother of three on the 1970s CBS sitcom Good Times, although she was by then a veteran Broadway actress. She left the show in 1977, citing contractual disputes, but Rolle later admitted that she was embarrassed and angered by the show's decline into near-minstrel humor. Such outspokenness was her trademark since her childhood in the Deep South, and reflected a drive that led her into the performing arts in the first place. Though Rolle became known largely for playing maids in a variety of television shows and movies, she imbued each character with a humanity which defied stereotypes. To the very end, she was a staunch supporter of black artistic endeavors and participated in projects with strong African American themes.

Rolle was born in Pompano Beach, Florida, the tenth in a brood that would eventually number 18 children. Her father, Jonathan Rolle, was a vegetable farmer and had a knack for storytelling, a gift that inspired Rolle and her older brothers and sisters into forming their own drama troupe. When she was still a teenager, they performed throughout Florida in the 1930s. At the age of 18, she joined her two older sisters in New York City; they were aspiring actresses, but Rolle dreamed of becoming a writer. One of the sisters, Estelle Evans, would go on to appear in To Kill a Mockingbird; the other, Rosanna Carter, appeared as the judge in She-Devil. Rolle's writing teacher, however, saw more promise in her acting abilities and suggested she hone them in drama classes.

During the 1940s, Rolle found steady work as a dancer in the Asadata Dafora dance troupe, where she stayed for a dozen years; she later joined a company called the Calypso Carousel. In 1955, by then in her early thirties, Rolle settled down and got married. Her husband, Oscar Robinson, pressed slacks in a dry cleaner, and Rolle happily assumed the burdens of domesticity. She expressed her enthusiasm through cooking, and by the time the marriage ended five years later she had added substantial inches to her previously lean dancer's frame. Ironically, the extra pounds helped her gain work--``the image of a black woman was always a fat black woman,'' she told People magazine in 1990.


Found Success as Maid Florida Evans
By then Rolle had become a founding member of the Negro Theater Ensemble. Over the next several years, she appeared in such Broadway productions as Blues for Mister Charlie and Purlie Victorious. In 1972, producers for a proposed CBS sitcom created by Norman Lear of All in the Family fame were searching for someone to play a supporting role as an African American maid in a liberal white household. Rolle won the part of Florida Evans on Maude, the fictional cousin to Archie Bunker of All in the Family on the popular CBS show. Staying two seasons, Rolle's character often volleyed pointed barbs at the rather naively liberal but well-meaning members of the household. Her talents led to an even greater opportunity when Lear and the producers decided to create another spin-off based around the fictional Florida Evans' home life. Good Times debuted in early 1974 and made television history as the first African American sitcom; it was an instant success.
Set in a Chicago housing project, Good Times chronicled the ups and downs of a household headed by Rolle's Evans character and her husband James. The family--artistically-inclined son J. J., levelheaded teenage daughter Thelma, and youngest son and earnest overachiever Michael--lived in a small apartment and faced continuous economic crises; Rolle's character provided the right maternal blend of warmth, love, and sassy common sense.
``Clearly, it can be credited with having introduced to national TV a new point of view on black life,'' wrote Donald Bogle about Good Times in Blacks in American Film and Television: An Encyclopedia. ``The series offered a portrait of a black family living in the slums ... and confronted daily with a set of harsh urban realities'' that included crime, unemployment, and racism. ``Seen at one point in some 18 million homes, the series seemed to elicit viewer identification from blacks and whites alike who saw the struggle for economic and social survival of the Evans family as being part of their own,'' noted Bogle.
Rebelled Against Cartoonish Stereotype
In the first season, the show appeared on the right track toward giving a relatively accurate television portrayal of African American life, but the popularity of the character J. J., played by Jimmie Walker, proved to be an unexpected success. Soon he was known for his ``Dyn-O-Mite!'' expression, among others, and his silliness, which seemed to be a parody of the worst white stereotypes about African Americans. The increasingly cartoonish J. J. became the focus of the show, and other characters even made fun of the fact that he could hardly read. ``I resent the imagery that says to black kids that you can make it by standing on the corner saying `Dyn-O-Mite!''' Rolle told Ebony, according to Blacks in American Film and Television. ``He's 18, and he doesn't work. He can't read or write. He doesn't think. The show didn't start out to be that. Little by little ... they have made J. J. more stupid and enlarged the role. Negative images have been quietly slipped in on us through the character of the oldest child.''
With such convictions it was little wonder that Rolle left Good Times at the end of the 1976-77 season after telling producers, ``I did not agree to do a clown show for you to degrade young black men,'' she recalled in a 1990 People interview. Her departure followed that of John Amos, who played her husband, the previous year. Rolle's absence in the now-rudderless household was explained by remarriage, but she did return for the 1978-79 season. By then, Rolle had begun to take on other projects, such as her supporting role in the television special The Summer of My German Soldier. She won an Emmy for her performance.
Rolle appeared on stage in a comedy, Washington and Mrs. Horowitz, and in a revival of Raisin in the Sun. Then, in 1989, she appeared as the housekeeper Idella in the film version of Driving Miss Daisy, opposite Morgan Freeman and Jessica Tandy. Playing a maid once more did not trouble her. ``I'm glad to take on the role of a domestic, because many of your black leaders, your educators, your professionals came from domestic parents who made sacrifices to see that their children didn't go through what they did,'' she told People.
Rolle sustained serious injuries in a car accident in Nevada in 1990, but recovered quickly enough to resume her busy schedule of charitable activities, including involvement with women's rights issues and urban education reform. Her work in the latter field earned her several awards, including an NAACP Leadership Award and a Human Rights Award from the American Federation of Teachers. In 1991, Rolle was inducted into the Black Filmmakers Hall of Fame, an honor she claimed meant more to her than her 1978 Emmy. The recognition ``was from my own,'' as she told Ebony's Leisha Stewart. ``I have never been given the chance I deserve in the mainstream industry. They never got beyond me as a maid. Black film, on the other hand, has seen something in me that the mainstream didn't see or acknowledge.''
Moved into Filmwork
Rolle continued acting into the 1990s, appearing in television movies and miniseries in addition to major filmwork. She had small roles in the films House of Cards (1993), How to Make an American Quilt (1995), and My Fellow Americans (1996), before taking on the larger role of Sarah in the critically-acclaimed 1997 movie, Rosewood. Directed by African American director John Singleton, the movie is a historically-inspired drama about an attack on the black town of Rosewood by murderous whites after a white woman falsely accuses a black man of assaulting her. Rolle's character witnessed the attack--actually committed by the woman's white lover--but is too afraid to reveal the truth. Her close association with white people as a cleaning woman and midwife to many of the white people who will eventually participate in the attack on Rosewood causes her to naively believe that they will not exact revenge for the supposed beating. Critics lauded the film as a compelling probe of Southern racism in the 1920s.
Rolle's final project put her in touch with a notable African American artistic force when she signed on to play a woman suffering from Alzheimer's in poet Maya Angelou's directorial debut, Down in the Delta. This 1998 film, starring Alfre Woodard as a down-and-out mom who turns her life around during a summer in Mississippi, featured the sort of complex African American characters that Rolle had fought to bring to America's attention in her own career. Woodard recalled for People magazine her impression of Rolle as she watched the preview of the movie: "She was quietly beaming [because] she nailed it."
Rolle passed away November 17, 1998 at Brotman Memorial Hospital in Culver City, California, after suffering from diabetes and undergoing dialysis for some months. It is fitting that one of the last things she did before her death was to write a check to support a fledgling black theater. In a 1990 People magazine interview, she waxed philosophical about her life and career, and the sometimes-difficult choices she had to make. ``I ruffle a lot of feathers,'' she said. ``And I'm also selective--that makes you a troublemaker. But so be it. I laid a cornerstone for black actors, and that makes me happy.''
PERSONAL INFORMATION
Born 1920 in Pompano Beach, FL; died 1998 in Culver City, California; daughter of Jonathan (a farmer and Baptist deacon) and Elizabeth Rolle; married Oscar Robinson, 1955; divorced 1960; no children.
AWARDS
Selected Awards: Emmy Award, Academy of Television Arts and Sciences, 1978, for the Summer of My German Soldier; Human Rights Award, American Federation of Teachers, 1983; Oscar Micheaux Award, Black Filmmakers Hall of Fame, 1991; Leadership Award, National Association for the Advancements of Colored People, for community activism.
CAREER
Actress. Formed acting troupe that toured Florida with siblings, late 1930's; Asadata Dafora Dance troupe, New York City, dancer, c. 1941-53; Calypso Carousel, 1953-c. late 1950s; Negro Ensemble Company, founding member, late 1950s; appeared in Broadway production of Blues for Mister Charlie, Purlie Victorious, and Horowitz and Mrs. Washington; appeared in the CBS sitcoms, Maude (as Florida Evans), 1972-74, and Good Times (as Florida Evans), 1974-77; appeared in television specials including The Kid Who Loved Christmas, To Dance with the White Dog, Message from Nam, Scarlett, and a PBS American Playhouse production of A Raisin in the Sun; films include: Driving Miss Daisy. 1989, House of Cards, 1993, How to Make and American Quilt, 1995, My Fellow Americans, 1996, Rosewood, 1997, and Down in the Delta, 1998.
View the full website biography of Esther Rolle.