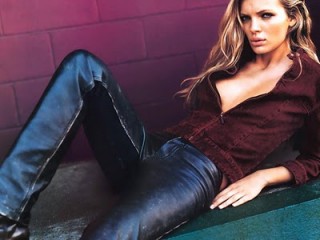 Esther Cañadas
Date of birth : 1977-03-01
Date of death : -
Birthplace : Costa Blanca, Spain
Nationality : Spanish
Category : Arts and Entertainment
Last modified : 2010-06-03
Esther Cañadas is born March 1, 1977, in Alicante at Costa Blanca, Spain, Esther Cañadas did not initially want to become a model. She initially wanted to pursue a career as a criminologist, but after much convincing by her mother, she tried modeling out while she was still in school.

Esther signed her first contract with the Take 2 Agency after winning a local competition for a teen magazine. She represented her country in a model search and was sent to South Africa. She then moved to Barcelona on her own to begin working. When she started modeling, she felt that it was nothing more than a job and something new to try, but she eventually realized that it was what she really wanted to do.

She moved to New York in 1996, where it took only two days for her to get booked by twenty designers. Her modeling career took off from then on. The various advertisements she has appeared in include: Atelier Versace, J Crew, Mossimo, Saks Fifth Avenue, and Victoria's Secret. She is probably most known, however, for her appearances in DKNY ads. She has graced the cover of Elle Spain, Mademoiselle, Marie Claire Italy, Mondo Uomo, as well as Vogue Spain — all in 1997.

Esther has walked down the catwalk at many designer fashion shows, including shows for Calvin Klein, D&G, DKNY, Oscar de la Renta, Richard Tyler, Todd Oldham, Giorgio Armani, Valentino, Versace, and Givenchy — just to name a few.
When she's not strutting her stuff down the runway, appearing in advertisements, or jet setting to the fashion capitals of the world, she finds the time to involve herself in charity events as well as act in films. Esther made her feature film debut with an appearance in 1999's action/romance The Thomas Crown Affair, starring Pierce Brosnan and Rene Russo.
Esther is definitely a natural beauty, admitting that she doesn't diet or exercise regularly. According to her, modeling has given her the opportunity to travel around the world, although the life of a model can get lonely from all the moving around. She refers to this loneliness by explaining that "the often solitary lifestyle demands an inner strength."
Evidently not living in solitude, Esther recently married Dutch model Mark Vanderloo in 1999.


HEIGHT: 5′10″
MEASUREMENTS: 35.5-24-36
HAIR: Dark Blonde
EYES: Blue
BORN: March 1, 1977 in Alicante at the Costa Blanca in Spain.
DISCOVERED: At her mother's suggestion, Esther took a shot at modeling when she was still a school girl. Esther entered and won a local competition for a teen magazine and then represented her country in a model search that took her to South Africa. From there, she jetted on to fashion mecca Milan. She signed her first contract with the Take 2 Agency. At the age of 15, Esther moved to Barcelona to start working there. During her first New York collections, she was booked by twenty designers in just two days.
"I wanted to be a criminologist (but) my mom was always telling me that I should be a model," she recalls. "I did the first job just…to try something. And then I (felt) like it's the thing that I really wanted to do," she says.
AGENCY: New York-IMG, Paris-IMG, Milan-Why Not, Barcelona-Group.

Models for DKNY, Anna Molinari, Atelier Versace, Burrberys, J.Crew, Mossimo, Rena Lange, Saks Fifth Avenue, Victoria's Secret, Osborne, Pronovias, etc.
KNOWN FOR: Her extra-large lips.
HOME: New York City.
SWEETIE: Since 1999, Esther has been married to Mark Vanderloo, who is a Dutch supermodel.
View the full website biography of Esther Cañadas.