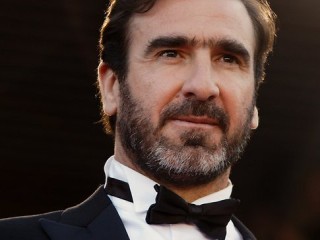 Eric Cantona
Date of birth : 1966-05-24
Date of death : -
Birthplace : Marseilles, France
Nationality : French
Category : Sports
Last modified : 2012-01-10
Eric Cantona is a Manchester United legend. Manchester United faithful call him as King Cantona. Cantona has God like status, among Manchester United fans. He was instrumental in the resurrection of Manchester United as a champion club in England again. Cantona was an inspirational playmaker and forward. He was controversial on and off the field. He promoted Beach football in a big way and he managed the beach football team of France (2005–2011) and currently signed as manager with New York Cosmos. He has tried his luck in acting and direction too.

Eric Daniel Pierre Cantona was born on 24th may 1966 at Marseilles in France. Cantona started his football journey with Auxerre. After playing for youth teams of Auxerre, he made his senior team debut for them in 1984. Auxerre loaned Cantona to FC Martigues, a French second division team during 1985 season. He returned to Auxerre and played for them during 1986 season. He scored 23 goals for Auxerre for them during the next two-seasons.

In 1988, Cantona moved to his favourite club Olympique Marseille in a French record deal, worth 22 million francs. Marseille sent cantona on loan to Bordeaux for six months during second half of 1988 season and he scored six goals for them. Marseille again sent Cantona on loan, this time to Montpellier for one season during 1989 .He played 33 matches and scored 10 goals for them. He faced ban for 10 days following an incident with teammate. He came back strongly to help Montpellier to win French cup. He returned to Marseille and played for them during 1990 season. He helped Marseille to win the French league that season. However, Marseille sold Cantona to Nimes due to his disciplinary problems in 1991. While playing for Nimes, he had an issue with a referee and French Football Federation banned Cantona for a month. However, his outburst against board members led to 3-month ban. He hastily announced retirement from football.

On Gerard Houllier's and psychoanalyst's advice, Cantona moved to England to revive his career. In 1992, he joined Leeds United, even though he had trails with Sheffield united. He won the English first division with Leeds united in 1992.He scored nine goals in 28 matches. He played mainly as substitute for Leeds. He won Charity shield with Leeds United.

Even though he started the 1992/1993 premier league season with Leeds united, Leeds sold him to Manchester united for a fee in the legion of £ 1.2 million in November. In that season, he helped Manchester united to win their first league title in 26 years. Manchester United became the inaugural winner of Premier league. Cantona won Premier league and FA cup with Manchester united in 1994. During 1994/1995 season, Cantona again came up with disciplinary issues .He received red cards as well as suspensions. Cantona went on to attack a Crystal Palace fan with Kung fu kick and punches following his sent off by the referee. Manchester united suspended him for 4 months. Sir Alex Ferguson persuaded cantona to remain with United. Cantona inspired Manchester united to Premier league title during 1995/1996 season. He lifted FA cup as the captain of United during that season. During 1996/1997 season, he led the team to premier league win as captain. He scored 80 goals for Manchester united. He also won three charity shields with united. He retired from football at the age of 30 surprisingly at the end of the season.

Cantona made his International debut for France in 1987 while playing against the West German team. Following tussle with national coach Henri Michel, French Football federation banned him indefinitely. Michel Platini was instrumental in bringing back to football after his immature retirement following the ban at the end of the season. Following his move to English club Leeds, Cantona got recall to French National team on insistence of Platini. Eric Cantona captained France for some matches. He played 45 matches for France and scored 20 goals.

After leaving Manchester united, he became active in Beach football. He played as captain of French Beach football team. He managed French team in four Beach football world cups. He won inaugural Beach football world cup in 2005 with France as Manager. He managed them to third and fourth place in next two world cups. Though erratic, Eric Cantona is certainly one of the all time best football team players in the world.

On 19 January 2011, Cantona joined the revived New York Cosmos as Director of Soccer.

View the full website biography of Eric Cantona.