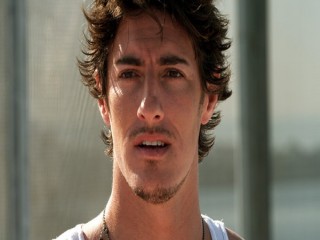 Eric Balfour
Date of birth : 1977-04-24
Date of death : -
Birthplace : Los Angeles, California, U.S
Nationality : American
Category : Arts and Entertainment
Last modified : 2011-08-24
Eric Salter Balfour is an American singer and actor of film and television. He is the lead singer of Born As Ghosts, formerly known as Fredalba. His best known roles include Milo Pressman on the action-thriller TV series 24 and Duke Crocker in the supernatural series Haven. Eric and his younger sister Tori are of French-Canadian and Native American descent. His family had a Lakota sweat lodge in their Los Angeles backyard when he was growing up. Eric Balfour got his start in acting as a teenager, appearing on the children's variety show Kids Incorporated in 1991. He went on to appear in a number of shows popular with the preteen crowd in the early 1990s, including Step by Step and Boy Meets World. In 1997, Balfour guest-starred on two episodes of Buffy the Vampire Slayer, where he had the distinction of being one of the first characters ever offed by the show's vampires.

For several years, Balfour labored in minor parts, portraying characters like Frat Boy No. 3 in The West Wing and Hippie Guy in the film Can't Hardly Wait. Then, in 2001, he auditioned for the pilot of a new HBO series called Six Feet Under. His character was originally intended to appear only in the pilot. Show creator Alan Ball was so impressed with his performance, however, that he made Balfour's character a regular. For three seasons Balfour played Gabriel Dimas, the misguided boyfriend of one of the show's female leads.

Just as he was starting Six Feet Under, Balfour also landed a role as a geeky computer technician on the suspenseful network drama 24, a role he later reprised on the show in 2007. His work on both popular series led to other projects, including parts in the 2005 film Lie With Me and the 2003 remake of The Texas Chainsaw Massacre.

Besides acting, Balfour has pursued opportunities music, dance and modeling. Since 2004, he has been the lead singer of the band Born as Ghosts (previously known as Fredalba). He also appeared as a backup dancer in the 2006 music video for the song "Fergalicious" by Black Eyed Peas singer Fergie, a fellow alum of Kids Incorporated.

In 2008, Balfour took to the campaign trail to stump for presidential candidate Barack Obama, campaigning at college campuses and youth rallies alongside musician Will.I.Am and actor Kal Penn. Balfour became engaged to actress Moon Bloodgood in 2005, but the couple split without marrying two years later. He continues to act, and is now dating Chilean actress Leonor Varela, his costar in the 2008 film Hell Ride. To Balfour, exploring his diverse interests is just part of being an artist. "Artists are artists they express themselves in many ways," he says. "Some paint some write ... all artists aren't restricted to just one medium. I'm shocked that the audience is surprised that an artist wants to do more than one thing."
View the full website biography of Eric Balfour.