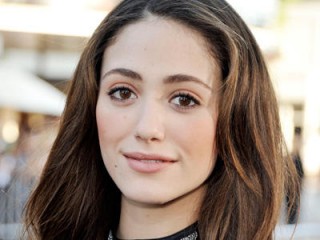 Emmy Rossum
Date of birth : 1986-09-12
Date of death : -
Birthplace : New York City, New York
Nationality : American
Category : Arts and Entertainment
Last modified : 2010-12-12
Emmy Rossum is an American actress and singer-songwriter. She first starred in a string of movies including Songcatcher (2000), An American Rhapsody (2001) and Passionada (2002). Her role in Mystic River (2003) garnered her wider fame. She then starred in the blockbuster film The Day After Tomorrow (2004) and The Phantom of the Opera (2004) for which she was nominated for a Golden Globe. She has since starred in Poseidon (2006), Dragonball: Evolution (2009) and Dare (2009).

In 2007, Rossum released her debut album, Inside Out. She also released a Christmas EP the same year entitled Carol of the Bells.

Possessing the sort of Cinemascope smile that could part the clouds over even the most curmudgeonly of pessimists, talented actress/singer Emmy Rossum has made her mark on stage and screen as one of the most promising talents of her generation. Having worked on-stage alongside such legends as Placido Domingo and Luciano Pavarotti, and held her own onscreen opposite such formidable talents as Sean Penn and Tim Robbins, Rossum had accomplished by the age of 18 what most actresses dream for a lifetime of achieving.

A New York City native whose early work included tenures at the Metropolitan Opera and Carnegie Hall, the multi-lingual songbird performed in over 20 separate operas in six different languages before making her television debut in the popular daytime soap As the World Turns. Subsequently, Rossum was nominated for a Young Artist Award for her performance in the Disney Channel feature Genius, and her portrayal of a young Audrey Hepburn in the 2000 made-for-television drama The Audrey Hepburn Story provided the burgeoning screen talent with her widest exposure up to that point.

Various television roles were quick to follow, with a feature debut as an Appalachian orphan in the 2000 drama Songcatcher proving that young Rossum could light up the silver screen just as effectively as she did its home-based counterpart. In addition to earning her an Independent Spirit Award nomination for Best Debut Performance, Songcatcher also took home the Best Ensemble Performance award at that year's Sundance Film Festival. As Rossum climbed the credits with roles in An American Rhapsody, Happy Now, and Passionada, it was obvious to those in the know that her career was only getting warmed up. Her role as the eponymous songwriter in the 2003 romantic comedy Nola proved without a doubt that she could carry a film and provided the perfect transition between her early independent career and her impending success in Hollywood. Cast as the ill-fated daughter of a former thug-turned-semi-legitimate small-business owner in director Clint Eastwood's critically acclaimed drama Mystic River, Rossum's blend of youthful innocence and daddy's girl charm echoed through the film in a way that made the violence of her death truly heartbreaking. After striving to survive the apocalyptic meteorological developments in the popcorn extravaganza The Day After Tomorrow, Rossum next had the honor of being handpicked by none other than Andrew Lloyd Webber for the role of Christine in the eagerly anticipated The Phantom of the Opera.
View the full website biography of Emmy Rossum.