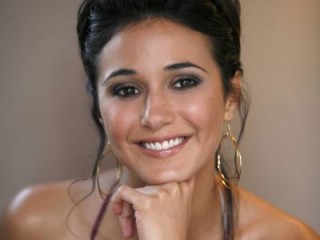 Emmanuelle Chriqui
Date of birth : 1977-12-10
Date of death : -
Birthplace : Montreal, Quebec, Canada
Nationality : Canadian
Category : Arts and Entertainment
Last modified : 2011-08-20
Emmanuelle Sophie Anne Chriqui was born in Montreal, Quebec on December 10th 1977. Her parents were Jewish immigrants from morocco. She is an actress who is best known for her roles in the hit show Entourage and films such as 'Wrong Turn' alongside Eliza Dushku and 'The Crow Wicked Prayer'.

When she was two years old her family moved to Toronto, Ontario and she grew up in Unionville. Her career began at the tender age of 10 years old when she starred in a McDonald's commercial.

In the mid 90's Emmanuelle moved to Vancouver where she began to seriously pursue her acting career and started off by getting a few roles in series such as Are you afraid of the dark' 'Once a thief' and 'Forever Knight' but it was in 1999 when she won her first Hollywood movie role; a supporting character in 'Detroit Rock City'.

This lead to many more roles to come, and her breakout performance was in the 2000 film 'Snow Day' a movie about kids from a local school whose lessons get cancelled when the town is snowed in. She played the role of Claire Bonner and was rumoured to be dating one of her costars at the time, although this was never confirmed or denied.

In 2003 Emmanuelle appeared in the hit horror movie 'Wrong Turn' alongside Eliza Dushku' and the following year played the role of 'Lily ignites the dawn' in 'The Crow Wicked Prayer'.

In 2005 she starred in the hit TV series Entourage as Sloan McQuiwick and since then has had several other successful appearances in movies and TV shows and looks set to be a huge star in the not too distant future.

Chriqui also starred in Hinder's "Lips of an Angel" music video as well as in the Zac Brown Band's "Whatever It Is" music video. She threw out the ceremonial first pitch at a Los Angeles Dodgers game on June 8, 2008. Chriqui was on the cover of the Autumn 2008 issue of Naked Eye.

She acted in the movie Cadillac Records (2008) as Revett Chess, where she performed with Beyoncé Knowles. Chriqui was seen in 2009 as one of several women whose lives interconnect in the comedy Women in Trouble and will appear in its sequel, Elektra Luxx, its release in 2010.

Chriqui has joined Showtime's 2011 series, The Borgias. She has also been confirmed as the voice of Cheetara in the ThunderCats 2011 animated series.

View the full website biography of Emmanuelle Chriqui.