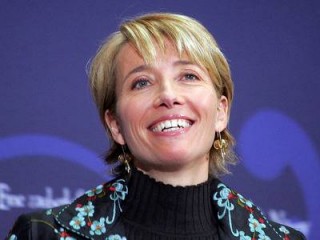 Emma Thompson
Date of birth : 1959-04-15
Date of death : -
Birthplace : Paddington, London, England, United Kingdom
Nationality : British
Category : Arts and Entertainment
Last modified : 2011-08-25
Emma Thompson is a British actress, comedian and screenwriter. Her first major film role was in the 1989 romantic comedy The Tall Guy. In 1992, Thompson won multiple acting awards, including an Academy Award and a BAFTA Award for Best Actress, for her performance in the British drama Howards End. The following year Thompson garnered dual Academy Award nominations, as Best Actress for The Remains of the Day and as Best Supporting Actress for In the Name of the Father. Thompson is the daughter of director Eric Thompson and actress Phyllida Law, and her younger sister, Sophie, also became an actress.

At first, Thompson did not want to follow in her parents' footsteps. Instead, she went to Cambridge University to study English literature. But Thompson eventually caught the acting bug when she joined the university's famed Cambridge Footlights theatre club. Other members of the group included Stephen Fry and Hugh Laurie (who Thompson briefly dated). After completing her degree, Thompson tried her hand at stand-up comedy. She later described her act to a Newsweek reporter as "all rude . . . basically, herpes and things like that, which doesn't necessarily go down well with everyone."

While her career as a stand-up comic may have flopped, Thompson enjoyed some success on the stage and on British television. She appeared with Robbie Coltrane, Stephen Fry, Hugh Laurie, and others on the sketch comedy show Alfresco in 1983. On the London stage, Thompson enjoyed a long run in a revival of the 1930s musical Me and My Girl.

In 1987, Thompson starred in two television productions. She worked with Coltrane again on Tutti Frutti, which followed the misadventures of a fictional rock group known as the Majestics. For the World War II drama Fortunes of War, Thompson starred opposite Kenneth Branagh. The two played a married British couple living in Bucharest, Romania, when war breaks out. Thompson and Branagh eventually developed a relationship off-screen, culminating in their 1989 wedding.

Thompson and Branagh worked together on several more projects. In 1989, she had a supporting role in Branagh's film adaptation of William Shakespeare's Henry V. Thompson played a woman who has lost her memory in the well-received mystery Dead Again (1991), with Branagh on board as the private eye trying to help her. In Peter's Friends, she and Branagh appeared as college friends in the ensemble comedy, which included Hugh Laurie and American comedienne Rita Rudner. Thompson's last film with Branagh had the pair taking on the famous Shakespearean roles of Beatrice and Benedick in the comedy Much Ado about Nothing (1993), which Branagh directed and adapted for the screen.

In 1992, Thompson truly started to emerge from her husband's shadow with her powerful performance in Howards End. She starred opposite Anthony Hopkins in this turn-of-the-century drama produced by Ismail Merchant and directed by James Ivory. Based on the novel by E. M. Forster, the film followed the interrelationships between two families—the Schlegels and the Wilcoxes. Thompson played Margaret, the oldest of the philanthropic Schlegel siblings while Hopkins played Henry, the patriarch of the Wilcox family. Henry ignores his late wife's last request to give her estate, Howards End, to Margaret, but he eventually falls for Margaret. As a critic in the Washington Post wrote, "the film's driving force is Thompson, who balances delicately along its ironic edge like a tightrope walker with an umbrella." She won several honors for her work on this film, including an Academy Award for Best Actress.

The following year Thompson shone in a more contemporary drama, In the Name of the Father. She played a lawyer defending Gerry and Guiseppe Conlon (Daniel Day-Lewis and Pete Postlethwaite), a father and son wrongly convicted of an IRA bombing. Based on a true story, the film earned strong reviews for its acting. Thompson also had a supporting role in The Remains of the Day, which reunited her with Anthony Hopkins. The two played servants in a stately English manor known as Darlington Hall in the days before the start of World War II. For In the Name of Father and The Remains of the Day, Thompson received Academy Award nominations.

By the mid-1990s, Thompson's marriage to Branagh had ended. She took on a great creative challenge around this time, writing the screenplay for Sense and Sensibility, based on the popular novel by Jane Austen. In this historical drama, Thompson played Elinor, one of the Dashwood sisters who are left to fend for themselves after the death of their father. Kate Winslet played her sister Marianne, and the two women set to improve their situation through marriage.

The film earned raves from the critics. Leonard Matlin wrote that the film was "a spirited and moving look at social mores and how disparate personalities dealt with them in early 19th century England." As one critic in The New York Times exclaimed, Thompson "proves as crisp and indispensably clever a screenwriter as she is a leading lady." The film, directed by Ang Lee, received eight Academy Award nominations. Both Thompson and Winslet earned nominations for their acting, and Thompson took home the award for Best Adapted Screenplay.
Thompson became romantically involved with actor Greg Wise, who appeared with her in Sense and Sensibility. The couple welcomed their first child together, Gaia Romilly, in 1999. They married in 2003, and later "adopted" a teenaged Rwandan refugee, Tindyebewa Agaba, into their family. On his behalf, they engaged in a legal battle in 2008 to prevent him from being extradited back to Rwanda where his family had been killed during the genocide.

Around this time, Thompson co-starred with her mother in The Winter Guest (1997). The two had worked together in several films, but this is perhaps their most significant pairing. Directed by Alan Rickman, the drama received some positive reviews, but it did not achieve much in terms of an audience. The following year, Thompson won an Emmy Award for her guest appearance on the sitcom Ellen. She played a fictionalized version of herself as a closeted lesbian who was pretending to be British.
In 2001, Thompson earned an Emmy Award nomination for her work with Mike Nichols on Wit. The pair adapted the play, about a professor dying of cancer, for television. Thompson starred in the critically acclaimed production. Two years later, she earned more accolades for her multiple roles in the miniseries Angels in America. An all-star cast, including Al Pacino and Meryl Streep, brought Tony Kushner's award-winning play to television.

Back on the big screen, Thompson appeared in two installments of the wildly popular Harry Potter series. She also wrote and starred in the children's film Nanny McPhee (2005). In 2008, Thompson appeared in two very different films. She starred as Lady Marchain in Brideshead Revisited, based on the Evelyn Waugh novel, about an aristocratic English family. In Last Chance Harvey, Thompson starred opposite Dustin Hoffman in a romantic drama about two strangers who meet by chance and the relationship that develops between the two.
In March 2010, Thompson returned to theaters in Nanny McPhee and the Big Bang, the next installment in her series about a very offbeat babysitter. Her screenplay was also used as the basis for a novel by the same title.
Outside of acting, Thompson is a supporter of numerous environmental and social causes. She has served as an international ambassador for ActionAid and she joined Greenpeace in its action to stop the expansion of London's Heathrow Airport. Thompson is also active at her daughter's school, teaching drama to the students there.

Thompson currently resides in London with her husband and their daughter.

View the full website biography of Emma Thompson.