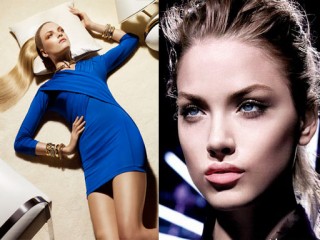 Emma Maclaren
Date of birth : -
Date of death : -
Birthplace : Worcester, England
Nationality : British
Category : Arts and Entertainment
Last modified : 2011-02-07
Emma Maclaren, born in Worcester, England, in 1991 is a British fasion model. She was first scouted by Models1 in Birmingham in 2005 when she was fourteen years old. Relying on her natural beauty, Emma Maclaren was the only model who showed up to the Clothes Show Live casting call without any makeup and with a pink bow in her hair. This cute image is one that helped her to be signed with Models1 in London.

Emma Maclaren has a beauty that resembles the supermodels of the past. This is because she has thick blonde hair, crystal clear blue eyes, flawless skin, and high cheek bones that combine to form a classic beauty. One reason that Emma Maclaren is so popular with so many designers and photographers is that her beauty is one that can be easily manipulated to fit the situation.

Even though Maclaren originally signed with Models1 in 2005, it wasn't until she signed with the other modelling agencies Why Not in Milan, Ford in Paris (both in late 2007), and DNA in NY (in mid 2008) that her career dramatically started to take off. In February of 2008 Emma Maclaren made her official debut at the autumn shows for Allegra Hicks and Ashley Isham in London.

After this Emma Maclaren was immediately photographed for the Marie Claire (UK version) and Glamour editorials. It was after her appearance in Glamour that she signed with DNA Model Management in May of 2008 before being signed onto a coveted fragrance contract with Cacharel and appearing in another Marie Claire editorial in September.

Where she might have made the largest splash, however, was at New York's Fashion Week in September 2008, where she walked for seven different designers: Erin Featherstone, Dian Von Furstenberg, ThreeAsFour, Michael Kors, Donna Karan, and Marc Jacobs. This is a major coup for a relative newcomer like Maclaren, and it definitely set her up to be one of the industry's newest stars. Not to mention that later that same month in Milan she also managed to walk for Christian Dior, Givenchy, Lanvin, Jill Sander, and was chosen to close the show for Bottega Veneta. This means that within a single month Emma Maclaren walked across the stage for thirteen major designers at high ranking fashion shows.

A superstar on the rise

With this extreme line-up of modelling achievements behind her in such a short amount of time, Emma Maclaren succeeded next by appearing on the cover of the French fashion magazine, L'Officiel and appears in the 2008 autumn issue of French Revue de Modes. Emma Maclaren is currently sitting on a huge modelling career as in 2009 she also became the exclusive face behind Bottega Veneta, signed a contract with Yves Saint Laurent cosmetics, and was featured in a Moschino advertising campaign.

Even though Emma Maclaren made her breakthrough at a relatively young age, she is still keeping her head above water and is very realistic about modelling as a career. In fact, in an interview with Pony Ryder she said that the worst thing a model can do to damage her career is "to be arrogant and proud." This just goes to show that even though she is considered to be one of the top new models on the market, she understands the need to treat those around her with respect.

It doesn't appear that Maclaren's star is going to fade anytime soon as she continues to walk for designers like Christian Dior and Nathan Jenden while at the same time being offered numerous jobs on photo shoots for magazines and designers alike. There is no doubt that her classic beauty, versatility in modelling, and professional attitude will continue to propel her to supermodel heights.

Emma Maclaren as Diva Max Factor :




View the full website biography of Emma Maclaren.