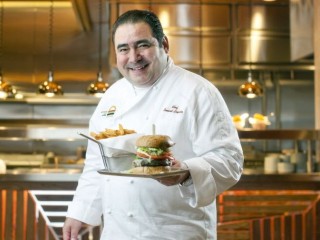 Emeril Lagasse
Date of birth : 1959-10-15
Date of death : -
Birthplace : Fall River, Massachusetts, United States
Nationality : American
Category : Famous Figures
Last modified : 0000-00-00
Emeril Lagasse is an American celebrity chef, restaurateur, television personality, and cookbook author. A regional James Beard Award winner, he is perhaps most notable for his Food Network shows Emeril Live and Essence of Emeril as well as catchphrases such as "Kick it up a notch!" and "Bam!" The "Emeril Empire" of media, products and restaurants generates an estimated US$150 million annually in revenue.

Emeril Lagasse, CEO of the Emeril Empire, is the definition of celebrity chef and has changed how most of the world sees restaurants and culinary professionals.

He attended Johnson and Wales University in Rhode Island where he received his degree in culinary arts. Later in his career he would receive an honorary doctorate from JWU.

After college, Emeril apprenticed in the French kitchens of Paris and Lyons. He returned to the United States to work in restaurants in New York, Boston, and Philadelphia. He was noticed by New Orleans matriarch Ella Brennan of Commander's Palace, who convinced Emeril to come to the Big Easy. At the age of 26, Emeril became the executive chef of the historic Commander's Palace, which he oversaw for the next eight years.

In 1990, Emeril opened his own restaurant in New Orleans, Emeril's, to huge success. In 1991, the James Beard Foundation named him Best Southeast Regional Chef.
His success continued with the opening of nine other restaurants: NOLA (1992), Emeril's New Orleans Fish House – Las Vegas (1995), Delmonico – New Orleans (1998), Emeril's Orlando at Universal Studios (1999), Delmonico Steakhouse – Las Vegas (1999), Emeril's Tchoup Chop – Orlando (2002), Emeril's Atlanta (2003), and Emeril's Miami Beach (2003).

Emeril became a TV personality in 1993, when he joined the Food Network. His hit shows Emeril Live and the Essence of Emeril have made Emeril Lagasse a household name, along with his catchphrases "Bam!" and "Kick it up a notch!".

Emeril opened his own restaurant in 1990. From the day its doors opened, Emeril's Restaurant and its owner drew ecstatic praise. Congratulations came not only from the local New Orleans gentry and the writers who prowl the region for culinary news, but also from such national magazines as Esquire, Conde Nast Traveler and Travel & Leisure, as well as from such noted food critics as John Mariani and Gene Bourg.

Following the success of Emeril's Restaurant, Emeril opened multiple establishments. NOLA, which opened in New Orleans' French Quarter in 1992, and Emeril's New Orleans Fish House at the MGM Grand Hotel in Las Vegas, which premiered in 1995, both draw crowds of fans and rave reviews. In 1998, Emeril also reopened the classic Emeril's Delmonico in New Orleans. Two more restaurants quickly followed in 1999 — Emeril's Orlando at Universal Studios and Delmonico Steakhouse in Las Vegas. In January 2002, Emeril's Tchoup Chop opened its doors in Orlando. In August 2003, Emeril's Atlanta opened its doors, followed by Emeril's Miami Beach in November. In addition to his restaurants is a series of books, including There's a Chef in My Family and Emeril's Pot Luck.

In 2002, Emeril started the Emeril Lagasse Foundation, a charity organization whose mission is to improve the lives of young people.

Emeril's Top Recipes:

Crawfish Etouffee
Sopa de Lima (Yucatan Lime Soup)
Pan-Roasted Brussel Sprouts
Oyster Stew
Smokin' Dave's Cafe's Fiery Cajun Shrimp Alfredo

Nowadays, Emeril is the chef/proprietor of 12 restaurants across the country and the best-selling author of 15 cookbooks. Despite his success, Emeril remains devoted as ever to using fresh top-quality ingredients and employs cottage industry ranchers, farmers and fishermen to ensure he always gets the best. He constantly invents new recipes, much to the delight of his regular customers and the fans of his Food Network specials and shows, including Emeril Live and Essence of Emeril.

View the full website biography of Emeril Lagasse.