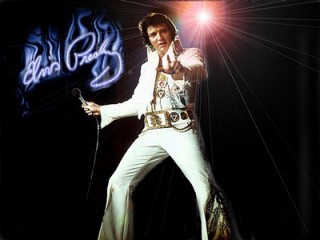 Elvis Presley
Date of birth : 1935-01-08
Date of death : 1977-08-16
Birthplace : Tupelo, Mississippi, U.S.
Nationality : American
Category : Arts and Entertainment
Last modified : 2010-05-07
Elvis Aaron Presley (January 8, 1935 – August 16, 1977) was one of the most popular American singers of the 20th century. A cultural icon, he is widely known by the single name Elvis. He is often referred to as the "King of Rock and Roll" or simply "the King".

Known as the King of Rock 'n' Roll, Elvis Presley awed and inspired audiences around the globe for well over twenty years. He is believed by many to be the most adored singer, performer, and songwriter ever born. The story of his life is filled with highs and lows, but it was during the climax of his career and in the center of the limelight where he was the happiest.
Born in Mississippi, the young Elvis enjoyed singing even as a youngster. His family moved to Memphis, Tennessee when he began his teenage years at L.C. Humes High School. After school, he became a truck driver and personally financed the recording of his own records. When he auditioned for Sun Records with his song, That's All Right Mama, he had an instant recording contract. The single sold over 18,000 copies. In no time, Elvis' popularity bulleted him to the top of the charts with Heartbreak Hotel. His later releases that same year included Don't Be Cruel, Blue Suede Shoes, Love Me Tender, and Jailhouse Rock. His popularity only gained greater momentum through the 1960s and 1970s, where he dominated the music scene and set such high record sales that they still have not been matched. With ten platinum records and over 130 gold records, many agree that he not only defined rock 'n' roll, but embodied it.
During his career, Elvis appeared in various movies, taking well over 30 movies to the top of the box office. Not only did he dominate the music scene, but also his Hollywood films garnished lucrative profits. His most famous films include Blue Hawaii, Girls! Girls! Girls!, and Spinout.
Although Elvis was a worldwide superstar, he served in the Army in Germany for two years and there met his future wife, Priscilla. The two had one child named Lisa Marie Presley, but were later divorced. During this time, and into the early 1970s, Elvis began becoming more dependent on drugs, namely amphetamines and other narcotics. Until the latter 1970s, Elvis never showed any signs of slowing down his still-booming career.
Before a concert in 1977, he was found dead in his hotel room by his new fiancée. After his death, his records outsold and still outsell many popular artists today. His home in Memphis is still one of the top tourist attractions in the entire United States. Already a member of the Rock and Roll Hall of Fame and the Country Music Hall of Fame, he was also inducted into the Gospel Music Hall of fame in 2001.
Legacy
Presley's rise to national attention in 1956 transformed the field of popular music and had a huge effect on the broader scope of popular culture. As the catalyst for the cultural revolution that was rock and roll, he was central not only to defining it as a musical genre but in making it a touchstone of youth culture and rebellious attitude. With its racially mixed origins—repeatedly affirmed by Presley—rock and roll's occupation of a central position in mainstream American culture facilitated a new acceptance and appreciation of black culture. In this regard, Little Richard said of Presley, "He was an integrator. Elvis was a blessing. They wouldn't let black music through. He opened the door for black music". Al Green agreed: "He broke the ice for all of us". Presley also heralded the vastly expanded reach of celebrity in the era of mass communication: at the age of 21, within a year of his first appearance on American network television, he was one of the most famous people in the world.
Presley's name, image, and voice are instantly recognizable around the globe. He has inspired a legion of impersonators. In polls and surveys, he is recognized as one of the most important popular music artists and influential Americans.e "Elvis Presley is the greatest cultural force in the twentieth century", said composer and conductor Leonard Bernstein. "He introduced the beat to everything and he changed everything—music, language, clothes. It's a whole new social revolution—the sixties came from it". Bob Dylan described the sensation of first hearing Presley as "like busting out of jail".
A New York Times editorial on the 25th anniversary of Presley's death observed, "All the talentless impersonators and appalling black velvet paintings on display can make him seem little more than a perverse and distant memory. But before Elvis was camp, he was its opposite: a genuine cultural force. ... Elvis's breakthroughs are underappreciated because in this rock-and-roll age, his hard-rocking music and sultry style have triumphed so completely". Not only Presley's achievements, but his failings as well, are seen by some cultural observers as adding to the power of his legacy, as in this description by Greil Marcus:
Elvis Presley is a supreme figure in American life, one whose presence, no matter how banal or predictable, brooks no real comparisons. ... The cultural range of his music has expanded to the point where it includes not only the hits of the day, but also patriotic recitals, pure country gospel, and really dirty blues. ... Elvis has emerged as a great artist, a great rocker, a great purveyor of schlock, a great heart throb, a great bore, a great symbol of potency, a great ham, a great nice person, and, yes, a great American.
Discography
A vast number of recordings have been issued under Presley's name. The total number of his original master recordings has been variously calculated as 665 and 711. His career began and he was most successful during an era when singles were the primary commercial medium for pop music. In the case of his albums, the distinction between "official" studio records and other forms is often blurred. In addition, for most of the 1960s, his recording career focused on soundtrack albums. In the 1970s, his most heavily promoted and best-selling LP releases tended to be concert albums. This summary discography lists only the albums and singles that reached the top of one or more of the following charts: the main U.S. Billboard pop chart; the Billboard country chart, the genre chart with which he was most identified (there was no country album chart before 1964); and the official British pop chart.f In the United States, Presley also had five or six number one R&B singles and seven number one adult contemporary singles;g in 1964, his "Blue Christmas" topped the Christmas singles chart during a period when Billboard did not rank holiday singles in its primary pop chart. He had number one hits in many countries beside the United States and United Kingdom, as well.
Number one albums
Elvis Presley
Elvis
Loving You
Elvis' Christmas Album
Elvis Is Back!
G.I. Blues
Something for Everybody
Blue Hawaii
Pot Luck
Roustabout
From Elvis in Memphis
Aloha from Hawaii: Via Satellite
Elvis: A Legendary Performer Volume 1
Promised Land
From Elvis Presley Boulevard, Memphis, Tennessee
Elvis' 40 Greatest
Moody Blue
Elvis in Concert
ELV1S: 30 #1 Hits
The King
Number one singles
"Don't Be Cruel"
"I Want You, I Need You, I Love You"
"Heartbreak Hotel"
"I Forgot to Remember to Forget"
"Too Much"
"All Shook Up"
"(Let Me Be Your) Teddy Bear"
"Jailhouse Rock"
"Don't"
"Hard Headed Woman"
"One Night"/"I Got Stung"
"A Fool Such as I"/"I Need Your Love Tonight"
"A Big Hunk o' Love"
"Stuck on You"
"It's Now or Never"
"Are You Lonesome Tonight?"
"Wooden Heart"
"Surrender"
"(Marie's the Name) His Latest Flame"/"Little Sister"
"Can't Help Falling in Love"/"Rock-A-Hula Baby"
"Good Luck Charm"
"She's Not You"
"Return to Sender"
"(You're The) Devil in Disguise"
"Crying in the Chapel"
"Suspicious Minds"
"The Wonder of You"
"Moody Blue"
"Way Down"
"Guitar Man" (reissue)
"A Little Less Conversation" (JXL remix)
"Jailhouse Rock" (reissue)
"One Night"/"I Got Stung" (reissue)
"It's Now or Never" (reissue)
View the full website biography of Elvis Presley .