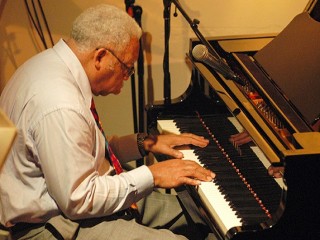 Ellis Marsalis
Date of birth : 1934-11-14
Date of death : -
Birthplace : New Orleans, Louisiana, U.S.
Nationality : American
Category : Arts and Entertainment
Last modified : 2011-12-12
Ellis Marsalis is an American musician. He can usually be seen performing on Fridays at Snug Harbor jazz bistro in New Orleans.

Ellis Marsalis is known as both an accomplished, original jazz pianist and a jazz instructor who has helped shape some of the genre's most important new musicians. A figurehead of the jazz music revival in New Orleans in the late 1950s and early 1960s, Marsalis has enjoyed a career spanning almost four decades. After years of success playing in New Orleans clubs, Marsalis won nationwide recognition in the 1980s and 1990s when appreciation for his teaching skills led to numerous recordings.

Born in New Orleans in 1934, Marsalis began playing the clarinet at age 11 and soon entered classical music studies at Xavier University Junior School. As a teenager, he turned to tenor saxophone, which he played in high school as part of a rhythm and blues band, the Groovy Boys. Although he had dabbled in piano for years, it was not until after majoring in tenor sax at Dillard University that Marsalis chose the piano as his preferred instrument. The decision came after hearing Nat Perrilliat play tenor sax; unsure he could equal such a performance, Marsalis decided he would do better to concentrate on piano.

Marsalis joined the modernist American Jazz Quartet in the mid-1950s, playing with drummer Ed Blackwell, clarinetist Alvin Batiste, and tenor saxophonist Harold Battiste. In 1956 Ellis accompanied Blackwell on a visit to Ornette Coleman, then in the midst of developing his freebop concept of jazz. Marsalis stayed two months, then returned to New Orleans as a temporary band director at Xavier Prep. Soon thereafter, he settled a military conscription by enlisting with the U.S. Marines for two years. Being a Marine, however, did not halt his musical career; Marsalis accepted an assignment to play piano on a Marine Corps-sponsored television program, Dress Blues, as part of the show's band. During his stint on the show, Marsalis became adept at providing accompaniment for vocalists.

When his tour of duty ended, Marsalis returned to New Orleans and created a quartet with Perrilliat and drummer James Black. The group recorded only one album, Monkey Puzzle, on AFO. In a review of these tracks Cadence remarked, "Marsalis' flowing, linear melodicism was a good foil for Perrilliat's more meticulous exploration of chord and rhythm changes." In 1962 Marsalis, Perrilliat, and Black recorded with Nat and Cannonball Adderley, but the album attracted little notice.

Marsalis continued to play the club scene in New Orleans with moderate success throughout the 1960s. In 1967, without a gig for the moment, he went to trumpeter Al Hurt's club and, happening to be in the right place at the right time, was asked to join the band. "Although it wasn't about where I wanted to be musically, it turned out to be a very good gig for me," Marsalis revealed in a Columbia Records profile. "It got me back into music on a full time basis, and that's probably the most important thing. Playing is always better than not playing." Although the band's repertoire was small and its style was more rock than Marsalis would have preferred, he gained valuable experience and exposure, playing on the Today Show, the Mike Douglas Show, and the Ed Sullivan Show. He left the band in 1970.

The following year Marsalis began playing with Bob French's Storyville Jazz Band. "That's when I began to learn how to play the traditional literature," Marsalis noted. In 1972 he led the ELM Music Company with drummer Black. The quintet played a steady gig at Lu and Charlie's, a well-known New Orleans jazz club, for approximately a year and a half. Although the Columbia profile extolled those sessions as "[occupying] an almost mythic position in the history of modern jazz in New Orleans," Marsalis downplayed the band's significance in Down Beat: "We had some good original stuff, but I'm telling you, it was two or three steps ahead of a rock band."

Marsalis had achieved a fair amount of success in New Orleans, but he was not well known nationally. "I wasn't able to put it together," Ellis told Hank Bordowitz in Schwann Spectrum. "When I was growing up, the way that one succeeded in music was to pack up to New York and take a chance. By the time I was really thinking about doing that, we had a lot of kids. It wasn't an easy decision to make to do that, on that kind of gamble." Instead, he continued his musical career in New Orleans and taught music in secondary schools to keep a steady income.

In 1967 Marsalis was teaching African American music and jazz improvisation as an adjunct instructor at Xavier University. His influence as a teacher took a significant turn when he was hired to head the music department at New Orleans's new arts magnet school, New Orleans Center for the Creative Arts (NOCCA), in 1974. There he fostered a new generation of jazz artists: Donald Harrison, Kent and Marlon Jordan, Reginald Veal, Nicholas Payton, and Harry Connick, Jr.

In 1986 Marsalis accepted a position as the coordinator of jazz studies at Virginia Commonwealth University in Richmond. Three years later, Marsalis returned to New Orleans as the head of the Jazz Studies Program at the University of New Orleans.

Marsalis's influence did not rest solely with his students; he has also raised several of jazz's most important new artists. Marsalis's two eldest sons, Branford and Wynton, have carved prominent positions for themselves in the jazz world, playing soprano sax and trumpet, respectively; Branford also appears as musical director and co-host of The Tonight Show with Jay Leno. Ellis's third son, Delfeayo, plays trombone, but has achieved his greatest success to date as a producer. Delfeayo has produced virtually all of his brothers' and his father's albums since the mid-1980s. At 14, Marsalis's youngest son, Jason, played drums on his father's 1993 album Heart of Gold.

Marsalis's recording career bloomed late. Having recorded only a few albums in almost 30 years of playing, Marsalis came into his own in the 1980s. Fathers and Sons, a 1982 release done with his sons Branford and Wynton, was the first in a series of albums Marsalis would record over the next decade. Brian Case reviewed the album for Melody Maker, stating, "Father Ellis has no trouble bedding right down in [the] fast company [of Branford and Wynton], being a fleet boppish piano player of some originality."

His next several albums were well received, particularly Syndrome and Homecoming, on which Marsalis's experience was evident. Jon Balleras said of Marsalis and Homecoming collaborator Eddie Harris, "To say these players are seasoned would be the height of understatement; their playing makes it evident that both men have long since surpassed the point of mastering their instruments and improvisational theory, transcending technique and stylistic limitations to forge a completely transparent, immediate music, music of a broad swirl and swell."

In 1994 Marsalis released Whistle Stop, most of whose compositions date from the 1960s; several were written by the late drummer James Black. Although Larry Birnbaum of Down Beat praised Marsalis's performance, he felt the pianist was overshadowed by his sidemen: "The subtle artistry of his elegant phrasing and refined touch are best appreciated on the closing ballad ... where he plays unaccompanied." Marsalis, who has said he intends to compose for larger ensembles and to explore longer musical forms in the future, told Kalamu ya Salaam that "[Whistle Stop] with its emphasis on the small ensemble represents the pinnacle of my work in that format."

In May, 2007, Marsalis received an honorary doctorate from Tulane University for his contributions to jazz and musical education.On December 7, 2008, Ellis Marsalis was inducted into The Louisiana Music Hall of Fame.Marsalis and his sons are group recipients of the 2011 NEA Jazz Masters Award.

The Ellis Marsalis Center for Music at Musicians' Village in New Orleans is named in honor of Ellis Marsalis. In 2010, The Marsalis Family released a live album titled Music Redeems which was recorded at The John F. Kennedy Center for the Performing Arts in Washington, DC as part of the Duke Ellington Jazz Festival. All proceeds from the sale of the album go directly to the Ellis Marsalis Center for Music.
View the full website biography of Ellis Marsalis.