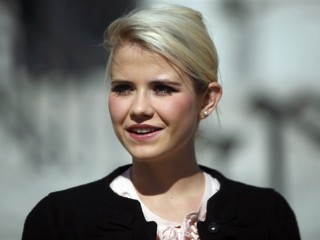 Elizabeth Smart
Date of birth : 1987-11-03
Date of death : -
Birthplace : Salt Lake City, Utah,U.S.
Nationality : American
Category : Famous Figures
Last modified : 2012-03-20
Elizabeth Ann Smart Gilmour is an American activist and contributor for ABC News. She first gained widespread attention at age 14 when she was kidnapped from her home and was rescued with the help of an America's Most Wanted episode after being kidnapped and held captive for nine months.

Elizabeth Smart was born on November 3, 1987, in Salt Lake City, Utah. She is the second of six children born to Lois and Ed Smart, both devout members of the Church of Jesus Christ of Latter-day Saints. Her mother is a homemaker and her father is a highly successful real estate developer. As a youngster, Smart was known as a kind, smart, shy and obedient child. Her greatest passion was the harp, which she began playing at the age of five and practiced for hours each day.

By the time she reached middle school, Smart was sought out to perform as a harpist at local weddings and funerals, and she played numerous recitals—including opening for the Utah Symphony under Salt Lake City's Capitol Rotunda. Smart was also a skilled equestrienne and distance runner who was training to compete in cross-country racing when she reached high school. She attended Bryant Intermediate School, where she was known as an intelligent and diligent student.

On June 2, 2002, when she was 14 years old, Smart and her family attended an end-of-year awards ceremony at her school, where she won several awards for academics and physical fitness. Early the next morning, about an hour after midnight, Smart was awakened in the bedroom she shared with her younger sister Mary Katherine by the sound of footsteps and the feeling of cold metal against her cheek. A man whispered, "I have a knife to your neck. Don't make a sound. Get out of bed and come with me, or I will kill you and your family." The kidnapper, a man by the name of Brian Mitchell, led Smart out of the house and marched her for hours through the forest to a camp where his wife, Wanda Barzee, was waiting.

Mitchell fancied himself a prophet named Immanuel, and after performing a bizarre wedding ceremony—he was also a polygamist—he declared Smart to be his wife and raped her. "I tried to fight him off me," she later testified. "A 14-year-old girl against a grown man doesn't even out so much." Mitchell and Barzee held Smart captive for the next nine months as they moved between California and Utah. Mitchell raped Smart daily—sometimes multiple times per day—and frequently kept her tethered to a tree. He forced her to consume vast quantities of alcohol, marijuana and other drugs and often did not feed her for days—bringing Smart to the brink of starvation. All the while, Mitchell attempted to indoctrinate Smart in his bizarre religious beliefs and convince her that he was a prophet.

The night of Smart's kidnapping, her younger sister Mary Katherine had pretended to be asleep in the other bed while silently attempting to observe her sister's kidnapper in the dark. "I stayed in bed," she recalled. "I was scared. I couldn't do anything. I was just shocked, petrified. I didn't know what to do, knowing someone had come into my bedroom and taken my sister." After several months, it suddenly occurred to Mary Katherine that the kidnapper resembled a man who had once worked on their home as a handyman and who had called himself Immanuel. Police discovered that Immanuel was a man named Brian David Mitchell, and in February 2003 America's Most Wanted aired his photograph. Finally, on March 12, 2003, a passerby recognized Mitchell walking with Smart—who was veiled and wearing a wig and sunglasses. Authorities arrested Mitchell and his wife and returned Smart to her family that evening.

Remarkably, Smart managed to return to a relatively normal life shortly after rejoining her family. Only weeks after her return, she hiked with her family to the camp where Mitchell had taken her nine months before. "I felt great. I felt triumphant," she said. "It's a good hike anyways." Smart added, "I don't think it's worth spending time in the past. It's not something I think about. If I feel like I want to [retell my story to someone], I will. But I don't have to. I don't talk about it much, I really don't care to." After five months, she returned to school and resumed playing the harp and riding horses.

Due to questions about his mental fitness to stand trial, the prosecution against Brian Mitchell stretched on for years. Finally, on December 10, 2010, more than eight years after the kidnapping, a jury in a federal courtroom in Salt Lake City found Mitchell guilty of kidnapping and transporting a child across state lines for sexual purposes. He has not yet been sentenced but is likely to receive lifetime imprisonment.

In 2008, Elizabeth Smart enrolled at Brigham Young University to study music performance. She took time off in 2009 to take her Mormon missionary trip to France, and in the summers she works as a bank clerk. She is, by all accounts, an ordinary college student. She also speaks out as an activist on behalf of kidnapping survivors and child victims of violence and sexual abuse. She has told her inspirational story in interviews with Katie Couric and Oprah Winfrey, and helped to author the United States Department of Justice's 2008 handbook for kidnapping survivors, You Are Not Alone.

Smart says that her kidnapping helped her understand the depth of her love for her family and friends and learn to take joy in the gift of life. "I only have one life, and I'm not going to miss out on it," she said. "When I'm through, I want to be able to say, 'Wow, I lived a great life.'"

In March 2011, Smart was one of four women awarded the Diller-von Furstenberg Award. The award included a $50,000 prize, which Smart announced she will use to start The Elizabeth Smart Foundation, aimed at helping young people avoid or recover from violent events.

In January 2012, Smart became engaged to Matthew Gilmour, a Scotland native, after a courtship of one year. The couple met while doing mission work in Paris and had planned to marry in the summer of 2012 but moved up the date due to media privacy concerns.They married on February 18, 2012 in a private ceremony in the Laie Hawaii Temple.
View the full website biography of Elizabeth Smart.