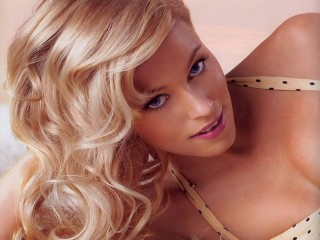 Elizabeth Banks
Date of birth : 1974-02-10
Date of death : -
Birthplace : Pittsfield, Massachusetts, U.S.
Nationality : American
Category : Arts and Entertainment
Last modified : 2011-08-22
Elizabeth Banks is an American actress. Banks had her film debut in the low-budget independent film Surrender Dorothy. Since then, she is best known for her roles in the films Definitely, Maybe, Zack and Miri Make a Porno, W., Role Models, Wet Hot American Summer, The Uninvited and the Spider-Man franchise.

Possessing the kind of elegant screen beauty that often draws comparisons to a Breakfast at Tiffany's-era Audrey Hepburn, actress Elizabeth Banks' onscreen career has been steadily rising since the up-and-coming actress won the Young Hollywood Award for "Exciting New Face" back in 2003. With roles in such notable Hollywood hits as the Spider-Man films and Seabiscuit, Banks has not only had the pleasure of sharing the screen with hot-property actor Tobey Maguire multiple times, but has also been nominated - alongside Maguire, Jeff Bridges, William H. Macy, and Gary Stevens - for an "Outstanding Performance by a Cast in a Motion Picture" award by the Screen Actors Guild for her performance in the latter. The Pittsfield, MA, native got her first taste of fame when nominated Harvest Queen in her hometown's annual fall celebration, and in the years that followed, Banks would receive her bachelor's degree from the University of Pennsylvania and go on to pursue her graduate degree at the American Conservatory Theater.

In 1998, Banks made her feature debut in the controversial addiction drama Surrender Dorothy, with subsequent small-screen roles in Third Watch and Sex and the City only serving to contribute to her rapidly growing profile in film and television. Of course, a move from New York to Los Angeles also may have had something to do with her landing more film roles, and though she would appear under her real name, Elizabeth Mitchell, in the 2000 action thriller Shaft, she soon had to change her name to avoid conflict with another actress who had already established a career under that surname. Undaunted, Banks forged on with roles in the cult comedy Wet Hot American Summer and the romantic drama Ordinary Sinner in 2001, with a supporting performance as Betty Brant in the 2002 box-office smash Spider-Man providing her most substantial onscreen performance to date. With roles opposite Madonna in Swept Away and Leonardo DiCaprio in Catch Me If You Can, it was obvious that Banks' career was on the rise, but it was her winning performance in Seabiscuit that truly put her on the map. Though the Screen Actors Guild award that the she and the cast were nominated for would ultimately go to the cast of The Lord of the Rings: The Return of the King, it was obvious to all who had been following her career that Banks was only at the beginning of her Hollywood ascent. In 2003, Banks appeared in the drama The Trade before reprising her role as Betty Brant for Spider-Man 2, and with increasingly prominent roles in Heights, The Sisters, and The Baxter scheduled through 2005, audiences could rest assured that they would be seeing plenty more of Banks in the years to come. By the time Banks turned in a standout supporting role as a bookstore employee who may hold the means of solving The 40 Year Old Virgin's titular dilemma in the 2005 Steve Carell hit, it seemed that she was an actress capable of brightening most any screen. A substantial role as a small-town trophy wife in director James Gunn's comic-frightener Slither found Banks having noticeable fun in front of the cameras, with a pair of appearances on the popular television medical comedy Scrubs preceding a more serious-minded turn in the inspirational 2006 sports drama Invincible.

On July 5, 2003, Banks married sportswriter and producer Max Handelman, who had been her boyfriend since she met him on her first day at college, September 6, 1992. She converted to Judaism upon marrying him. She and her husband welcomed their first child, a boy named Felix, via gestational host in March 2011.

View the full website biography of Elizabeth Banks.