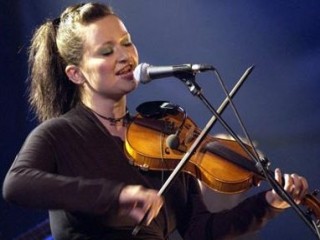 Eliza Carthy
Date of birth : 1975-08-23
Date of death : -
Birthplace : Scarborough, North Yorkshire, England
Nationality : English
Category : Arts and Entertainment
Last modified : 2011-11-02
Eliza Carthy is an English folk musician known for both singing and playing fiddle. She is the daughter of English folk musicians singer/guitarist Martin Carthy and singer Norma Waterson.

Singer, innovator, and all-around music maker Eliza Carthy (pronounced 'Liza) emerged vibrantly from a melee of look-alike, sound-alike recording artists at the turn of the twenty-first century. Carthy burst into the music world with a ramshackle independence and a trademark style of spunk that was uniquely her own. From her earliest performance at age seven, she set a course of incessant dabbling in collaborations with a spectrum of bands and artists, all the while exhibiting individual flair as a solo artist, songwriter, and bandleader. Single-handedly, Carthy is capable of igniting an expanse of styles, interests, and moods. By age 24, she had personally masterminded a series of ventures including two bands and a fiddling duo, and she secured a solo contract with a major American record label. Her immense popularity and penetrating appeal helped to spark a revival of traditional English folk music in the late 1990s.

Carthy represents the fourth generation of musical folk who proclaim their heritage in the English folk tradition. She was born in 1976, the daughter of well-tuned musical icons Norma Waterson and Martin Carthy. Her father is the "doyen of English folk guitarists," according to Billboard magazine. Carthy was raised in Yorkshire, England, and was privy by birthright to memberships in assorted family musical ensembles even as a child. Her mother, aunt, and uncle sang together regularly in a trio called Watersons and her parents performed as Waterson:Carthy. It came as no surprise when Carthy started singing publicly at age seven, although her time for singing was limited to her visits home from boarding school on weekends and holidays.

Carthy's musical pastimes turned into earnest endeavors after she began to play her grandfather's old fiddle at age 13. In the spirit of her ancestors, she formed her own group, called Waterdaughters, even while she was still attending school. By age 14 she was in command of her own dance band, Kings of Calicutt. Two years later, Carthy went into collaboration with her close friend, a one-time Kings of Calicutt fiddler, Nancy Kerr. In 1993 the duo released an album of high-tech fiddle music, simply called Eliza Carthy and Nancy Kerr. After the successful completion of that first recording, there was at least one album released every year by the spirited Carthy. She and her parents sang in a trio on Waterson:Carthyin 1994, and she ushered Kings of Calicutt into the recording studio for a self-titled album that year. In 1995 it was Carthy and Kerr once again performing together on an album called Shape of Scrape.By 1996 Carthy ventured her first solo album, Heat, Light and Sound,and she was heardon Waterson:Carthy's Common Tongue. Subsequently in 1997, her earlier Kings of Calicutt recording from 1994 was reissued.

After nearly a decade of swirling the tidal waters in her own corner of the music scene, Carthy emerged from the swell in 1998 with her double album, Red Rice.The album received a Mercury Music Prize nomination for album of the year in 1998 and gave credence to Carthy's publicized ambition of creating a stylish and contemporary image for English traditional music. It was her goal to fast-forward the old mien of traditional folk music and its musicians from the antiquated atmosphere of clubs, cellars, and sculleries of centuries past, and to transform the genre into a musical form in keeping with the media-driven electronic age of the third millennium. Inherent to her strategy was the infusion of reggae-based dub and drum into the songs. Red Rice,which was released on Topic Records, was packaged creatively as a set of two separate compact discs, with one disc entitled Redand the other called Rice. Each of the two discs displays its own distinct personality, with Carthy's original compositions featured on Red, and traditional English folk music on Rice.

On Red, Carthy provides her vocals and fiddle, along with one-row accordion and keyboard to augment the styles of keyboard players Martin Green and Andy Thorburn. The album's alternating electric and acoustic bass accompaniment from Kings of Calicutt musician Barnaby Stradling contributes significantly to the distinctive Carthy sound meld that serves to bridge musical styles across disparate eras of time. Lucy Adams provides backup vocals, while Olly Knight and Ed Boyd respectively add electric and acoustic guitars.

In a more traditional vein, Ricebrings English folk to the contemporary audience. With far less instrumentation and far more singing than Red, Riceis enhanced by Adams' "feet and clogging" in place of percussion and drums. Eleanor Waterson contributes vocals, while Carthy, as always, plays fiddle and sings, and adds a touch of viola and piano to the mix.

The success of Red Ricehelped to convince British television producers to venture a second glance at not only Carthy herself, but also the long-neglected arena of traditional English folk music. Indeed, English folk tunes had all but become submerged beneath a flood of Scottish and Irish music that became popular in England near the end of the twentieth century. Carthy accepted an invitation to perform live on a United Kingdom television special, and soon afterward she made an encore appearance in a Ken Russell documentary, In Search of the English Folk Song.

In the fall of 1998, Carthy signed a recording contract with Warner Records in the United States, with a promise of writing her own material and fronting her own band. It was a landmark deal for Carthy as she became the first English traditional musician of her generation to sign with a major label. She was billed as a folk artist although the music styles on her Warner debut album defied generic confinement. The recording, called Angels & Cigarettes,appeared in the fall of 2000. It offered ten tracks and featured a blend of traditional music mixed with spicy rhythms and dramatic mood swings, from passionate to light-hearted. The Al Scott-produced recording showcased Carthy's own provocative lyrics, drenched with the sounds of her own fiddle and combined with collaborations and cameos from assorted musicians--from her own father to the Mondrian String Quartet. The Eliza Carthy Band, led by Carthy on violin and vocals, featured electric bass, acoustic and electric guitars, drums, melodeon, and hammered dulcimer. Stradling was heard on bass, with Knight and Boyd on assorted guitars.

Carthy, an avid traveler, tours frequently. She embarked on tour to promote the Warner album. Upon her return she left almost immediately to tour with Waterson:Carthy. With her irascible verve, Carthy also found time to co-produce her mother's solo album, Bright Shiny Waters,in 2000.

It seemed only natural to many connoisseurs of the pure English folk tradition that Carthy might stray from time to time into untested musical waters. Adorned by body piercing, nez percé (pierced nose), unruly fluorescent hair, and vividly colored makeup, Carthy resembles a painted china figurine. She is clearly her parents' daughter. Except for their less dramatic appearance, Waterson and (Martin) Carthy, individually and as a duo, cultivated a reputation in their own right for their experimental meddling with traditional tunes. Indeed Carthy's ongoing collaborations with her parents fit well into the overall persona of a family on the cutting edge of traditional English folk music. Richard Cook in New Statesmanattributed the escalating audience appeal in the 1990s of Carthy's mother and her sibling singing group, the Watersons, to the intermittent guest appearances by Eliza Carthy. He cited Carthy's unmistakable visual image and suggested that, "[P]erhaps ... a national treasure was finally recognized [in Eliza Carthy] very late in the day." In 1996, when Carthy contributed the violin accompaniment to three tracks on her father's Signs of Life album, Cook concluded that the simple accompaniment of Carthy's violin behind the traditional simplicity of her father's music resulted in a very appealing sound "penny-plain but fertile as the earth."

Late in 1999, Carthy joined American folk icon Joan Baez for a United States tour. Baez marveled over Carthy to CNN.com, complimenting Carthy's expertise in performing the traditional English music. "She'll know every turn and every chord. I'm blown away," Baez said. She further described the professional relationship between herself and Carthy as "co-mentors," and she praised the vitality and versatility of the youthful Yorkshire musician. Carthy responded by expressing mutual admiration for the legendary Baez and her enduring appeal. "She's ... a performer that people are very fond of," Carthy observed.

In September 2002 Eliza took part in the Tribute concert for Kirsty MacColl, "The Song's the Thing" along with other artists.
In 2003 Eliza swept the boards at the Radio 2 Folk Awards, winning Folk Singer of the Year, Best Album (for Anglicana) and Best Traditional Track (for "Worcester City", on the album Anglicana). She was also the first traditional English musician to be nominated for a BBC Radio 3 Award for World Music in the same year (for Anglicana).

In 2004 she was part of Oysterband Big Session, a collaboration with numerous folk artists brought together by Oysterband. They produced an album The Big Session Volume One, and the group as a whole were awarded Best Group at the Folk Awards in 2005.
In 2006 she contributed three songs (one as lead vocalist, two as backing vocalist) to Rogue's Gallery: Pirate Ballads, Sea Songs, and Chanteys, produced by Hal Willner. Performing as a duo with Richard Thompson, she contributed "The Coo Coo Bird" to a boxed set called The Harry Smith Project (2006) also by Hal Willner. As a duo with Bob Neuwirth, she sang "I Wish I Was a Mole in the Ground" by Bascom Lamar Lunsford on the same boxed set.

Dreams of Breathing Underwater, Carthy's second collection of self penned songs was released on 23 June 2008. Combining traditional instrumentation with experimental arrangements, and drawing influences from all aspects of her career so far, the album was conceived as the follow-up to 2000's Angels and Cigarettes and has been in the making for the best part of seven years.
Carthy's 2008 tour was cancelled in November, as a cyst on her throat made singing inconsistent and painful. Because of her pregnancy, doctors delayed treatment until spring 2009.

In 2010, Carthy released an album of collaborations with her mother entitled Gift. A BBC reviewer wrote: "The gift in question here, one gathers, is a handing of talent from generation to generation; Norma Waterson and Eliza Carthy are, after all, the sublimely gifted mother and daughter who make up part of British folk's great dynasty." Commenting on the final song, "Shallow Brown", the reviewer noted: "Backed variously by other family members, including Eliza's father Martin Carthy on guitar as well as her cousin Oliver Knight on electric guitar, vocals and cello, there is a real sense of congregation and rootedness about this song, and indeed this record as a whole. Long may the dynasty flourish."

There are those who have classified Carthy as a pop musician, while others have termed her nondescriptly as a folk singer. It is Carthy's contention that the English tradition in which she is so expertly versed was founded in folklore and in a national culture that evolved over the course of generations. It must be distinguished from American folk music, according to Carthy, who appraised the disparity between the two types of folk music as a "quagmire," calling it difficult to explain. She emphasized instead that the purpose of the music, old or new, is to share it with the public. By signing with Warner Records in 1998, she made strides toward that end.

Selected discography:
-Eliza Carthy and the Kings of Calicutt , Topic Records, 1994.
-Heat, Light & Sound ,Topic Records, 1996.
-Red Rice , Topic Records, 1998.
-Angels & Cigarettes ,Warner Records, 2000.



View the full website biography of Eliza Carthy.