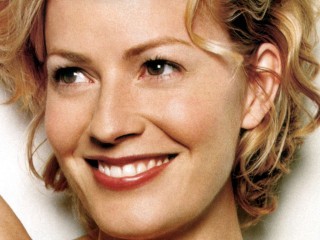 Elisabeth Shue
Date of birth : 1963-10-06
Date of death : -
Birthplace : Wilmington, Delaware, United States
Nationality : American
Category : Arts and Entertainment
Last modified : 2011-08-19
Elisabeth Shue, born as Elisabeth Judson Shue, is an amazing American actress who received an Academy Award nomination for her wonderful acting skills.

Elisabeth Shue was born to Anne Harms nee Wells, who was the vice president of the private division of Chemical Banking Corporation; and her father James Shue was a lawyer, realtor, and an active Republican politician who unsuccessfully ran for the US Senate in New Jersey. Elisabeth Shue has an older brother named Will Shue and younger brother named Andrew Shue. Amidst the two boys in the family, Elisabeth Shue was a tomboy in her childhood and showed more interest in football and gymnastics rather than playing with dolls with the girls of her age.

Elisabeth graduated from Columbia High School in Maplewood, New Jersey. While she was in fourth grade, her parents were divorced. Elisabeth Shue after studying for a while in Wellesley College and Harvard University dropped out in 1985 to pursue an acting career. However Shue returned to Harvard fifteen years later to take her degree in 2000. Elisabeth along with her actor-brother Andrew Shue has also been received into Columbia High School's Hall of Fame in 1994. While still a student, Elisabeth Shue decided to support herself and so began appearing in television commercials like Florida Theme Park, in which ad she displayed her gymnastic skills. Her other noted modeling assignments include DeBeers diamonds, Hellman's mayonnaise, Burger Kings and she went on to appear in over 50 commercials.

Elisabeth Shue began her acting career in 1982 with a made-for-television movie, The Royal Romance of Charles and Diana. Her first big screen movie was The Karate Kid (1984) in which she played the role of onscreen girlfriend to actor Ralph Macchio. Her beautiful performance in The Karate Kid has won her the Young Artist Award in 1985. Elisabeth Shue has since appeared in several television series and movies such as Call to Glory (3 episodes: 1984) and its movie version. Her appearance in Link (1986) brought her Saturn Award nomination; and Adventures in Babysitting (1987) won her an Award from Paris Film Festival. She has also acted in a Tom Cruise-starrer movie Cocktail (1988), and comedy movies Soapdish & The Marrying Man (both 1991), Heart and Souls (1993) and so on.

Elisabeth Shue's moment of crowning glory came at last in the year 1995. Her stunning performance as a soft-hearted prostitute named Sera in Leaving Las Vegas (1995) has earned her an Oscar nomination. The film has also won several film critics' awards like Chicago Film Critics Association Award', Los Angeles Film Critics Association Award', National Society of Film Critics Award, and Independent Spirit Award. Further she received BAFTA and Golden Globe nominations for her magnificent performance in Leaving Las Vegas. Continuing her streak of successes in movies, Elisabeth Shue went on to act in films like The Saint (1997) Hollow Man (2000), Hide and Seek (2005) and several other significant films. Elisabeth Shue has also appeared on their home-production Gracie (2007) in which she stars as the only girl on the boys soccer team. The movie is said to reflect her own childhood experiences.

Elisabeth Shue is married to film and television series director Davis Guggenheim in 1994. They together have a son named Miles William born November 11th, 1997; and two daughters Stella Street born March 19th, 2001 and Agnes Charles Guggenheim born on June 18th, 2006.

View the full website biography of Elisabeth Shue.