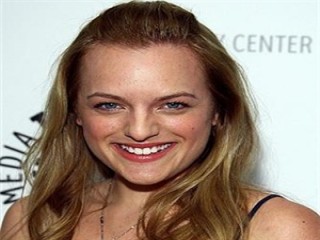 Elisabeth Moss
Date of birth : 1982-07-24
Date of death : -
Birthplace : Los Angeles, California, United States
Nationality : American
Category : Arts and Entertainment
Last modified : 2011-08-18
Elisabeth Moss is an American actress. Her notable roles include first daughter Zoey Bartlet on the NBC television series 'The West Wing' (1999-2006), and secretary turned copywriter Peggy Olson on the AMC original series Mad Men (2007-present).

Elisabeth was born to musicians Ron, a jazz musician and music manager, and Linda, who plays blues harmonica. Moss describes herself as being a serious, focused child. She excelled at school and her favorite childhood pastime was playing library a game that involved her stacking books on the staircase and checking them out to her parents. Growing up in a show business family, Moss says she always wanted to be a performer. I can't explain how I knew, she says. There wasn't one defining moment. But you just know. She made her professional acting debut at the age of six in the TV miniseries Lucky Chances.

Despite this start, as a child Moss focused primarily on dancing rather than acting. She traveled to New York to study at the School of American Ballet and then to Washington, D.C., to study with Suzanne Farrell at the Kennedy Center. It took all the pressure off of auditioning for acting roles, she recalls. If I didn't get a job, I just went on dancing. It saved me from becoming that nine-year-old who has everything riding on getting that one part. She adds, We all know that nine-year-old, and she's not a pretty picture. Nevertheless, at the age of 10, Moss did get that one breakthrough part, playing Baby Louise opposite Bette Midler in the film adaptation of the Broadway musical Gypsy.

Moss was home-schooled by a private tutor and managed to graduate from high school two years early, in 1999, at the age of 16. Only a few months later, she landed a role opposite an Oscar-winning Angelina Jolie in the film Girl, Interrupted. Moss was so convincing as Polly, a teenage burn victim, that throughout filming costar Whoopi Goldberg believed she was an actual burn victim hired to play the part. Whoopi really didn't know a lot of people didn't, actually, Moss recalls. But I would forget too, and then look in the mirror and be shocked. And that shocked feeling is right for Polly, the character she's a child, she does forget about it. Around the same time she filmed Girl, Interrupted, Moss also began a long-running role as the president's daughter Zoey Bartlet on the TV series The West Wing. I played her from when I was 17 to 24, off and on, she says. That show was so well researched, but obviously I have no idea what it's like to be the president's daughter. I just tried to show a regular girl with the Secret Service outside her dorm room.

Moss landed her most visible role to date on the AMC series Mad Men in 2007. The show is set in early 1960s New York City and revolves around the employees of Sterling Cooper, an advertising agency on Madison (Mad) Avenue. Moss plays Peggy Olsen, a secretary-turned-copywriter who demands equality with the show's dominant male characters. Moss has earned wide acclaim for her portrayal of Peggy, a character whom critics often describe as a cipher. I like that they don't understand Peggy, she says. That makes the performance more interesting. Mad Men, has since completed its fourth season on AMC and won numerous Golden Globe and Emmy Awards. Moss has received two Emmy nominations for her performance.

In 2009, Moss married musician and Saturday Night Live comedian Fred Armisen. The two had met the year before, when Mad Men costar Jon Hamm hosted Saturday Night Live and Moss joined him for several skits. But after just eight months of marriage, Moss and Armisen split ways.

In addition to her work on Mad Men, Moss made her Broadway debut in the David Mamet play Speed-the-Plow in 2008. She followed that with an appearance on the big screen opposite Jonah Hill and Russell Brand in the 2010 comedy Get Him to the Greek.

Asked how she manages to stay sane in a business dominated by insanity, Moss talks about her lifelong faith in Scientology. I feel it has given me a sanity and a stability that I am not sure that I would have necessarily had, she said. It has taught me so much about the importance of communication. In my line of work I am often in very stressful situations, in which you would often get totally nervous or clam up you know, going on stage in front of 2,000 people. It's an applied philosophy. And L. Ron Hubbard definitely believed, and as Scientologists we believe, that the arts inject the spirit of life into our culture.
View the full website biography of Elisabeth Moss.