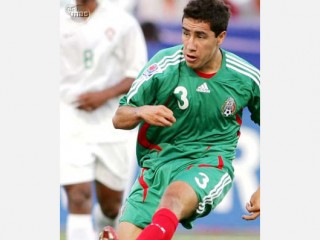 Efraín Juárez
Date of birth : 1988-02-22
Date of death : -
Birthplace : Mexico City, Mexico
Nationality : Mexican
Category : Sports
Last modified : 2010-06-12
Efraín Juárez Valdez (born 22 February 1988) is a Mexican football player. He currently plays as a defender for UNAM Pumas of the Primera Division Mexicana. He also plays for the Mexico national football team.

This talented young right-back or wing-back is one of Mexico's Golden Generation, one of the stars of the Under-17 side which stormed to the world title in 2005. He broke into the senior side last summer and immediately looked the part, featuring in the Aztecs' triumph at the Gold Cup.

In 2006, Juarez was snapped up by Barcelona and must have thought he was en route to the big-time, but he made little headway in two years in the Camp Nou and eventually decided to return to UNAM Pumas in Mexico City, the club where it all began for him.

His closest friends in the game are fellow starlets Giovanni dos Santos and Carlos Vela, who are both plying their trade in England. Juarez would like to join them there sometime soon.

Pumas UNAM

Juárez joined the Pumas youth system at the age of thirteen. After winning the 2005 FIFA U-17 World Championship, playing a key role in defense, he was snapped up by FC Barcelona along with national teammate Jorge Hernández in 2006. Without very much support and very few minutes given in Barcelona B team, he returned to Pumas Morelos and it took some time for Tuca Ferreti to call him to Pumas. Competing for a position in the right wing with Fernando Espinoza, he quickly became a starter in Tuca's team. With Tuca's decision to give continuity to its team, Efraín Juárez renewed his contract facing the Clausura 2009 tournament. In a atypical Liguilla where anything could happen and most of the underdogs advanced, Pumas and Efraín Juárez resulted champions beating Enrique's Meza's Pachuca.

International career

On June 28, 2009 Juárez made his first international cap with the Mexico senior team against Guatemala. Juárez played a part of the team that won the 2009 Gold Cup. In the competition, Gold Cup, he mainly played right defense. He started and completed all games played in the competition. Thanks to his great performance, he quickly gained a spot on the national team, as a right winger. Efraín Juárez first goal was against Costa Rica during a penalty shootout.

On June 11, 2010, Juárez became the first player to be booked at the 2010 FIFA World Cup in Mexico's opening match against South Africa.


View the full website biography of Efraín Juárez .