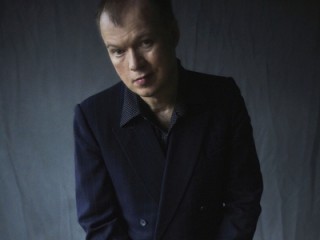 Edwyn Collins
Date of birth : 1959-08-23
Date of death : -
Birthplace : Edinburgh, Scotland
Nationality : Scottish
Category : Arts and Entertainment
Last modified : 2011-11-04
Edwyn Stephen Collins is an Scottish musician, playing mostly electric guitar-driven pop. Collins formed the musical group Nu-Sonics in 1976, which later became Orange Juice. He has since pursued a solo career as a musician, in addition to work as an illustrator, television actor and producer, and as a record producer.

Edwyn Collins began his career as the leader of the Scottish rock band Orange Juice. After the band folded he started a solo career and went on to make international waves with his hit single "A Girl Like You" in 1994. Since then he has settled down to enjoy the more cultish status he had before his signature hit, experimenting with less pop-sounding music that features hard-edged lyrics and his own lush singing voice.

He was attracted to music at an early age, and as a boy he sold his stamp collection so that he could buy an electric guitar. He began his career in music when he teamed up with four buddies from his school to start a punk band called the Nu-Sonics in 1976. By 1979 they were calling themselves Orange Juice and playing music reminiscent of 1960s independent rock. Collins spoke of the band's new direction to Will Hodgkinson in the Manchester Guardian, explaining, "We were smart enough to know that we weren't going to get anywhere as a provincial punk-rock group." Of the origin of the band's new name, Collins wrote in the liner notes of the band's original CD releases, as quoted on his official website, "We thought that the name Orange Juice would annoy people and stand out like the proverbial sore thumb."

Lacking a suitable venue for their recordings, the newly renamed Orange Juice joined with Alan Horne, a well-known Scottish philanthropist, to create their own label, called Postcard Records of Scotland. During its short lifespan, this label produced many popular independent Scottish recording artists, including Aztec Camera and the Go Betweens. The Postcard Records of Scotland recordings were successful enough to prompt the group to move in 1981 to Polydor, a bigger label that could give them broader distribution. The group made four albums with Polydor and produced a thoroughly pop-sounding hit single, "Rip It Up," before disbanding in 1985.

Collins decided to pursue a solo career after the band's breakup, and was signed by the Elevation label in 1986. A pair of singles, "Don't Shilly Shally" and "My Beloved Girl," followed but failed to take off. The label went out of business in 1987, and he was again left without a label. He soon relocated to Germany to record for a small recording studio, and began work on what was to become his first solo album, Hope and Despair. The album was released in 1989 on the Demon label, and was well received by fans and critics alike. Buoyed by this success, Collins went to work on Hellbent on Compromise, an album that was released in 1990 accompanied by a promotional concert tour.

Hellbent on Compromise failed to fulfill the expectations of Demon's managers, and Collins was subsequently dropped from the label's lineup. On his own once again, Collins worked as a producer and arranger during the early 1990s, and started his own recording studio, where he began work on his new album, Gorgeous George. The small British label Setanta picked up Gorgeous George from Collins's homespun label, and it was released in 1994 in the number eight position on the British charts. The album won praise from critics and raves from fans. Especially popular was a single from the album called "A Girl Like You," which quickly became an international hit. The song topped out at the number four position on the British music charts, and played well in France, Germany, Austria, and Australia. It crossed the Atlantic as well, becoming a hit in the United States, reaching the number six position on the Billboard Heatseekers chart. It was the first time Collins had had a hit song since Orange Juice's "Rip It Up" topped the charts in 1983. Collins celebrated with a world concert tour.

The international success of Gorgeous George gave Collins the breathing room he needed to continue to record his own music exactly the way he wanted to. He relocated and expanded his recording studio, and continued his production work for other recording artists. He released a fourth solo album, I'm Not Following You, in 1997. This album, like its predecessor, received raves on both sides of the Atlantic, with Carlo Wolff of the Boston Globe calling it a "handsome, versatile album." Many of the album's lyrics were sharply critical of the music industry and the uninspired music that is often its product. But Collins was not above critiquing himself as well. Stephen Dowling of the Wellington, New Zealand, Sunday Star-Times quoted his lyrics, "You've got to cow-tow to the corporate cow/To the new superpowers I respectfully bow."

Branching out into television in 1999, Collins co-created a six-episode sitcom on Britain's Channel 4 with his sound engineer, Sebastian Lewsley. Called West Heath Yard, the late-night show was named after Collins's recording studio, and depicted Collins and Lewsley dealing with a variety of amusing situations set in a sound studio. The show reportedly had no script, but it was successful enough to spawn a feature-length version, West Heath House, which aired in 2000.

Collins released his fifth solo album in the spring of 2002. Dr. Syntax took Collins three years to make, along with Lewsley and Paul Cook, the former drummer for the punk band Sex Pistols. The three began work on the album as 1998 drew to a close, and finished it in the winter of 2001. Collins played most of the instruments featured on the album, with Cook contributing his drums to two of the tracks. After its release, the album was praised for its mix of smart lyrics and Collins's able vocals. Barry Didcock in the Glasgow Sunday Herald remarked that the album gives "the impression that the world would be a poorer place without [Collins's] vision in it."

In 2005, Collins produced the album The New Fellas recorded by The Cribs.In May 2009, he won the Ivors Inspiration Award in recognition of his struggles following a double brain haemorrhage in 2005.
In addition to his music career, Collins has also produced and starred in the Channel 4 sitcom, West Heath Yard. Collins released his first book of illustrations with Morel Books in 2009.
"Losing Sleep" was released on 13 September 2010 in the UK. It's Collins's first written and recorded album since his serious illness in 2005. It was recorded at his own West Heath Studios between November 2008 and May 2010 and produced by the former Orange Juice frontman and Sebastian Lewsley. He collaborated with The Cribs' Ryan Jarman and Johnny Marr, Franz Ferdinand's Alex Kapranos and Nick McCarthy, The Magic Numbers singer Romeo Stodart, The Drums and Aztec Camera singer Roddy Frame.

Collins lives in West London with his wife, Grace, and their son, William. He has insisted that he will continue to make music that is meaningful to him, without regard to how it will be received by critics or fans. "I don't mind being popular," he told Dowling, "but I don't like populism as a political philosophy, or appealing to the lowest common denominator.... I refuse to try and anticipate the market place."

Selected discography
Solo:
-Hope and Despair Demon, 1989.
-Hellbent on Compromise Demon, 1990.
-Gorgeous George Bar/None, 1994.
-I'm Not Following You Epic, 1997.
-Dr. Syntax Setanta, 2002.

With Orange Juice:
-You Can't Hide Your Love Forever Polydor, 1982; reissued, 1998.
-Rip It Up Polydor, 1982; reissued, 1998.
-The Orange Juice Polydor, 1984; reissued, 1998.



View the full website biography of Edwyn Collins.