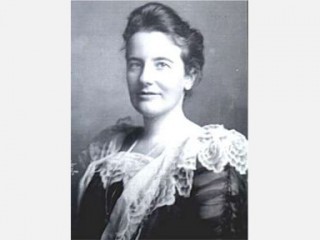 Edith Roosevelt
Date of birth : 1861-08-06
Date of death : 1948-09-30
Birthplace : Norwich, Connecticut, U.S.
Nationality : American
Category : Famous Figures
Last modified : 2010-08-05
Edith Kermit Carow Roosevelt, also known as Mrs. Theodore Roosevelt born August 6, 1861 in Norwich, Connecticut, United States - died September 30, 1948 in Oyster Bay, New York, United States was the First lady of the United States.

As the 26th president of the United States, Theodore Roosevelt owes much of his success to his second wife, Edith Kermit Carow Roosevelt. They knew each other from the time they were toddlers because she was a playmate of his sister Corinne. Eventually she was to become his wife. As first lady, Roosevelt raised six children while managing all the domestic affairs of the White House.

Romanced by an Old Friend

Born August 6, 1861 in Norwich, Connecticut, Roosevelt was the daughter of shipping magnate Charles Carow and his wife Gertrude Elizabeth Tyler. The family's roots came from French Huguenots by the name of Quereau who came to America to escape religious persecution in France.

Roosevelt grew up on Union Square in New York. The old brownstone house she lived in was familiar to her and to Theodore. At a young age, she discovered a love for reading and quiet pursuits. She also enjoyed going to Oyster Bay during the summer, as did Theodore and his family. Theodore was just two years older than she was, so they made agreeable companions. He called her "Edie" and she called him "Teedie." Once Theodore went to college at Harvard, however, the she saw less of him.

Reportedly friends of the Roosevelt family expected Theodore to marry Edith. His marriage to Alice Hathaway Lee in 1880 no doubt came as a surprise to his childhood companion, but if she was unhappy about it she showed no outward sign. She attended his wedding and went on with her life.

When she next met Theodore in 1885, he was a widower with a baby daughter, Alice. His mother had died at the same time as his wife and he buried them both after a double funeral. He seemed anxious not to be around his childhood friend, but although he at first tried to avoid her, they met by accident. Soon afterward, they were married on December 2, 1886 in St. George's Church in London. Roosevelt's husband wrote in a letter to his sister Anna that his honeymoon was "the most absolutely ideal time imaginable."

After they married, they had five of their own children: Theodore Jr., Kermit, Ethel, Archibald, and Quentin. Roosevelt's step-daughter, Alice (from her husband's first marriage), also lived with them. Despite her husband's political career, Roosevelt was determined to give her children a normal life, and even after the family moved to the White House she shielded them from too much publicity.

Political Wife

Roosevelt valued privacy and preferred quiet times at home and reading books to socializing. Still, as the wife of a politician whose star was on the rise, she learned to become a capable hostess. When her husband became civil service commissioner, she came with him to Washington D.C., where she honed her social skills to a point that they were admired by those who were her guests.

The Roosevelts made their home in Oyster Bay, New York, in a house called Sagamore Hill. In 1897 when her husband was stationed in Cuba as secretary of the Navy, Roosevelt spent four lonely months at Sagamore Hill, until her husband returned. Soon he became governor of New York; she rose to the occasion by becoming the ideal companion in social and political circles. In 1900, her husband became vice president, but when McKinley was assassinated in 1901, the Roosevelts were thrust suddenly into the presidency.

Became First Lady

Into the White House came the noisy, rambunctious young Roosevelt children, ranging in age from three to seven. They brandished water guns at themselves and others, threw spit wads at paintings, and harbored alligators in the bathtub. Yet this crowd of youngsters was very welcome. Their antics amused those around them even as they kept their mother busy. Roosevelt was equal to the task. A very efficient household manager, she kept the children in line.

Roosevelt was busy with other things besides the children. She added to the White House's china collection and worked on renovations to the White House mansion. She also hired a social secretary to work for her, which had never been done before by a first lady. Roosevelt's competence was very much admired by one of the president's aides, who said, "She never made a mistake."

Always keen on privacy, Roosevelt had the family's living quarters moved to an area of the White House that afforded them more personal time. This was a welcome haven from social events, such as the marriage of her husband's daughter Alice to Nicholas Longworth, which was a media event attended by royalty.

Life After the White House

When her husband left the Oval Office, Roosevelt was left alone. While he headed for Africa to hunt lions and to South America to explore jungles, she was once again home at Sagamore Hill, wishing for her husband's company and bearing up when three of her sons gave their lives in the service of their country.

After her husband died in 1919, Roosevelt decided to travel herself. She remained active in politics and campaigned for Herbert Hoover. In addition, she wrote books. For 30 years after her husband's death she continued to hold an avid interest in reading. She also helped the Needlework guild provide clothing for the poor. She died on September 30, 1948 in Oyster Bay on Long Island at the age of 87.
View the full website biography of Edith Roosevelt.