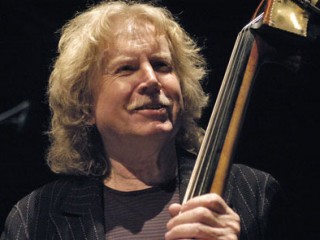 Eberhard Weber
Date of birth : 1940-01-22
Date of death : -
Birthplace : Stuttgart, Germany
Nationality : German
Category : Arts and Entertainment
Last modified : 2012-03-12
Eberhard Weber is a German double bassist and composer. As a bass player, Weber is known for his highly distinctive tone and phrasing. Weber's compositions blend chamber jazz, European classical music, minimalism and ambient music, and are regarded as characteristic examples of the ECM Records sound.

Eberhard Weber's distinctive bass playing and compositional skills have earned him critical accolades and invitations to collaborate with a variety of musicians in the worlds of jazz and popular music, including vibraphonist Gary Burton; guitarists Baden Powell, Stephane Grappelli, Pat Metheny and Ralph Towner; saxophonist Jan Garbarek; and songwriter and singer Kate Bush. With the release of his first solo record for ECM in 1973, The Colours of Chloe, Weber differentiated himself from other jazz and fusion bassists by eschewing walking bass lines that recall such American musical forms as rhythm and blues, jazz, and blues. Instead of using the bass to create the rhythm of a musical piece, Weber focused on using his instrument to create a distinctive melody, which has prompted comparisons to contemporary classical and new music, and has classified his music as distinctly European. Weber achieved his distinctive bass sound by adding a fifth string to his electric bass in the early 1970s.

Later in that same decade, he added a sixth string in order to expand his aural palette.
Weber began playing cello when he was six years old. Instructed by his father, he played the instrument exclusively until 1956, the year he first heard Bill Haley's Comets, a band that prominently featured the upright double bass on such songs as "Rock around the Clock." He began playing upright bass that he was in his high school, and began practicing on the instrument when he was 16 years old. "When I started to pick up the bass, it was purely by random chance," Weber told Innerviews online writer Anil Prasad. "There was a double bass always standing in the corner never being played. One day, the music teacher said 'I wish somebody could play this bass.' Since I started becoming interested in jazz--and knowing you couldn't really play jazz on cello--I volunteered."

Weber began playing in jazz ensembles and school orchestras before forming a duo with pianist Wolfgang Dauner. "We pretty quickly developed a German Bill Evans-style trio--similar to the one with Scott LaFaro and Paul Motian, without playing that well of course," Weber told Prasad. "This was very different to what the other people who played in Germany were doing." The pair met when both played at the Dusseldorf Amateur Jazz Festival in the early 1960s, and performed together during the early part of the decade as a duo and a trio with Fred Braceful before forming the band Et Cetera with Dauner. Weber also had opportunities to record with Baden Powell in 1967 and Stephane Grapelli in 1971.

In the early 1970s, Weber worked with Dave Pike, and was coleader of the band Spectrum with Volker Kriegel. He left Spectrum after becoming dissatisfied with the rock-oriented direction of the band. He also wanted to experiment with his new invention, which he called the electrobass, an acoustic, solid-body, long-neck Italian bass that he modified with an electronic soundbox to create a richer bass sound than had ever been achieved on traditional versions of the instrument. "I realized I could put pick-ups on my double bass, but found out when you play at a certain volume, you suffer from feedback because of resonance from the body," Weber explained to Prasad. "So, it was only logical to find an instrument which has no feedback. There was a solid body I saw in an antique shop. It was totally broken but I got it repaired. I added a pick-up and thought 'From now on, this is my instrument.'"
Weber released his first solo album, The Colours of Chloe, in 1973, which became one of the most successful and critically acclaimed albums in the history of Weber's label, ECM. The success of The Colours of Chloe caused Weber to form a touring ensemble, which he named Colours, and included Rainer Bruninghaus on piano, as well as Charlie Mariano and Jon Christensen, who was later replaced by John Marshall. He toured the United States with Colours in 1976, 1978, and 1979. It was also in the mid-1970s that Weber began performing with the United Jazz and Rock Ensemble.

Throughout the 1980s, Weber was a member of tenor and soprano saxophonist Jan Garbarek's band. Weber's 1982 release, Later That Evening, included keyboardist Lyle Mays, guitarist Bill Frisell, and Oregon saxophonist Paul McCandless. In 1984, Weber released Chorus, an album featuring Garbarek. Structured as a seven-part musical composition, the album prompted a WNUR critic to state: "This is not an album to set the world on fire, but it will put it out nicely afterwards. Though Weber has done wonderful things with both live and studio multi-tracked bass, this is still my favorite of his albums. Highly recommended." Weber also increased his international audience in the 1980s through his musical contributions to the Kate Bush albums The Dreaming, Hounds of Love, and The Sensual World."She called me once when I was in Hamburg," Weber told Prasad. "I couldn't even believe it was her. The hotel had a message from Kate Bush and I called her back. She told me she loved ECM music in general and my music in particular. She wanted me to participate in one of her albums. She sent me a tape of the two tracks she wanted me to play on and asked me to think about countermelodies."

For Weber's 2001 album, Endless Days, the bass player requested that his guest musicians--including McCandless, pianist Rainer Bruninghaus, and drummer Michael DiPasqua--"play everything, as long as it doesn't sound like jazz," resulting in an album that more resembles classical chamber music, with McCandless performing tenor saxophone on only one song, and performing oboe, English horn, and bass clarinet on the remaining songs. The presence of DiPasqua on Endless Days is notable for ending the drummer's 14 years of retirement, and provided the occasion for 52nd Street critic Don Williamson to note: "While Bruninghaus often fades into the overall scenic perspectives that Weber establishes, especially on the chordless descending notes of 'Nuit Blanche'--or while McCandless and Bruninghaus create a long-toned orchestral effect on 'The Last Stage of a Long Journey'--it's DiPasqua who fills in the finishing touches with a limited martial beat or with splashes and shimmers.

The ethereality of the works finally are tethered once DiPasqua defines their rhythmic bases." Williamson noted that DiPasqua was convinced to join the project after hearing Weber's tapes of the album's compositions, and regarded the album as further evidence of Weber's professional accomplishments, which he described: "Far removed from the crusty Ken Burns concept of jazz, Eberhard Weber's advancement of the form depends upon a European view that values reflection as much as impetuousness, omnivorous absorption of numerous styles as much as adherence to a rigid form and logic as much as creativity. Endless Days confirms the uniqueness of Weber's style as he develops an even broader imaginative expansion."

As of June 2007, reports have surfaced that Weber has suffered a stroke and is currently unable to perform. In a January 2010 interview with Die Welt, he spoke about his medical condition and future projects.

Weber was awarded the prestigious Albert Mangelsdorff-Preis in November, 2009. A box set of his 1970's works with Colours was released by ECM Records the same month.
View the full website biography of Eberhard Weber.