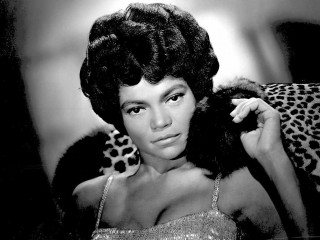 Eartha Kitt
Date of birth : 1927-01-17
Date of death : 2008-12-25
Birthplace : North, South Carolina, U.S.
Nationality : American
Category : Famous Figures
Last modified : 2015-08-03
Eartha Mae Kitt was an American singer, actress, and cabaret star. She was perhaps best known for her highly distinctive singing style and her 1953 hit recordings of "C'est Si Bon" and the enduring Christmas novelty smash "Santa Baby." Orson Welles once called her the "most exciting woman in the world."

Entertainer Eartha Kitt's five decades in show business approximate a roller coaster ride with peaks and valleys more considerable than most. The cabaret singer with the saucy delivery and sultry purr escaped a childhood so daunting that, according to People magazine's John Stark, it made Charles Dickens's fictitious urchin Oliver Twist's look good; yet by the time the song stylist had reached her mid-twenties she was headlining at top clubs in the United States and Europe and rubbing elbows with such twentieth-century heavyweights as physicist Albert Einstein and Indian prime minister Jawaharlal Nehru.

Early in her career, director Orson Welles pronounced Kitt "the most exciting woman alive" and cast her in her first dramatic role as Helen of Troy in his award-winning interpretation of Faust; later, the entertainer appeared in less distinguished cinematic vehicles--a downward trend she relates to her highly publicized confrontation with Lady Bird Johnson, former first lady of the United States, over the Vietnam War in 1968. The conflict blacklisted Kitt from performing at home during her prime years and left a seemingly permanent stain on her singing and acting career. Nevertheless, the philosophical performer told Judy Gerstel in the Detroit Free Press: "I'm still very much here, and I feel strongly that the stars are rising for me again.... As long as you are working, that gives you dignity and respect."

Kitt was born in rural South Carolina to a 14-year-old black mother and a white father, whose identity she never knew. Her black stepfather was a sharecropper who soon abandoned the family; when Eartha was six, her mother also disappeared, and she and a half-sister survived on berries in the woods or picked cotton in exchange for food and shelter. Kitt's light skin made her a particular target for taunts and beatings in her hometown. At the age of eight, she was taken in by an aunt, who brought her to Harlem to live. But the aunt mistreated her. "She was a child abuser," Kitt told Veronica Webb in Interview. "I never knew when she was going to pick up a stool and hit me over the head with it. Not because I was doing anything wrong.... I went to school with black eyes and welts on my bottom, and I figured, Well, I guess that's the way it was meant to be."

While her aunt worked, Kitt practiced singing and dancing, talents that won her recognition in school. By age fourteen, she was earning a living as a sewer in a factory, using her savings for piano lessons; two years later she got her big break when she landed a dance scholarship with the all-black Katherine Dunham Company in New York.

Kitt toured South America and Europe with the company and emerged as one of its solo stars when it was discovered that she could sing as well as dance. She was taught African, Haitian, and Cuban songs, capitalizing on her exotic beauty and facility with languages (born of her youth in New York's ethnically rich neighborhoods). The entertainer's blend of sensuality and sophistication made her an instant hit with international audiences; her individual stardom also brought clashes with troupe leader Dunham, however, and the two ended their association in Paris in 1949. Kitt remained and became the toast of that city, performing at major clubs and cabarets there and in other continental capitals.

Kitt's 1950 dramatic debut in Welles's Time Runs in Paris drew critical acclaim and established her as a serious actress; she starred in two French films before returning to New York in 1952. After a fitful start, the performer reestablished her nightclub act there, and after appearing in the Broadway revue New Faces of 1952 and its cinematic counterpart, she rose to new heights in popularity: she broke attendance records at New York's Blue Angel nightclub and the Mocambo in Hollywood. By the mid-fifties Kitt was recording her international repertoire for RCA Victor, and songs like "C'est Si Bon," "Angelitos Negros," the Turkish "Uska Dara," and calypso "Somebody Bad Stole de Wedding Bell" became hits, as did "An Old-Fashioned Girl," "I Want to Be Evil," and "Santa Baby." The entertainer also made frequent television appearances and engaged in additional stage and film work.

While Kitt prevailed as a variety artist, it was apparent by the 1960s that she was not destined for superstardom. The performer suspected that her color and cosmopolitan persona limited her; interviewer Gerstel suggested that "[Kitt] was always considered 'too high class' to play black women in dramas about the black experience." Kitt told Webb, "I didn't fit in. 'She thinks she's white. She doesn't sing blues. She doesn't sing jazz.' I was ostracized by ... black people for twenty-five years because they were conditioned by the media into thinking that all black people should be singing the same kind of music."

Yet, writing about her long, failed relationships with Hollywood scion Arthur Loew, Jr., and cosmetics mogul Charles Revson in her 1989 autobiography I'm Still Here, Kitt determined that she was also "too black" to be accepted into white upper-crust society. Regardless, the performer had a comfortable club following, as well as a number of social and charitable interests that consumed much of her time. That was why she took her 1968 invitation to the White House so seriously, researching the topic for discussion--juvenile delinquency in America--beforehand, concluding that the Vietnam War was much to blame (due to the high proportion of minorities drafted and the deferment of those with criminal records). When Kitt discovered that the luncheon was merely a public relations event with a staged visit by President Lyndon B. Johnson, she confronted Mrs. Johnson with her findings, and news of the clash spread.

In her 1976 autobiography, Alone With Me, Kitt recalled how her career in the United States--worth about a million and a half dollars annually--was strangled for nearly seven years by the incident: "Club contracts were cancelled or 'lost,' with the contractors refusing to draw up new ones. The television quiz show on which I was a semi-regular never invited me back, and the phones stopped ringing." Fortunately, the international entertainer was still able to perform and record abroad.

In the mid-1970s, Washington, D.C., columnist Jack Anderson disclosed that the Secret Service and other government intelligence agencies had compiled extensive dossiers on Kitt's professional and personal activities both before and after the 1968 luncheon. With that revelation the variety performer's bookings in the United States resumed, but the passage of time, or tastes, narrowed her appeal. When reviewing her 1984 album I Love Men for People, for instance, Michael Small found Kitt's purrs and snarls "high camp" and "sometimes catchy"; still, he admitted that with lyrics like "'I just need someone to spank me/ I just need someone to bank me/ Sugar Daddy/ Sugar Daddy,' she won't make a pal out of [noted feminist] Gloria Steinem." Nonetheless, the entertainer still tours widely and appears in such venerable settings as New York's Hotel Carlyle. She frequently performs a favorite--and appropriately titled--number, the Stephen Sondheim song "I'm Still Here."

Kitt died from colon cancer on Christmas Day 2008 at her Weston, Connecticut, home. In 2009, the Academy of Motion Picture Arts and Sciences excluded her from the "In Memoriam" montage at the 81st Academy Awards ceremony.

Selective Works:
- Eartha Kitt With the Doc Cheatham Trio (recorded 1950), Swing, 1986.
-In Person at the Plaza (recorded 1965), GNP Crescendo, 1987.
-C'est Si Bon (recorded 1983), Polydor.
-I Love Men Sunnyview, 1984.
-My Way: A Musical Tribute to Reverend Martin Luther King, Jr. Caravan of Dreams, 1987.
-Miss Kitt to You RCA, 1992.
-Thinking Jazz ITM (German import), 1992.
-Love for Sale Capitol.
-That Bad Eartha RCA.
-The Best of Eartha Kitt MCA.
-The Romantic Eartha Kitt Capitol.
-Has also recorded dramatic readings, including Black Pioneers in American History: Nineteenth Century with Moses Gunn, Caedmon, 1968; Folk Tales of the Tribes of Africa Caedmon, 1968; and Young Brer Rabbit 1987.

Writings:
-Thursday's Child (autobiography), Duell, Sloan & Pearce, 1956.
-Alone With Me (autobiography), Regnery, 1976.
-I'm Still Here (autobiography), [New York], 1989, published as Confessions of a Sex Kitten Barricade Books, 1991.

View the full website biography of Eartha Kitt .