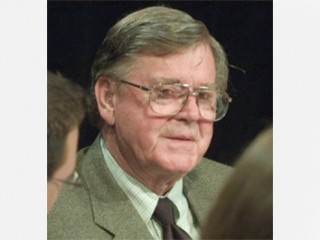 Earl Hamner Jr.
Date of birth : 1923-07-10
Date of death : -
Birthplace : Schuyler, Virginia, U.S.
Nationality : American
Category : Arts and Entertainment
Last modified : 2010-08-30
Earl Henry Hamner, Jr. (born on July 10, 1923 in Schuyler, Virginia) is an American television writer and producer (sometimes credited as Earl Hamner), best known for his work in the 1970s and 1980s on the long-running CBS series The Waltons and Falcon Crest. As a novelist, he is best known for the novel Spencer's Mountain, which was inspired by his own childhood and formed the basis for both the film of the same name and the television series The Waltons, for which he provided voiceover narration.

He based the cantankerous Walton family grandparents in the popular television series on his own maternal Italian-American grandparents, Ora Lee and Colonel Anderson Gianniny, an anglicized version of the Italian surname "Giannini".

Earl Hamner also contributed eight episodes in the early 1960s to the CBS science fiction series The Twilight Zone. His first script acceptance for the series was his big writing break in Hollywood.

He created two less successful series, Boone on NBC (1983–1984), starring Tom Byrd and Barry Corbin, and Apple's Way (1974–1975) on CBS with Ronny Cox.

"Sidelights"

The success of the 1971 Columbia Broadcasting System Christmas teleplay, "The Homecoming", gave rise to the successful television series, "The Waltons". Margaret Tanguay asked Hamner how his own family, after whom the Walton characters are largely patterned, had reacted to the series. "Not [with] shock, but delight at reliving old times," Hamner said. "You know, Thomas Wolfe `couldn't go home again' because of the things he'd written, but I can go home, and do, because I've written with affection about our life together."

PERSONAL INFORMATION

Family: Born July 10, 1923, in Schuyler, VA; son of Earl Henry and Doris Marion (Gianinni) Hamner; married Jane Martin, October 16, 1954; children: Scott Martin, Caroline Spencer. Education: Attended University of Richmond, 1940-43, and Northwestern University, 1946; College of Music of Cincinnati, B.F.A., 1958. Military/Wartime Service: U.S. Army, 1943-46. Addresses: Home: Studio City, CA. Office: Lorimer Productions, Inc., 4000 Warner Blvd., Burbank, CA 91522.

AWARDS
TV-Radio Writers award, 1967; Writers Guild prize, 1969, for "Heidi"; George Foster Peabody Award, 1972; Christopher Award, 1973; Virginian of the Year award from Virginia Press Association, 1973; Emmy Award, 1974; National Association of Television Executive Man of the Year award, 1974; Virginian Association of Broadcasters award, 1975; L.H.D. from Berea College and Loyola University, and D.F.A., from Morris Harvey College, all 1975.

CAREER
WLW-Radio, Cincinnati, OH, writer, 1946-48; National Broadcasting Co. (NBC), New York City, radio and television writer, 1949-60; free-lance television and film writer in Hollywood, CA, 1961--; Columbia Broadcasting System (CBS), New York City, creator and executive producer of "The Waltons" television series, 1971--. President, Amanda Productions.

WRITINGS BY THE AUTHOR:
All novels:

* Fifty Roads to Town, Random House, 1953.
* Spencer's Mountain, Dial, 1961.
* You Can't Get There from Here, Random House, 1965.
* The Homecoming, Random House, 1970.
* The Hollywood Zoo, Blue Ridge Publications (Ocean Pines, MD), 1997.
* Lassie: A Christmas Story, T. Nelson (Nashville, TN), 1997.
* The Avocado Drive Zoo: At Home with My Family and the Creatures We've Loved, Cumberland House (Nashville, TN), 1999.

Screenplays:

* "Spencer's Mountain," Warner Bros., 1963.
* "Palm Springs Weekend," Warner Bros., 1963.

Teleplays:

* "Highway," 1954.
* "Heidi," 1969.
* "Appalachian Autumn," 1970.
* "Aesop's Fables," 1971.
* "The Homecoming," for CBS, 1971.
* "Where the Lilies Bloom," 1972.
View the full website biography of Earl Hamner Jr..