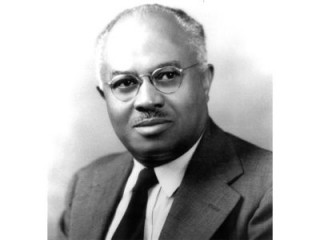 E. Franklin Frazier
Date of birth : 1894-09-24
Date of death : 1962-05-17
Birthplace : Baltimore, Maryland
Nationality : American
Category : Famous Figures
Last modified : 2011-03-16
Edward Franklin Frazier, one of America's leading sociologists, specialized in studies of black people in North and South America and in Africa.
On Sept. 24, 1894, E. Franklin Frazier was born in Baltimore, Md. He took his bachelor of arts degree cum laude at Howard University in 1916. From 1916 to 1918 Frazier taught in secondary schools in Alabama, Virginia, and Maryland. In 1919 he began graduate studies at Clark University, Worcester, Mass., receiving a master of arts degree in sociology in 1920. As a research fellow at the New York School of Social Work (1920-1921), Frazier studied longshoremen in New York City. In 1921-1922 he studied folk high schools in Denmark. From 1922 to 1924 Frazier was an instructor in sociology at Morehouse College, serving also as director of the Atlanta School of Social Work (1922-1927). He married Marie E. Brown in 1922.
Frazier's essay "The Pathology of Race Prejudice" in Forum (June 1927) drew an analogy between race prejudice and insanity. As a result, Frazier had to leave Atlanta to avoid a white lynch mob. From 1927 to 1929 he pursued advanced study at the University of Chicago, receiving his doctorate in sociology in 1931 for The Negro Family in Chicago (1932). From 1929 to 1934 he worked under Charles S. Johnson, an outstanding African American sociologist, at Fisk University. Frazier returned to Howard University in 1934 as head of the department of sociology. In 1959 he became professor emeritus in the department of sociology and the African studies program.
From 1944 to 1951 Frazier served as part-time instructor at New York School of Social Work, Columbia University, and from 1957 to 1962 lectured at the School of Advanced International Studies, Johns Hopkins University. Frazier also served as visiting professor at several other colleges and universities. In 1948 Frazier served as president of the American Sociological Society, and he was chief of the Division of the Applied Social Sciences, Department of Social Sciences, United Nations Educational, Scientific, and Cultural Organization, in 1951-1953. Frazier published 8 books, 18 chapters in books, and at least 89 articles. His most significant work was on the African American family. In The Negro Family in Chicago, The Free Negro Family (1932), and The Negro Family in the United States (1939) Frazier offered pioneering interpretations of the character, history, and influence of the black family. His concept of the black matriarchy, despite recent challenges and new approaches, dominates work on the black family.
Frazier also offered candid, often polemical, analyses of the role of the black middle class, as in Black Bourgeoisie (1957). The Negro in the United States (1949; rev. ed. 1957) and Race and Culture Contacts in the Modern World (1957; rev. ed. 1965) contain Frazier's analysis of the black experience throughout the world.
Frazier's death on May 17, 1962, prevented completion of his study of the black church. Only an outline of his views, The Negro Church in America (1961), was published. G. Franklin Edwards, a colleague and friend, described Frazier as "a tough-minded intellectual" and "a fine exponent of the best tradition in American sociology and scholarship."
The best introduction to Frazier is his own works. G. Franklin Edwards edited and wrote an excellent introduction to Frazier's On Race Relations: Selected Writings (1968). St. Clair Drake's introduction to the 1967 reprint edition of Frazier's Negro Youth at the Crossways (1940) is also of great value. Howard W. Odum, American Sociology: The Story of Sociology in the United States through 1950 (1951), contains a sketch of Frazier's life and works up to that date. There is a brief sketch of Frazier in Wilhelmena S. Robinson, Historical Negro Biographies (1968).
View the full website biography of E. Franklin Frazier.