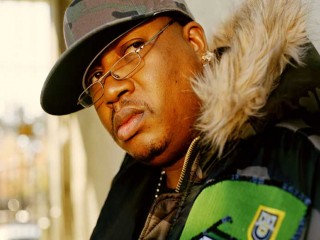 E-40
Date of birth : 1967-11-15
Date of death : -
Birthplace : Vallejo, California, U.S.
Nationality : American
Category : Arts and Entertainment
Last modified : 2011-11-10
Earl Stevens, better known by his stage name E-40, is an American rapper, entrepreneur, and investor from Vallejo, California. He is also part of the rap group The Click and the founder of Sick Wid It Records.
The Bay Area rap musician E-40, renowned for his fast, slick rhymes and unique Ebonics slang, attracted a cult following in the 1990s when he established himself as an independent artist with his own label. Picked up by Jive Records in the mid-1990s, the hefty, six-foot two-inch rapper earned the respect of fellow hip-hop artists and the devotion of a mainly West Coast fan base. Mainstream success seemed to elude the influential rap veteran, whose music appealed mostly to fans of alternative and hardcore rap. Yet E-40 held his ground with 2002's Grit & Grind and 2003's Breakin News, gaining radio airplay and affirming his importance in the rap world.

Born Earl Stevens, E-40 grew up in Vallejo, California, across the bay from San Francisco. After his parents divorced when he was a child, he lived with his mother, who worked three jobs to support her children. His father, an aspiring musician, paid occasional visits. "[My mother would] come home on the weekends, tired as hell, drink a glass of table wine, and put on the O'Jays or the Spinners," E-40 recalled to Neva Chonin of the San Francisco Chronicle. "Sometimes she'd listen to a song called 'Living for the Weekend' and sit there and cry. I'd say, 'What's wrong, Mama?' And then me and the other kids would all just hug her. It was hard, man."

E-40 and his siblings quickly caught on to their mother's example of industriousness and hard work. As teenagers they formed a rap group and mixed homemade demo tapes, which they distributed around the Bay Area from the back of a car. At the same time, E-40 helped manage a family-run clothing store and worked a day job at an oil refinery.

The family rap group, originally called the Most Valuable Players, included E-40's brother D-Shot, sister Suga T, and cousin B-Legit, who grew up in the same house. Formed in 1986, the group was well received at a Grambling State University talent show, an experience that inspired the rappers to get more serious. Renaming themselves The Click, they released a single, "The King's Men."

Meanwhile, aiming for success as a solo artist, too, E-40 set out to emulate the career of Oakland hotshot Too $hort, a rapper who established himself with self-promoted "mixtapes" before releasing his first album. After a few years of selling his own mixtapes from the trunk of his car, E-40 founded a recording label, Sik Wid It Records, in the early 1990s. Ever the entrepreneur, E-40 earned his first nickname, Charlie Hustle, for his ability to promote himself and his rap posse. Other nicknames came later, including "Forty Fonzarelli" and "40-Watter." He earned the "40" for his fondness for 40-ounce bottles of beer; in his most widely known moniker, the "E" stands for his first name, Earl.

E-40's recording label allowed him to sell records beyond the Vallejo area, where he and The Click had gained a following. By 1993, E-40 was making inroads on the hip-hop circuit, landing a guest spot on fellow West Coast rapper Spice 1's album 187 He Wrote. The album was a hit, and E-40's performance impressed the executives at the high profile Jive Records label. The company eventually signed a distribution deal with E-40's Sik Wid It Records; the lucrative contract gave E-40 liberal artistic control while expanding his commercial prospects.

Under the Sik Wid It label, E-40 came out with a series of releases in 1994, including his own EP, The Mail Man, a hit single, "Captain Save a Hoe," a solo album, Federal, and The Click's official debut, Down and Dirty. After E-40 agreed to a deal, Jive Records re-released all of these recordings for a wider distribution. The following year Jive released E-40's EP In a Major Way as well as The Click's follow-up album, Game Related.

E-40 teamed up with Bay Area producer Ant Banks to create "Rapper's Ball," a successful single with guest spots by rappers Too $hort and K-Ci. The single appeared on 1996's Tha Hall of Game, which E-40 released just before taking a one-year hiatus from music. He returned in 1998 with the double album Element of Surprise, featuring guest spots by Master P, Busta Rhymes, Too $hort, and his siblings from The Click. The same year, he finished work on an autobiographical documentary, E-40 Presents Charlie Hustle: Blueprint of a Self-Made Millionaire, with cameos by rappers Ice-T, Snoop Doggy Dogg, and others. Proceeds from the documentary benefited E-40's charity, the 40 Something Children's Foundation.

E-40 got into some trouble in 2000 when he was involved in a brawl at the second annual Source Hip-Hop Music Awards in Pasadena. The heavyset rapper got into a scuffle with Andre Dow, a former collaborator turned rival. Several fights broke out during the ceremony, and the event was subsequently cut short.

When E-40 released Grit & Grind, his most commercial album yet, in 2002, the rapper seemed poised for a mainstream breakthrough. While the album did not "blow up," as some critics predicted, the funky single "Automatic" was well received. The album's popularity was also bolstered by an all-star list of musical collaborators, including Master P, Busta Rhymes, Fabolous, and Too $hort. Yet the artist continued to deliver his signature style of fast rhymes and big bass beats. "I'm reaching for a wider audience, but I want my [West Coast] fan base to be satisfied," E-40 told Chonin. "I keep my flow, but switch it up a little bit so people can understand what I'm saying."

The rivalry between East Coast and West Coast rap often tripped up E-40, who held fast to his Bay Area identity despite the limitations of regional success. While West Coast rap and edgy, gritty "gangsta rap" stole the spotlight in the mid-1990s, by the end of that decade East Coast rap was once again on top. "Me, I'm just trying to grit it out and wait for the ball to come back around to the Yay (the Bay Area, in E-40 speak)," the rapper told Chonin. "I'm gonna maintain my bayness and keep it real chubby like a checker and chunky like a soup."

In 2003, E-40 released Breakin News, which critics greeted as a solid album sure to please the rapper's fan base. Once again the hip-hop veteran delivered dexterous rhymes in his innovative slang. To help fans decipher his language, the rapper published "E-40's Book of Slang, Volume 1" in the hip-hop magazine Murder Dog in the summer of 2003.

In 2008, E-40's new album The Ball Street Journal came out, with "Wake it Up" featuring Akon as the lead single. "Got Rich Twice" featuring Turf Talk followed.
In 2009, 40 was featured on the track "Santana DVX" on the album Incredibad from the comedy group The Lonely Island. E-40 is listed in the credits as one of the writers. In the song, E-40 assumes the identity of Carlos Santana and raps about his personalized brand of sparkling white wine.
On March 29, 2011, E-40 released two albums called Revenue Retrievin': Overtime Shift and Revenue Retrievin': Graveyard Shift.In November 2010, E-40 and Too Short announced that they will release a collaborative album in Summer 2011 entitled The History Channel. E-40 will also perform at the Gathering of the Juggalos.

Selected discography
Solo:
-Federal Jive, 1994.
-In a Major Way Jive, 1995.
-Tha Hall of Game Jive, 1996.
-The Element of Surprise Jive, 1998.
-Charlie Hustle: The Blueprint of a Self-Made Millionaire Jive, 1999.
-Loyalty and Betrayal Jive, 2000.
-Grit & Grind Jive, 2002.
-Breakin News Jive, 2003.
- My Ghetto Report Card (2006)
-The Ball Street Journal (2008)
-Revenue Retrievin': Day Shift (2010)
-Revenue Retrievin': Night Shift (2010)
-Revenue Retrievin': Overtime Shift (2011)
-Revenue Retrievin': Graveyard Shift (2011)
-The Block Brochure: Welcome to the Soil 1 (2012)
-The Block Brochure: Welcome to the Soil 2 (2012)

With The Click
-Down and Dirty Jive, 1994.
-Game Related Jive, 1995.
-Money & Muscle Jive, 2001.
-The Last Days Jive, 2001.
View the full website biography of E-40.