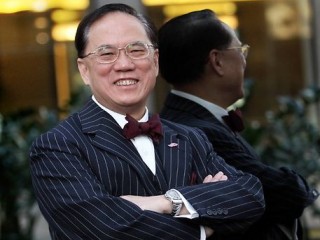 Donald Tsang
Date of birth : 1944-10-07
Date of death : -
Birthplace : Hong Kong
Nationality : Chinese
Category : Politics
Last modified : 2012-01-17
Donald Tsang Yam-kuen is the current Chief Executive and President of the Executive Council of Hong Kong.

Tsang began his civil service career in 1967, occupying various positions in finance and trade in the Hong Kong Civil Service, and was appointed Financial Secretary of Hong Kong in 1995, becoming the first ethnic Chinese to hold the position under British administration. He remained in that position after the transfer of the sovereignty of Hong Kong before being appointed Chief Secretary for Administration after the resignation of Anson Chan. Tsang has won praise for his handling of the Hong Kong economy both as Chief Executive in the mid-2000s and as Financial Secretary in the late 1990s.

He assumed the office of Chief Executive of Hong Kong in 2005. Since his appointment, he has been criticised for the government's mishandling of a number of incidents, most notably the demolition of Queen's Pier, Political Appointments System, the Leung Chin-man appointment controversy, and the Employee Retraining Levy waiver controversy. Tsang's popularity rating was 51.6% in January 2009, with 16.2% of those surveyed being satisfied with the government's performance, while 34.4 percent believed it was below par.

Tsang is well-known for his preference of wearing a bow tie. His nickname, Bow-Tie Tsang, is widely known among Hongkongers. According to a television interview, this preference started somewhere between 1988–1993, when Tsang's office was adjacent to Deputy Political Adviser Stephen Bradley, who himself wore a bow tie. Tsang felt comfortable with the bow tie which Bradley had given him, saying that a bow tie's design brings fewer hurdles to its wearer than a necktie. His penchant for wearing bow-ties and fondness of keeping koi has been portrayed by Chinese contemporary artist Lee Shi-min in the work Hua Koi Tie (2008).

Tsang's resignation as Chief Secretary was accepted by the Central People's Government of the People's Republic of China on 2 June 2005. David Li Kwok-po acted as his election campaign manager. Tsang stood on a platform of "Resolute, pragmatic action".

On 15 June, he handed in his nomination form which bore the signatures of 674 of the approximately 800 members of Election Committee which the Returning Officer determined that his nomination was valid. Two other would be contenders failed to gain the necessary 100 election committee members' endorsements, and their nominations were declared invalid.

On 21 June 2005, Tsang was officially appointed Chief Executive of the HKSAR by the State Council of the Central People's Government to complete the remainder of Tung's term, which ended on 30 June 2007.

During the Chief Executive election campaign, Donald Tsang received about HK$27.33 million in campaign sponsorship, but spent only HK$4.12 million.. The remaining HK$23.21 million was donated to 14 charitable organisations.

To Tsang's credit, the well-compensated chief executive has been a loyal employee of the civil service. Hong Kong's head of government has maintained a public job since 1967, working his way up through posts in the finance and trade sectors. And while Hong Kong's civil servants are traditionally well paid — a strategy that aims to attract "capable and enthusiastic candidates" to public work, as Tsang himself once pointed out — never has Tsang earned more than with his current post, held since 2005. The 65-year-old's salary is more than 21 times what the median household earns per year in Hong Kong, where an average family takes home just $24,000 annually.
View the full website biography of Donald Tsang.