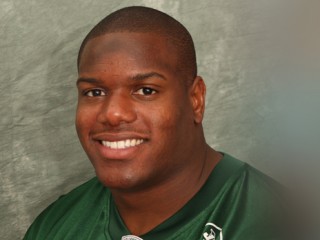 D'Brickashaw Ferguson
Date of birth : 1983-12-10
Date of death : -
Birthplace : Freeport, New York
Nationality : American
Category : Sports
Last modified : 2010-10-27
D'Brickashaw Ferguson is an American football left tackle for the New York Jets.

CAREER HIGHLIGHTS

◊ Started all 48 games and one postseason game in his first three seasons.
◊ Selected to the All-Rookie Team in 2006 as voted by Pro Football Weekly and the Pro Football Writers' Associationand was mentioned as an AFC Offensive Rookie of the Year candidate by several publications and analysts.
◊ The first left tackle to start every game of his rookie season for the Jets since Chris Ward, also a first-round draft pick, in 1978.
◊ Along with teammate Nick Mangold (29th), were the first pair of offensive linemen selected by the same team in the first round since the Los Angeles Rams in 1975 (Dennis Harrah and Doug France).
◊ Combined with Nick Mangold, Leon Washington, Brad Smith and Drew Coleman for 47 starts by the rookie class in 2006, when the Jets were 10-6 and qualified for the postseason.


◊ 2008 (JETS) Part of an offensive line in which all five players started all 16 games...First-time Pro Bowler Thomas Jones led the AFC in rushing (1,312 yards) as the Jets finished ninth in rushing in the NFL (125.3 per game) and fifth in yards per carry (4.7)…Recognized as a Pro Bowl alternate. SEASON HIGHLIGHTS: (12/14 vs. BUF)...Helped pave the way for the Jets 165 yards rushing and 6.5 yards per carry average, including a 47-yard touchdown run by Leon Washington. (11/30 vs. DEN)...Key to Jets ground game, which averaged 7.5 yards per carry, featuring 138 yards and two touchdowns by Thomas Jones. (11/23 at TEN)... Played a role in Jets 192-yard rushing performance in victory over previously unbeaten TEN, which included a 61-yard touchdown run by Leon Washington. (11/9 VS. STL)... Line led the way for the Jets 206-yard rushing performance on 43 carries, while allowing no sacks in victory. (10/19 at OAK)…Offensive line played key role in aiding Jets running backs to rush for season-high 242 yards on 33 carries (7.3 yards per carry).

◊ 2007 (JETS) Started all 16 games at left tackle. SEASON HIGHLIGHTS: (12/2 at MIA)…Helped to pave the way for 163 rushing yards and three rushing touchdowns. (11/18 vs. PIT)…Part of the line that led the way for Thomas Jones' third 100-yard rushing performance of the season against the number one ranked defense in the NFL at the time. (10/14 vs. PHI)…Playing left tackle, assisted on Thomas Jones' 130-yard rushing performance. (9/23 vs. MIA)…Paved the way for Thomas Jones' 110 rushing yards on 25 carries.

◊ 2006 (JETS) Started all 16 games and the postseason game as a rookie, the first left tackle to start every game of his rookie season for the Jets since Chris Ward, also a first-round draft pick, in 1978. SEASON HIGHLIGHTS: (12/17 at MIN)… Helped protect Chad Pennington as he threw for a career-high 339 yards. (12/3 at GB)…Instrumental in the Jets amassing 178 yards rushing, including Cedric Houston's only 100-yard performance. (10/22 vs. DET)…Helped pave the way for a season-high 221 yards rushing, as six Jets rushed for positive yards, including the second career 100-yard performance for RB Leon Washington. (9/9 at TEN)…Started at tackle in his first career game and helped protect Chad Pennington as he threw for 319 yards and two touchdowns.

BEFORE THE NFL

◊ Earned All-America first-team selection by The NFL Draft Report and Associated Press, adding second-team honors fromthe Walter Camp Football Foundation and Sports Illustrated.
◊ Outland Trophy candidate as a senior at Virginia...A preseason first-team All-America selection and an All-ACC first-team selection...Virginia's first All-Conference tackle since 1998.
◊ Started every game of his collegiate career (49), the longest streak ever by a Virginia offensive lineman.
◊ Was an integral part of the 2002 squad that led the ACC in rushing offense (242.8), total offense (423.4), first downs (264) and fewest sacks allowed (16).
◊ Became school's first true freshman to start on the offensive line in the season opener and went on to set a school record with 14 starts.
◊ Was a standout two-way lineman for head coach Russ Cellan at Freeport High School as a three-year starter, who earned SuperPrep and PrepStar All-America honors… Rated by SuperPrep as the top offensive lineman in New York and the state's second-ranked player.
◊ Received the Thorpe Award as Nassau County's top player, the first lineman to win the award since 1979…Newsday All-State honoree after recording 55 tackles, six sacks and eight quarterback hurries as a defensive end his senior year.

OFF THE FIELD

◊ Graduated with a degree in Religious Studies from Virginia.
◊ Formed the D'Brickashaw Ferguson Foundation, working to build communities, "Brick by Brick"…The foundation works to assist his hometown of Freeport, NY on Long Island and surrounding communities.
◊ Honored by United Way of NYC as a Hometown Hero in 2008 season for his work off the field.
◊ Joined forces with New Jersey Governor Jon Corzine, to announce the Eat Right, Move More campaign, which encourages students to eat nutritious food that is offered in their school cafeterias throughout New Jersey.
◊ Accompanied other NFL players on a trip to meet U.S. soldiers in Alaska during in 2008 offseason.
◊ Jets spokesman for the annual Taste of the NFL in New York City, to help raise money to fight hunger in the New York metropolitan area.
◊ Attended both the Grammy Awards and a taping of "The Price is Right" in early 2008 while in Los Angeles.
View the full website biography of D'Brickashaw Ferguson.