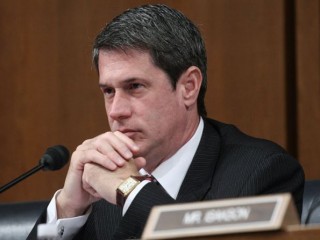 David Vitter
Date of birth : 1961-05-03
Date of death : -
Birthplace : New Orleans, Louisiana
Nationality : American
Category : Politics
Last modified : 2012-06-26
David Bruce Vitter is an American politician, member of the Republican Party which also serves as a junior United States Senator from Louisiana. Previously, he served in the United States House of Representatives, representing the suburban Louisiana's 1st congressional district. He served as a member of the Louisiana House of Representatives before entering the U.S. House.

Senator David Vitter is a bold, conservative reformer who is working to solve the most significant problems facing our state and our nation with Louisiana common sense. Senator Vitter believes that the federal government is too big, too bloated, and too involved in Louisianians' daily lives, and he's focused on taking practical, mainstream steps to cut spending, reduce the deficit, and put government back in its proper role.

He is a champion for Louisiana jobs that depend on oil and gas drilling, the leader of a Congressional coalition to secure our borders and stop illegal immigration, and an outspoken fighter for reforming the Army Corps of Engineers to ensure better hurricane and flood protection.

Senator Vitter has fought against Washington bureaucracies that place themselves between patients and their doctors, and against government agencies that destroy jobs by piling burdensome regulations on small businesses. He believes that Washington needs the same common-sense approach that is found around Louisiana kitchen tables.

Senator Vitter was first elected to the U.S. House of Representatives in 1999. He was elected to his first term in the Senate in 2004, and overwhelmingly re-elected in 2010.

He fought the original Wall Street Bailout plan and authored a resolution of disapproval against the release of additional bailout funds. He's also offered legislation to end the bailout program and to allow banks that want to repay bailout funds to do so.
Senator David Vitter

David has pushed important reimportation legislation to help make prescription drugs more affordable, and he's helped pass strong measures to fight crime and keep our families safe. David has also been a tireless worker in the ongoing effort to rebuild Louisiana better and stronger following Hurricanes Katrina and Rita, helping pass temporary loans to keep local governments running after the storms and passing the Water Resources Development Act with comprehensive coastal restoration and levee improvements for Louisiana.

David serves on six key Senate committees that are important to Louisiana:

Armed Services;
Banking;
Housing and Urban Affairs;
Commerce, Science, and Transportation;
Environment and Public Works;
Small Business.

He is also a Deputy Whip for the Republicans.

View the full website biography of David Vitter.