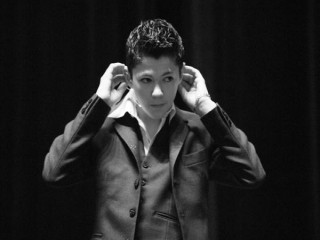 Damian McGinty
Date of birth : 1992-09-09
Date of death : -
Birthplace : Derry City, Northern Ireland
Nationality : Irish
Category : Arts and Entertainment
Last modified : 2011-10-26
Damian McGinty, Jr. is an Irish singer and actor from Derry, Northern Ireland, and was a member of the group Celtic Thunder.
He has been performing for the past ten years, winning his first music competition before the age of six. After winning a singing competition in 2006, Damian's public profile was significantly boosted and he made appearances at various concerts including the Millennium Forum for Derry City football team. On 21 August 2011, he was announced as one of the winners of The Glee Project, which guarantees him a seven-episode story arc on the TV series Glee.

McGinty first came to the attention of the producer Sharon Browne and music director Phil Coulter at the age of 14, when a CD he recorded for charity was passed along to them.
He was invited to audition and was cast in the role of the "teenager" or "boy wonder" among the five performers in Celtic Thunder. He was with Celtic Thunder for four years, toured with them to the United States and Canada, and recorded seven CDs and shows.

After he won The Glee Project, McGinty announced that he would have to leave Celtic Thunder due to his commitments to Glee. Coulter, Celtic Thunder's music director, stated how proud he was of his former protegé in a Twitter message: "Well done Damian! Brilliant. I still remember his demo CD arriving on my desk way before [Celtic Thunder]. Knew he was going places but WOW..."

Here are some interesting things about Damian:
-He is the youngest member of "Celtic Thunder".
-He is the youngest contestant on the show (September 9th, 1992), with the second being Alex Newell (August 20th, 1992).
-Damian's favorite color is red.
-Damian has had trouble acquiring a U.S. visa to work for the Glee Project and almost had to drop out of the competition. However, his visa pulled through last minute and he was able to be a part of the final 12.
-Favorite singers are Michael Bublé and Frank Sinatra.
-His favorite bands include Coldplay and Journey.
-Damian has been learning guitar for the last two years, but isn't sure if he can play well yet.
-He is a fan of the UK hit show "The X Factor"and is a fan of Jedward, an Irish act originating from the show. However, he was inelligible to audition for "The X Factor" due to his recording contract with Celtic Thunder. He is however, elligible to audition for The Glee Project with a recording contract.
-His "Irish" rap has been very popular among many members of the cast, including McKynleigh Abraham and Lindsay Pearce who seem to be able to recite the rap on their own.
-He and Cameron have a webshow together called CDTV with videos found in both his and Cameron's youtube channels. His rap Do You Know Whatta Mean? was performed by the two, with Cameron beatboxing, in Damian's first video.
-Has always wanted to meet former "The X Factor" UK and USA judge Cheryl Cole because she is "the most beautiful woman in the world," according to Damian.
-These artists would be seen on his iPod: Adele, The Beatles, Bobby Darin, Coldplay, David Gray, Dean Martin, Elvis, Frank Sinatra, Michael Buble.
-Has always wanted to go to Australia.
-His first concert was to see Lenny Kravitz.
-Damian's favorite vacation spot is Marbella, Spain.
-His name on Glee will be Rory and will be an exchange student living with Brittany's family. -
-His celebrity crush is Selena Gomez.
-He misses Ireland because of his family and friends, but he does love LA.
View the full website biography of Damian McGinty.