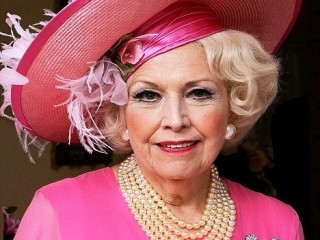 Dame Barbara Cartland
Date of birth : 1901-07-09
Date of death : 2000-05-21
Birthplace : Edgbaston, West Midlands, England
Nationality : English
Category : Famous Figures
Last modified : 2011-07-18
Dame (Mary) Barbara Hamilton Cartland was an English author, one of the most prolific authors of the 20th century. As Barbara Cartland she is known for her numerous romantic novels, but she also wrote under her married name Barbara McCorquodale.

Dame Barbara Cartland (married name McCorquodale) was the most prolific author in British history, known primarily for her romance novels. She published more than 700 books in her lifetime, including 5 autobiographies and several books on cooking and health. But she's most famous as the "Queen of the Romance Novel." Cartland published her first novel in 1923 (Jig-Saw) and was off and running. From the 1970s through the 1990s, she set world records by writing around two dozen novels a year. Cartland was also a celebrity, famous for her involvement in charities and social causes and easily recognized by her pink chiffon outfits. In 1992 she was named a Dame of the British Empire.

Cartland was married twice: to Alexander McCorquodale (1927-33) and to Hugh McCorquodale (1936-63). The two men were cousins. She was also related to Diana, Princess of Wales by marriage and was referred to as her step-grandmother.


View the full website biography of Dame Barbara Cartland.