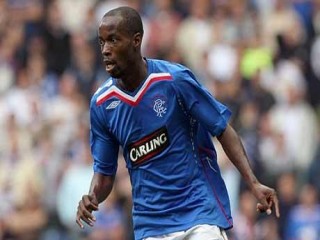 DaMarcus Beasley
Date of birth : 1982-05-24
Date of death : -
Birthplace : Fort Wayne, Indiana, U.S.
Nationality : American
Category : Sports
Last modified : 2010-06-23
DaMarcus Lamont Beasley (born 24 May 1982 in Fort Wayne, Indiana) is an American soccer player who is currently without a club as well as playing with the United States soccer team. He plays mainly as a winger on the left side of the midfield, but has also been used as a forward and in defense.

Beasley was one of the most prominent players in MLS as a star with Chicago Fire and the national team, before being purchased during the 2004 season by Dutch team PSV Eindhoven. He was then loaned to Manchester City in 2006, later being signed by Rangers in June 2007 for £700,000. He has scored more goals in Europe's highest club competition, the UEFA Champions League, than any other American player.

One of the star turns in this USA side, this attacking star is closing in on a century of international caps at the relatively youthful age of 28. His levels of consistency and fitness have contributed to that massive haul of international appearances and national team boss Bob Bradley will lean heavily on his experience in South Africa.

After starting out at LA Galaxy back in 1999, Beasley made his name with Chicago Fire and did enough to earn his chance of a crack at European football, signing to work alongside the feted Guus Hiddink at PSV Eindhoven. He proved to be a successful performer at the highest level, playing in the Champions League semi-finals and impressing in his left-flank berth.

A spell on loan at Manchester City in England brought moderate success before he made a move to Scotland in 2007, where he has not always been a first pick. Such snubs have never been an issue at international level and he will expect to get plenty of game time in what will be his third World Cup finals this summer.

Strengths: Can score from his midfield position and play quality defense.
Weaknesses: Inconsistency.

Career high: Really began to distinguish himself at the 2003 Confederations Cup, playing in every game and scoring the U.S. team's only goal.
Career low: Beasley was fined 1,500 euros (US$1,852) for driving under the influence of alcohol as a result of an incident on Jan. 16, 2006, in Holland. His Dutch driving privileges were suspended for the next three months, followed by a three-month probationary period.

Style: Speedy player who runs the field at a brisk pace.

Quote: "If you're in form, you're going to play. It's as simple as that. I think that's how every national team coach wants it to be, wants players to be in form. If I can get a good run of games and be fit and be back to the way I used to play, then I think [Bradley] will be happy with that." -- August 2009

Trivia: Played with his brother, Jamar, with the Chicago Fire in 2001.

View the full website biography of DaMarcus Beasley.