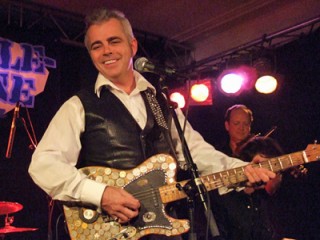 Dale Watson (country)
Date of birth : -
Date of death : -
Birthplace : Birmingham, Alabama, U.S.
Nationality : American
Category : Arts and Entertainment
Last modified : 2011-05-05
Dale Watson (born 1962, Birmingham, Alabama) is an American alternative country singer, guitarist and songwriter based in Austin, Texas. He's positioned himself as a tattooed, stubbornly independent outsider who is interested in recording authentic country music. As a result, his record sales have been slow, but he's become a favorite of critics and alt-country fans.

A staunch adherent of old-style honky tonk and Bakersfield country, Dale Watson has positioned himself as a tattooed, stubbornly independent outsider only interested in recording authentic country music. As a result, he has never sold many records, but his music has been championed by numerous critics and alternative country fans.

Watson was born in Alabama in 1962 but spent his teenage years near Houston, and he grew to think of Texas as his true home state. His father and brother were both musically inclined, and he began writing his own songs at age 12, making his first recording two years later. After graduating from high school, he spent seven years playing local clubs and honky tonks. He moved to Los Angeles in 1988 on the advice of Rosie Flores and soon joined the house band at North Hollywood's now-legendary alt-country venue the Palomino Club. He recorded two singles for Curb in 1990, "One Tear at a Time" and "You Pour It On," and appeared on the third volume of the compilation series A Town South of Bakersfield in 1992. Not long after, he moved to Nashville and spent some time writing songs for the Gary Morris publishing company.

Watson didn't find commercial country much to his taste, and he relocated to the more progressive-minded scene in Austin, TX, where he formed a backing band called the Lone Stars. He scored a deal with Hightone and released his debut album, Cheatin' Heart Attack, in 1995. It was greeted with enormous acclaim for the vitality Watson brought to his vintage-style material and performances and also featured a witty dig at mainstream country in "Nashville Rash." Follow-up Blessed or Damned appeared in 1996 and continued in a similar vein, as did 1997's I Hate These Songs. His next release, The Truckin' Sessions, appeared on Koch in 1998 and was devoted entirely to that distinct country subgenre of truck-driving songs.

Unfortunately, it was almost his last. In 2000, Watson's fiancée was killed in an automobile accident; devastated, he attempted to drown his sorrows in booze and drugs and nearly died of an overdose shortly after Christmas. He wound up checking himself into a mental institution to recover and re-emerged later in 2001 with the deeply sorrowful tribute Every Song I Write Is for You, which appeared on Koch's new country imprint Audium. A couple of lower-key releases followed, the holiday album Christmas in Texas (2001) and Live in London, England (2002). In 2004, with his heart still on his sleeve, but a thicker skin, Watson released Dreamland. He also prepared himself for the lead role in Zalman King's forthcoming cowboy drama, Austin Angel.

Watson was inducted into the Austin Music Hall of Fame one year later. He took a break from music for the majority of that year, moving to Maryland in order to spend more time with his daughters. He was back playing gigs in Austin by 2006, and a documentary on Watson, Crazy Again, premiered at SXSW that year. Directed by King, the film charted Watson's mental breakdown following the death of his fiancée. A new full-length, From the Cradle to the Grave, came out in 2007, along with a second album, The Little Darlin' Sessions. The Truckin' Sessions, Vol. 2 appeared in 2009 from Hyena Records. The following year saw the release of Carryin' On, which featured session players active in the 1950s and 1960s, the era so beloved by Watson.

View the full website biography of Dale Watson (country).