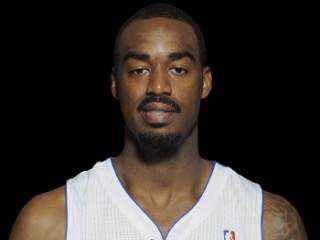 DaJuan Summers
Date of birth : 1988-01-24
Date of death : -
Birthplace : Baltimore, Maryland, U.S.
Nationality : American
Category : Sports
Last modified : 2011-05-02
DaJuan Summers is an American professional basketball player. In the 2009 NBA Draft Summers was drafted in the 2nd round (35th overall) by the Detroit Pistons. In college at Georgetown University in Washington, D.C., Summers was a starting small forward for the Hoyas.

CAREER:

In 44 career NBA games has compiled averages of 3.0 points, 1.0 rebounds and 0.4 assists in 9.2 minutes per game.

2009-10 (Detroit):
Appeared in 44 games as a rookie averaging 3.0 points, 1.0 rebounds and 0.4 assists in 9.2 minutes per game…Played 20-plus minutes in five games, averaging 8.0 points (.400 FG, .417 3FG), 1.8 rebounds and 0.8 assists in 24.2 minutes per game… Scored a career-high 13 points (5-11 FG, 3-3 3FG) in 22 minutes at Phoenix (11/22)… Scored 12 points (5-8 FG, 1-2 3FG) with a season-high-tying two assists in 27 minutes at Minnesota (4/14)…Grabbed a career-high six rebounds in 18 minutes at Charlotte (12/22)…Scored 10-plus points four times and led the team in scoring once [at Phoenix (11/22)]…Dished out a season-high two assists three times [at Philadelphia (4/6), at Miami (4/9) and at Minnesota (4/14)]…Shot 50% or better from the field in 13 of the 44 games he played in….DNP-CD 18 times and DNP-Inactive List on 20 occasions.

COLLEGE :

Honors: Ranks 29th all-time in scoring at Georgetown (1,129 points), seventh in three-pointers made (141) and eighth in three-pointers attempted (403)…Helped lead the Hoyas to three straight postseason appearances (two NCAA Tournaments, one NIT Tournament)…Earned NABC All-District Second Team honors as a sophomore…Was a Big East All-Rookie selection and named to the Big East All-Tournament team as a freshman.

PERSONAL:

Full name is DaJuan Michael Summers …Son of Twana and Reginald Summers…Has a sister, Regina, and a brother, Malik…Active in the Detroit community, made appearances during the Pistons 2009 Community Relations Kick-Off Event where the club teamed with Samaritan's Feet to distribute over 1,500 pairs of shoes to needy youngsters in Detroit…Also took part in holiday food distribution events with Feed The Children during Thanksgiving and Christmas holiday seasons…Teamed with Austin Daye and Jonas Jerebko for a special ticket section called "The Rooks" in which deserving youngsters in the Detroit Metro area could come and enjoy NBA basketball first hand at all home games.

View the full website biography of DaJuan Summers.