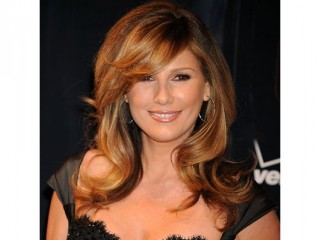 Daisy Fuentes
Date of birth : 1966-11-17
Date of death : -
Birthplace : Havana, Cuba
Nationality : Cuban-American
Category : Arts and Entertainment
Last modified : 2011-08-18
Daisy Fuentes is a Cuban-American television host, model, and comedian. Daisy Fuentes broke barriers as MTV's first Latina VJ and as Revlon's first Latina spokesperson to be signed to a worldwide contract.

Fuentes was born in Havana, Cuba. When Fuentes was three years old, her family fled the island due to political turmoil and moved to Madrid, Spain. Fuentes learned to speak English while watching I Love Lucy episodes. Soon thereafter, she moved with her family to Harrison, New Jersey, where she attended Harrison High School, was voted Homecoming Queen, and "BEST LOOKING", and graduated class of '84. Fuentes started modeling during her senior year in high school. While studying communications at Bergen Community College, she was hired as the weather-girl for WNJU-TV, the Telemundo New York affiliate station. Shortly after, she moved on to New York's Univision affiliate where she became the weather anchor and reporter for the evening news.

Daisy Fuentes was one of the most visible MTV stars of the 1990s.

Born in Havana, Fuentes went to high school in New Jersey and got her start reporting the news at New York station WXTV, the local affiliate for the Latin network Univision. In 1988 she became host of MTV Internacional and then went on to host House of Style and other shows on the music network. She also co-hosted (with John Fugelsang) America's Funniest Home Videos from 1997-2000 and became a regular presenter at beauty pageants and awards shows. In the 21st century she got a fresh burst of fame by appearing in infomercials for Winsor Pilates, a yoga-type exercise system.

Scoring a rare double, Fuentes has endorsed both Revlon cosmetics and M&Ms candy.

Because of her beauty and height, Daisy Fuentes didn't find it hard to become a model. She graced the cover of various magazines and was listed as one of People en Español's 50 Most Beautiful Women. She also endorsed various products such as Revlon, Pantene, M&Ms and American Express. She was also the first Mind, Body, Spirit Superstar, and among her duties included promoting awareness towards women's health and well being.

In 2004, Daisy Fuentes released her first clothing line, which can be bought exclusively at Kohl's Department Stores. In 2009, she launched the first ever Pilates video game, Daisy Fuentes Pilates, which was built for Wii. She has also finished working on her book, entitled Unforgettable You.

Daisy Fuentes is also an active philanthropist. She is a big supporter of the St. Jude Children's Research Hospital. She also helps raise money for breast cancer awareness and research, and is a spokesperson of various charities such as Starlight Children's Foundation and March of Dimes. In 2007, Daisy Fuentes took part for the Girls On the Run, a prevention program that helps preteen girls to build confidence and self-respect through practicing healthy lifestyles. She also became part of the Revlon/UCLA Women's Breast Cancer Research program.
View the full website biography of Daisy Fuentes.