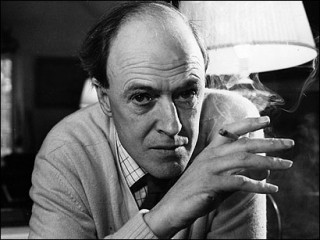 Dahl Roald
Date of birth : 1916-09-13
Date of death : 1990-11-23
Birthplace : Llandaff, Wales
Nationality : British
Category : Arts and Entertainment
Last modified : 2010-05-27
Roald Dahl ( 13 September 1916 – 23 November 1990) was a British novelist, short story writer, and screenwriter.

Born in Llandaff, Cardiff, Wales, to Norwegian parents, he served in the Royal Air Force during the Second World War, in which he became a flying ace and intelligence agent, rising to the rank of Wing Commander. He rose to prominence in the 1940s with works for both children and adults, and became one of the world's bestselling authors. His short stories are known for their unexpected endings, and his children's books for their unsentimental, often very dark humour.


Not only did he author such classics as Charlie and the Chocolate Factory and James and the Giant Peach, Roald Dahl also authored over 60 short stories and other screenplays that launched him as one of the world's most revered children's authors. Known for his darker side of writing, his adult-macabre stories have surprising twists and haunting endings.
In the latter part of his childhood, Dahl grew up in boarding schools after his father's death. These experiences would later shape his characters, their situations, their enemies, and their helpers. At Repton School in Derbyshire, Dahl succeeded in both sports and academics. Interestingly, the Cadbury Company would send free chocolates to his school for them to taste and comment on in studies for future sales. In the movie, Willie Wonka and the Chocolate Factory, Charlie wins a prize and by the end of the tale inherits the factory and helps Willie Wonka come up with the best new chocolate treats.
Instead of going to college, Roald Dahl worked with Shell Petroleum and was sent all over the world for exploration expeditions, and even worked for them in Tanzania. When World War II broke out, he joined the Royal Air Force and was accepted and trained in a fighter pilot program. With only seven hours of training, Dahl was allowed to fly solo. After months of training, he was given incorrect coordinates of where to fly and subsequently crash-landed in the Libyan Desert. With serious injuries and blindness that lasted over two months, he recovered. Although doctors said he would never fly again, he soon found himself training on the newest of fighter planes. By the end of the war, he was one of two pilots in his regiment who had survived the war.
Dahl then married American actress Patricia Neal. The two were married for thirty years and had five children together. When Roald met C.S. Forrester, the famed author told him he should write about his adventures, so Dahl wrote "Shot Down Over Libya", which was published by the Saturday Evening Post. Disney bought the rights to his first book, The Gremlins, but never made the movie. He went on to write Matilda and other stories that became instant classics. Both his fiction and nonfiction have contributed greatly to the literature of the 20 th century. His adventures of young protagonists who beat the odds still carry the magic they did when they were first released.
Roald Dahl died in November 1990 at the age of 74 of a rare blood disease, myelodysplastic syndrome (MDS, or "pre-leukemia"), in Oxford, and was buried in the cemetery at the parish church of Saint Peter and Paul in Great Missenden. According to his granddaughter, the family gave him a "sort of Viking funeral". He was buried with his snooker cues, some very good burgundy, chocolates, HB pencils and a power saw. In his honour, the Roald Dahl Children's Gallery was opened at Buckinghamshire County Museum in nearby Aylesbury.
In 2002, one of Cardiff Bay's modern landmarks, the historic Oval Basin plaza, was re-christened "Roald Dahl Plass". "Plass" means "place" or "square" in Norwegian, referring to the acclaimed late writer's Norwegian roots. There have also been calls from the public for a permanent statue of him to be erected in the city.
Dahl's charitable commitments in the fields of neurology, haematology and literacy have been continued by his widow since his death, through the Roald Dahl Foundation. In June 2005, the Roald Dahl Museum and Story Centre opened in Great Missenden to celebrate the work of Roald Dahl and advance his work in literacy.
In 2008, the UK charity Booktrust and Children's Laureate Michael Rosen inaugurated The Roald Dahl Funny Prize, an annual award to authors of humorous children's fiction. In 2008, The Times ranked Roald Dahl sixteenth on their list of "The 50 greatest British writers since 1945".
On 14 September 2009 (the day after what would have been Dahl's 93rd birthday) the first blue plaque in his honour was unveiled in Llandaff, Cardiff. Rather than commemorating his place of birth, however, the plaque was erected on the wall of the former sweet shop (and site of "The Great Mouse Plot of 1924") that features in the first part of his autobiography Boy. It was unveiled by his widow Felicity and son Theo.
Dahl's first published work, inspired by a meeting with C. S. Forester, was "Shot Down Over Libya." Today the story is published as "A Piece of Cake". The story, about his wartime adventures, was bought by The Saturday Evening Post for $900, and propelled him into a career as a writer. Its title was inspired by a highly inaccurate and sensationalised article about the crash that blinded him, which claimed he had been shot down instead of simply having to land due to low fuel.
His first children's book was The Gremlins, about mischievous little creatures that were part of RAF folklore.All the RAF pilots blamed the gremlins for all the problems with the plane. The book was commissioned by Walt Disney for a film that was never made, and published in 1943. Dahl went on to create some of the best-loved children's stories of the 20th century, such as Charlie and the Chocolate Factory, Charlie and the Great Glass Elevator, Matilda, James and the Giant Peach and George's Marvellous Medicine.
He also had a successful parallel career as the writer of macabre adult short stories, usually with a dark sense of humour and a surprise ending. Many were originally written for American magazines such as Collier's, Ladies Home Journal, Harper's, Playboy and The New Yorker,Kiss Kiss then subsequently collected by Dahl into anthologies, gaining worldwide acclaim. Dahl wrote more than 60 short stories and they have appeared in numerous collections, some only being published in book form after his death (See List of Roald Dahl short stories). His stories also brought him three Edgar Awards: in 1954, for the collection Someone Like You; in 1959, for the story "The Landlady"; and in 1980, for the episode of Tales of the Unexpected based on "Skin".
One of his more famous adult stories, "The Smoker" (also known as "Man From the South"), was filmed twice as both 1960 and 1985 episodes of Alfred Hitchcock Presents, and also adapted into Quentin Tarantino's segment of the 1995 film Four Rooms. This bizarre, oft-anthologised suspense classic concerns a man residing in Jamaica who wagers with visitors in an attempt to claim the fingers from their hands; the 1960 Hitchcock version stars Steve McQueen and Peter Lorre.
His short story collection Tales of the Unexpected was adapted to a successful TV series of the same name, beginning with "Man From the South". When the stock of Dahl's own original stories was exhausted, the series continued by adapting stories by authors that were written in Dahl's style, including the writers John Collier and Stanley Ellin.
He acquired a traditional Romanichal Gypsy wagon in the 1960s and the family used it as a playhouse for his children. He later used the vardo as a writing room, where he wrote the book Danny, the Champion of the World.
A number of his short stories are supposed to be extracts from the diary of his (fictional) Uncle Oswald, a rich gentleman whose sexual exploits form the subject of these stories. In his novel "My Uncle Oswald" the uncle engages a temptress to seduce 20th Century geniuses and royalty with a love potion secretly added to chocolate truffles made by Dahl's favourite chocolate shop, Prestat of Piccadilly.
Memories with Food at Gipsy House, written with his wife Felicity and published posthumously in 1991, was a mixture of recipes, family reminiscences and Dahl's musings on favourite subjects such as chocolate, onions, and claret.
Dahl ranks amongst the world's bestselling fiction authors, with sales estimated at 100 million.
In Roald Dahl's house he had a garden in which there was a shed at the bottom of it. He wrote his bestselling books there and other books also. He once stayed in his shed for a couple of days. It was the only place he got peace.
View the full website biography of Dahl Roald.