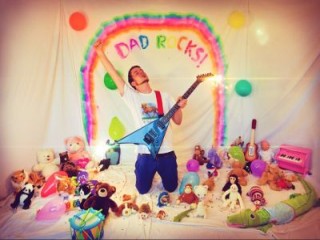 Dad Rocks!
Date of birth : -
Date of death : -
Birthplace :
Nationality : Danish
Category : Arts and Entertainment
Last modified : 2012-06-18
Dad Rocks! is the solo moniker of Snævar Njáll Albertsson of acclaimed Danish band Mimas.

Albertsson released his debut EP 'Digital Age' through Danish label Kanel Records on April 12th. On August 16th, the album was released in the UK by Oxford-based label Big Scary Monsters.

In the fall of 2010 a split 7" with Dad Rocks! and American band Heister was released on Kanel Records.

Dad Rocks! is the project of Danish multi-instrumentalist Snaever Njall Albertsson, and Mount Modern is his first full length release. Filled with loads of different symphonic elements, and hilarious self-loathing lyrics, Mount Modern keeps the listener on their toes throughout the album. Whether it's singing about Twitter on "Battle Hymn Of The Fox," or about Disney skewing little girl's thoughts on "Pro-Disney," you will constantly be asking, "Did he just day that?" Yes, he did.

Musically, Albertsson borrows from the best of some lo-fi country, with simple picked acoustic guitar and his baritone voice, but is not afraid of composing by adding various layers of tastefully placed horns, pianos, and even some electronic elements. Dad Rocks! released his first full-length album, Mount Modern, in 2011.

One of the best examples of this marriage between musical styles is the track "Take Care." Beginning with a simply plucked folky guitar riff, and Albertsson singing about the cost of human progress. The song slowly builds as elements are added like some strings, a horn section, and an electronic backbeat. Finally some vocal processing is added in, and the song is cut back again leaving us with Albertssons vocals and guitar.

Dad Rocks! "Take Care"



View the full website biography of Dad Rocks!.