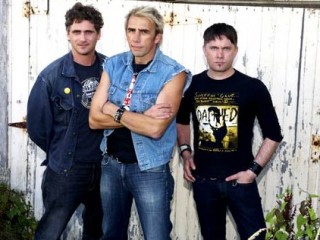 D.O.A.
Date of birth : -
Date of death : -
Birthplace : Vancouver, British Columbia, Canada
Nationality : Canadian
Category : Arts and Entertainment
Last modified : 2012-04-24
D.O.A. is a hardcore punk band from Vancouver, British Columbia, Canada. They are often referred to as the "founders" of hardcore punk, along with Black Flag, Bad Brains, Teen Idles, and Middle Class.

Arguably the best and most enduring hardcore punk band to emerge from Canada, D.O.A. of Vancouver, British Columbia, not only established themselves as a leading force in their native country, but in Europe and North America as well. For more than 20 years, D.O.A.'s singer and guitarist, Joey "Shithead" Keithley led the band with his dedicated work ethic and level head, ignoring stylistic detours that tempt many longtime performers, not to mention the creative exhaustion that often accompanies years of touring. Although the D.O.A. family suffered personal tragedies over the years, as well as a shifting lineup, Keithley remained the mainstay member, earning respect by those who stayed true to the D.I.Y (Do It Yourself) concept that defined early punk rock. In addition to fronting the band, Keithley also founded his own record label, Sudden Death Records, in the late-1990s and even ran for public office in 1996 as a Green Party candidate in his hometown.

Unabashedly anti-mainstream, Keithley, after more than two decades in the music business, still considered the world a mess and never backed away from his musical and his political/activist roots. "I see myself, at my ripe old age, as the fly in the ointment. A tiny counterweight to the bullshit of the corporate world," Keithley commented to Pieter Hofmann in a 1998 interview for Drop Dead Magazine. Neither the onset of middle age, nor fatherhood, altered too much the ideals of Keithley's youth. "I have three kids now and that does make you think differently. I don't think it's mellowed me out, though," he continued. "If anything, it makes me more pissed off at the world now. This place will be f---ed up even more for the kids if someone doesn't stand up to the bullshit of globalization, environmental degradation and the mass media push to corporatization. Just look around you. You see people wearing companies' logos on their t-shirts. There's something inherently wrong with that."

Formed in 1978 (some sources say 1977) in Vancouver, D.O.A. started off as a trio, consisting of Keithley on vocals and guitar, Randy Rampage on bass, and Chuck Biscuits on drums. Eventually considered hardcore punk's most recognized percussionist, Biscuits, following his stint with D.O.A., went on to work with the Circle Jerks, Black Flag, and Danzig. From the onset, D.O.A.'s message, true to the punk formula established by the genre's English and American archetypes, was both menacing and confrontational. Financed by Keithley's first wife's unemployment checks, the band's debut, an abrasive and political EP entitled Disco Sucks, arrived in 1978. The trio emerged with another EP, Triumph of the Ignoroids, in 1979, firmly planting the seeds for fellow Canadian punk groups such as the Dishrags and Subhumans.

In 1980, D.O.A. released their first album, Something Better Change, followed in 1981 by Hardcore 81. Both early albums established the band's dynamic formula: fast, rousing rock guitar backed by accusatory lyrics. While their verbal assault lacked the puritanical quality of peers such as Minor Threat, D.O.A, in the same vein as the Dead Kennedys, the Avengers, and Black Flag, nevertheless placed a similar emphasis on social unrest, injustices, and collapse.
Signing with the Alternative Tentacles record label, D.O.A. next released the eight-song EP War on 45 in 1982. Stronger and better produced than their previous efforts, the record won D.O.A. new converts in Europe to add to their secure Canadian/ Northwest American fanbase. By this time, however, the band's lineup had changed. Along with Keithley, a second guitarist, Dave Gregg, was added, while Rampage and Biscuits were replaced by bassist Brian Roy Goble and drummer Gregg James. In 1984, the band released a career anthology up to that point entitled Bloodied But Unbound that recaptured the exhilarating rush of the group's early output.

In 1985, the release of Let's Wreck the Party, an album which included two of the four Peel sessions tracks from that year's Don't Turn Yer Back EP, marked D.O.A.'s peak in both popularity and form. "Here the clean, professional production showcased their trademark rhythmic attack at its best," declared Rough Guide to Rock contributor Alex Ogg. "Unlike their rivals, however, DOA refrained from crossing the sonic and ideological borders between punk and heavy metal." Later, in 1991, Alternative Tentacles reissued the record in The Dawning of a New Error, a 33-track album augmented with the complete set of songs from Don't Turn Yer Back and selected early singles.

With True (North) Strong & Free, released in 1987, the band again garnered critical approval and also allowed more variety, humor, and maturity to enter into the repertoire. Topics revealed in the album ranged from the domestic growth of fascism in "Nazi Training Camp" (a remake of the song from the debut EP) to Canada's cultural domination by the United States in "51st State." Moreover, the band donated royalties from such songs as "Ready to Explode" to the ANC (African National Congress). For the band's next effort, 1990's Murder, released on Restless Records, a new guitarist, Chris Pohom, replaced Gregg. The album lacked the fire of previous records, but retained some inspiration, noted by the recognition of South African leader Nelson Mandela's release for a rewrite of the song "The Midnight Special."

That same year, D.O.A. moved to adjourn, and a live album of the group's farewell show at a Vancouver club was released entitled Talk Minus Action Equals Zero. Subsequently, Keithley formed a short-lived band called Joey Keithley's Instinct, but was soon back re-creating D.O.A. This time around, he enlisted former bassist/singer Goble (a former member of the Subhumans) and new drummer Ken Jensen to complete the D.O.A. lineup. In 1992, the group released the well-received album 13 Flavours of Doom. Issued on Alternative Tentacles and produced by John Wright (of NoMeansNo), 13 Flavors of Doom recaptured the inspiration lacking from Murder. Focusing on guitar power and taking a serious lyrical stance, the album revealed notable songs about governmental and economic injustice ("Death Machine" and "Legalized Theft"), environmental and health issues ("Hole in the Sky" and the safe-sex number "Use Your Raincoat"), and a diseased culture ("Beatin' Rock `n' Roll to Death"). Keithley also acknowledged his own imperfections with the song "I Played the Fool."

Following the more lighthearted five-song EP entitled It's Not Unusual But It Sure Is Ugly!, D.O.A. returned in 1993 with Loggerheads. Released on Alternative Tentacles and keeping on track with social concerns, the album featured songs about North America's trade imbalance in "Logjam," religious hypocrisy in "I See Your Cross," conformity in "That Turbulent Uneasy Feeling," environmentalism in "The Only Thing Green," and urban decay in "I Can't Take Much More." In an unprecedented move to elevate their musical ambitions, D.O.A. capped the record with a mind-boggling, Melvins-speed cover of a Johnny Cash cover, "Folsom Prison Dirge."

In January of 1995, drummer Jensen died in a fire at home, and the album The Black Spot, issued on Essential Noise/Virgin, was dedicated to his memory. Recorded by Keithley, Goble, new guitarist/keyboardist Ford Pier, and Wright guesting on drums, the album also eulogized five other past band members, including drummer Ken Montgomery (also known as "Dimwit") and others who died of various causes in the 1990s. In 1996, D.O.A. released Alive & Kickin' on the Polo label, followed by Festival of the Atheists in 1998 on Keithley's own Sudden Death Records. Packaged as a CD-ROM and featuring old D.O.A. videos, Festival of the Atheists was the first release issued by Keithley's label. In early 2000, Sudden Death released The Lost Tapes, a collection of previously unreleased tracks by the original lineup covering the years 1978 through 1984.

D.O.A.'s latest lineup consisted of Keithley, drummer Brien O'Brien (a past member of Stick Monkey, Bif Naked, and the Real McKenzies) and bassist Kuba (a former member of the Sweaters, Scum Element, and Ted). They continued to perform as a popular attraction, especially in their native Canada, as well as in Europe and in North America.

The lineup remained stable until 2008, when The Great Baldini left the band to be replaced by new drummer James Hayden. Also in 2008, it was announced that Bob Rock, of Metallica fame would be producing the band's next album in time for their 30th anniversary. James Hayden quit before D.O.A. started to record to be replaced by Floor Tom Jones In September 2008, D.O.A. released Northern Avenger and embarked on their 30th anniversary tour. On the eve of the tour, it was announced that Randy Rampage was being replaced by Dan Yaremko once again.

On May 1, 2010, D.O.A. released their fourteenth full-length album, their second to be titled "Talk Minus Action = Zero." Drummer Jesse Pinner from the band Raised by Apes took the place of Floor Tom Jones beginning on D.O.A.'s Canadian tour in August 2010 because Floor Tom Jones, a Canada Post employee, couldn't free himself from his job to tour.

Studio Albums:
-Something Better Change (1980)
-Hardcore '81 (1981)
-War on 45 (1982)
-Let's Wreck The Party (1985)
-True (North) Strong And Free (1987)
-Murder (1990)
-Last Scream of the Missing Neighbors (1990)(With Jello Biafra)
-13 Flavours Of Doom (1992)
-Loggerheads (1993)
-The Black Spot (1995)
-Festival Of Atheists (1998)
-Beat Trash (2002) - Solo Project from Joey "Shithead" Keithley
-Win The Battle (2002)
-Live Free Or Die (2004)
-Northern Avenger (2008)
-Kings of Punk, Hockey and Beer (2009)
-Talk-Action=0 (2010)
View the full website biography of D.O.A..