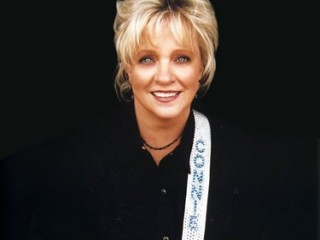 Connie Smith
Date of birth : 1941-08-14
Date of death : -
Birthplace : Elkhart, Indiana, U.S.
Nationality : American
Category : Famous Figures
Last modified : 2011-03-31
Connie Smith, born Constance June Meador is an American country music artist. She began her career in 1963 after winning a local talent contest near Columbus, Ohio, which attracted the attention of country songwriter Bill Anderson. After recording several demos for Anderson to pitch to other artists, Smith was offered a contract by RCA Victor Records in 1964.

Although she's been singing professionally since the early 1960s, when she was still in her early 20s, Connie Smith still possesses one of the most powerful, agile and recognizable voices in country music. Her exposure to audiences via recordings has been very much an on-and-off affair, but she has maintained a presence through her regular appearances on the Grand Ole Opry, of which she has been a member since 1971.

One of 14 children in a poor family that moved often, she grew up in West Virginia and Ohio. She married young and was starting a family when, in 1963, she won a talent contest in Ohio that brought her to the attention of singer-songwriter Bill Anderson. Impressed by what he heard, Anderson persuaded her to come to Nashville, where RCA Records signed her the following year.

With Bob Ferguson acting as her producer, Smith cut several songs in the first RCA sessions, among them Anderson's tear-stained "Once a Day." Released as Smith's first single, "Once a Day" entered the Billboard charts on Sept. 26, 1964, and went on to seize the No. 1 spot. And there it remained for eight consecutive weeks. It would be the only chart-topper of Smith's career, but she had a string of singles that came close, including such Top 5 and Top 10 fare as "Then and Only Then," "If I Talk to Him," "Nobody but a Fool (Would Love You)," "Ain't Had No Lovin'," "The Hurtin's All Over," "Cincinnati, Ohio," "Just One Time," "If It Ain't Love (Let's Leave It Alone)" and "Ain't Love a Good Thing."

Smith was a fixture on the country charts through the 1970s (she switched from RCA to Columbia in 1973). Starting in the late 1960s, as career and family pressures mounted, she became increasingly obsessed with religion, insisting in her contract with Columbia that she be allowed to record one gospel album a year. During the 1980s, she concentrated primarily on raising her children.

However, she returned briefly to the charts (at No. 71) in 1985 on Epic Records with the single "A Far Cry From You," written by the promising young songwriter Steve Earle. She attempted another comeback in 1998 with the Warner Bros. album Connie Smith, but it attracted little notice.

In 1996, RCA released The Essential Connie Smith, a 20-cut CD that contains most of her biggest hits, plus the crowd-inciting "How Great Thou Art." She married country star Marty Stuart, her fourth husband, on July 8, 1997.

In August 2003, Smith released a collaborative gospel album with country artists Barbara Fairchild and Sharon White called Love Never Fails on Daywind Records. In an interview with Country Stars Central, Smith said that she was ill with the stomach flu while recording the album, but still enjoyed making the record nonetheless. Produced by country and bluegrass artist Ricky Skaggs, the album received a nomination from the Dove Awards. The website Slipcue.com reviewed the release and commented that Love Never Fails, "is probably too rowdy for most Southern Gospel fans (who really like tinkly pianos and less-twangy vocals), and while it probably won't wow many country listeners, for folks who are fans any of these three singers, this is kind of a treat.

In November 2008, Smith joined the cast of Marty Stuart's television series The Marty Stuart Show, which airs on the RFD-TV network every Saturday night. The thirty minute program features traditional country music music performed by both Stuart and Smith, as well as radio personality, Eddie Stubbs. Smith is currently writing songs with Stuart for her next album. Smith stated that she's not sure when the album will be released because she has not yet recorded the songs. Smith also stated that there are no record labels interested in signing her, so it will most likely be something that she said "we will do ourselves".


View the full website biography of Connie Smith.