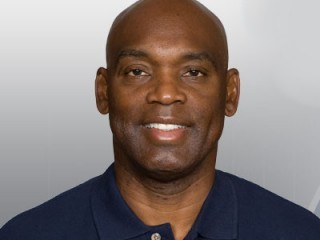 Clarence Shelmon
Date of birth : 1952-09-17
Date of death : -
Birthplace : Bossier City, Louisiana
Nationality : American
Category : Sports
Last modified : 2010-09-20
Clarence Shelmon (born September 17, 1952 in Bossier City, Louisiana) is the offensive coordinator for the National Football League San Diego Chargers.

Shelmon prepped at Airline High School and continued on to play college football at the University of Houston, where he lettered twice as a running back and graduated with a bachelor's degree in education. Shelmon also attended Long Island University where he worked toward a master's degree in guidance and counseling.

After spending 16 seasons solidifying his reputation as one of the NFL's top running backs coaches, Clarence Shelmon was promoted to offensive coordinator in 2007. In his first season manning this new post, the Chargers won the AFC West and advanced to the AFC Championship Game. It was a well-deserved promotion for a man who oversaw five straight 2,000-yard rushing seasons in San Diego.

Shelmon had a hand in history in 2006 as the Chargers rushed for a team-record 2,578 yards, and LaDainian Tomlinson won his first NFL rushing title, while setting NFL records for rushing touchdowns, total TDs and points in a season on his way to earning NFL MVP and Offensive Player of the Year honors.

Shelmon worked with a number of great backs during his career as a running backs coach, which began in 1991 with the Los Angeles Rams. In addition to Tomlinson, Lorenzo Neal in San Diego, Emmitt Smith in Dallas and Chris Warren in Seattle combined to go to 11 Pro Bowls while being tutored by Shelmon. Tomlinson accounted for four, Neal for two, Smith for two and Warren for three.

Shelmon implemented several unique training methods during his coaching career, one of which is a ball-control drill that involves running to three different cones with a football that is attached to a giant bungee cord. The Chargers continue to use the drill for the team's offensive skill players.

Shelmon was born in Bossier City, Louisiana and graduated from Airline HS. He then played running back at the University of Houston and graduated with a degree in education. He also attended Long Island University where he worked toward a master's degree in guidance and counseling.

Shelmon and his wife, Nancy, created a scholarship fund in 1999 in memory of his mother, Ruby Shelmon. The fund helps pay for the college education of four high school seniors from his hometown.
View the full website biography of Clarence Shelmon.