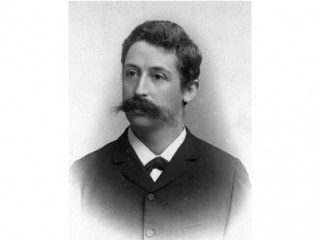 Christiaan Eijkman
Date of birth : 1858-08-11
Date of death : 1930-11-05
Birthplace : Nijkerk, Netherlands
Nationality : Dutch
Category : Science and Technology
Last modified : 2011-12-21
Christiaan Eijkman (1858–1930) was a Dutch physician and professor of physiology whose demonstration that beriberi is caused by poor diet led to the discovery of vitamins. Together with Sir Frederick Hopkins, he received the Nobel Prize for Physiology or Medicine.

Studying beriberi, a disease of the peripheral nerves, Dutch physician and pathologist Christiaan Eijkman was able to prove that the disease was not caused by blood contamination, respiratory metabolism, perspiration, or seasonal or temperature variation. He suspected the disease was caused by an unknown bacteria, but his eventual discovery of its true cause was accidental.

Chickens in the laboratory had been fed leftover rice from military rations, until a new cook refused to allow the rice to be fed to animals. Rice was then purchased from another source, and the birds soon came down with beriberi. The substitute feed had been polished rice, so he switched the birds' diet back to unpolished rice, and the birds recovered. Eijkman (pronounced Ikmän) surmised that polished rice lacked a dietary component found in unpolished rice, and that beriberi was caused by depriving the body of this component, which he called "the anti-beriberi factor".

Eijkman's findings stirred a great deal of attention, and subsequent research soon showed that a particularly vital amine (organic compound) was present in the skin of rice, and that this compound was removed when the rice was polished. Chemist Casimir Funk shortened the term "vital amine" to coin a new word, vitamin. For his contributions to the discovery of vitamins, Eijkman won the 1929 Nobel Prize for Medicine, sharing the prize with Frederick Hopkins. Funk, perhaps unfairly, was never given full credit for his work.

In 1907, Eijkman was appointed Member of the Dutch Royal Academy of Sciences, after having been Correspondent since 1895. The Dutch Government conferred upon him several orders of knighthood, whereas on the occasion of the 25th anniversary of his professorship a fund was established to enable the awarding of the Eijkman Medal. But the crown of all his work was the award of the Nobel Prize in 1929.

Eijkman was holder of the John Scott Medal, Philadelphia, and Foreign Associate of the National Academy of Sciences in Washington. He was also Honorary Fellow of the Royal Sanitary Institute in London.

To honor his dedication, the government of Indonesia named his remained research center on pathology and bacteriology as Eijkman Institute for Molecular Biology.
View the full website biography of Christiaan Eijkman.